Planning your wedding ceremony in Tuscany? From olive groves and garden terraces to traditional churches and chapels, the options are endless for a romantic Tuscan ceremony backdrop.
As wedding photographers in Tuscany, capturing your ceremony is an absolute privilege – and we've been lucky enough to work at some of the most breathtaking ceremony spots around the region. Keep reading for our photographers guide to choosing the perfect ceremony location for your destination wedding in Tuscany!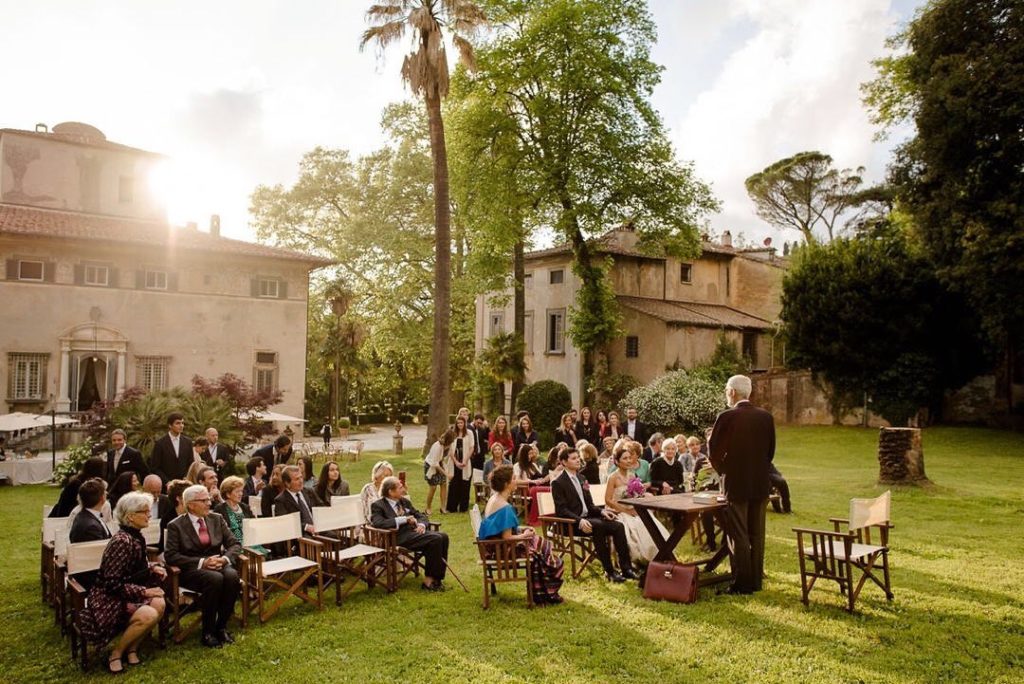 Choosing your ceremony style
Before you choose your Tuscan ceremony location, you'll need to decide between a symbolic, civil or religious ceremony. For destination weddings, many couples choose to host a symbolic wedding ceremony. This allows you to get married at any location of your choice (with no legal requirements) and host a civil ceremony in your own country before or after your trip.
However, if you've decided to host a legally-binding ceremony, you'll need to follow different legal requirements and host your wedding in a church (for a religious ceremony) or a town hall or licensed venue (for a civil ceremony). Be sure to talk with your celebrant or wedding planner upfront to determine the requirements for a legally-binding ceremony.
Garden wedding ceremony in Tuscany
Imagine walking down the aisle and exchanging your vows underneath the stunning Tuscan sun – magic! A garden ceremony is perfect for weddings in the Tuscan countryside, allowing you to enjoy stunning views and natural landscapes as your backdrop.
Many of our countryside wedding venues here in Tuscany offer beautiful surroundings including olive groves, cypress trees, vineyards, manicured lawns and outdoor terraces for the perfect garden setting. A garden ceremony in Tuscany is best suited for the warmer months of the year, allowing you and your guests to soak up the sunshine! See our guide to choosing your wedding date in Tuscany here.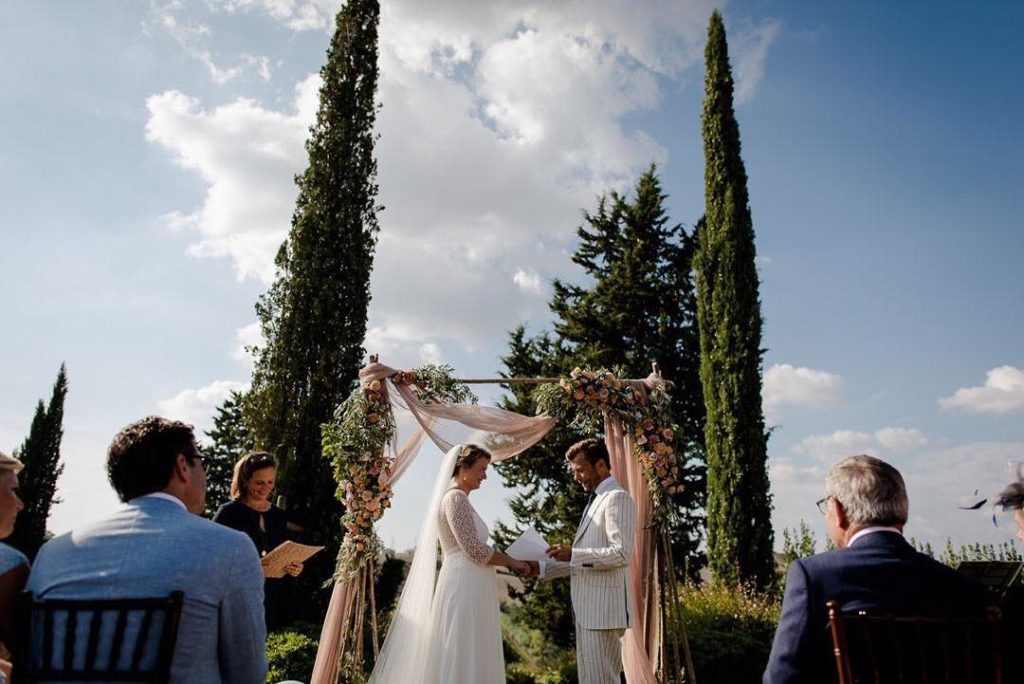 Courtyard wedding ceremony in Tuscany
For an authentic Tuscan feel, why not host your ceremony in the internal courtyard of your very own private villa or farmhouse? Be surrounded by historic stone walls and cobblestone pathways for an elegant yet rustic setting. Instead of an arbor or pergola, take advantage of unique architectural features like a loggia or statement archway to create the perfect backdrop for your vows.
Indoor wedding ceremony in Tuscany
Whether it be a medieval castle or luxury relais, hosting your wedding ceremony in an indoor space can create a cosy, romantic and intimate atmosphere. Many of our historic wedding venues here in Tuscany feature beautifully furnished indoor rooms, complete with unique artworks, statement chandeliers and rich tapestries. This ceremony option is perfect for the colder months, or even as a back-up option in case of wet weather. Make the space feel even more romantic with clusters of glowing candles and floral arrangements!
Beach wedding ceremony in Tuscany
For something more relaxed, why not celebrate your wedding barefoot in the sand? Enjoy a natural ocean backdrop, panoramic views and fresh air for the perfect beachfront ceremony along the Tuscan coastline, before moving back to your wedding venue for dinner and dancing.
Church wedding ceremony in Tuscany
For a more traditional or religious ceremony, consider one of our many churches and chapels located throughout the Tuscan region. From ornate churches in the city centre to sweet stone chapels in the countryside, we have plenty of unique options for the perfect church wedding ceremony. You can also consider hiring a special wedding car for an unforgettable ceremony entrance!
From the historic sights of Florence to the enchanting towns of Siena, Lucca and Chianti, Tuscany is filled with stunning locations for a memorable wedding ceremony. See our latest real wedding galleries for more ceremony inspiration, or start venue-hunting with our list of the best wedding venues in Tuscany!