6 of the Most Beautiful Churches for Wedding Ceremony in Tuscany
Looking for a beautiful church to host your wedding ceremony in Tuscany? From medieval monasteries to secluded chapels, there are plenty of historic churches to choose from.
As Tuscany wedding photographers, we've been lucky enough to visit some of the most picturesque churches in the region. So, if you're dreaming of a romantic ceremony, keep reading for 6 of the most beautiful churches for your Tuscany wedding!
Certosa di Firenze
Certosa di Firenze is an ancient monastery located at the top of a hill in the town of Galluzzo, just south of Florence. This magnificent church was founded in 1341 and is surrounded by immaculate grounds and towering cypress trees.
Inside the church, you'll find famous painted frescoes and iconic architectural details, making it a breathtaking backdrop for your nuptials. Just a short drive from Florence, the monastery also offers idyllic views over the Tuscany countryside.
Abbazia di Sant'Antimo
About 10km south of Montalcino in the province of Siena, you'll find the stunning Abbazia di Sant'Antimo. This abbey is thought to be one of the most beautiful in all of Italy, and the most important Romanesque building in southern Tuscany.
Built in 1100, the church features rustic stone walls, dramatic high ceilings, sculptures and timber rafters for a spectacular ceremony setting. The church is also surrounded by tranquil gardens and ancient olive trees in a picturesque location.
San Galgano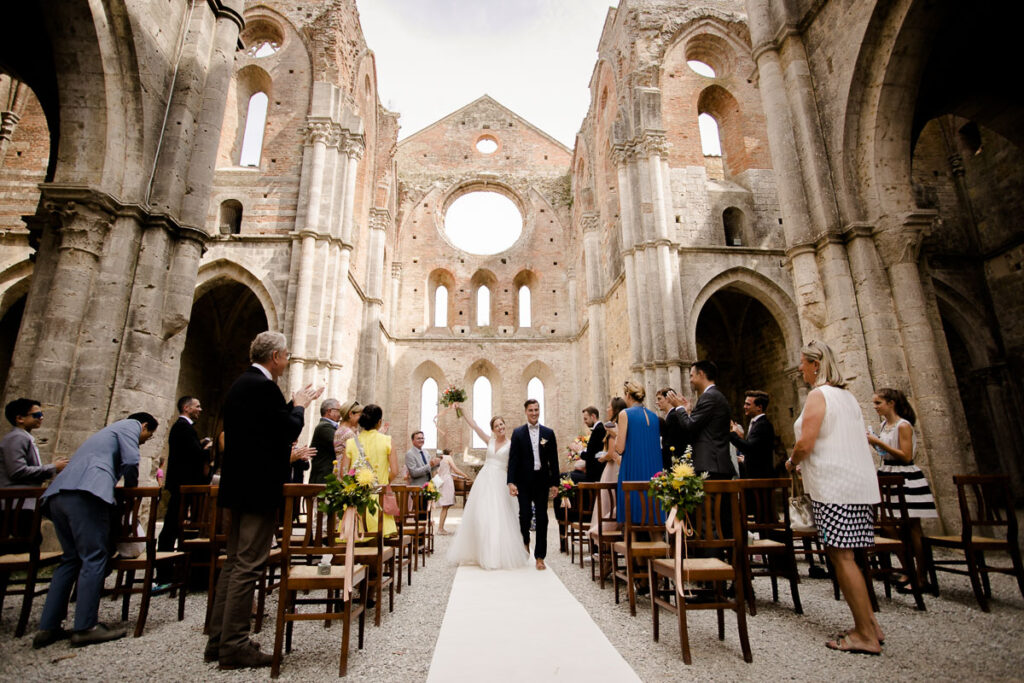 San Galgano is one of the most iconic locations for a wedding in Tuscany! Located near the town of Chiusdino (about 40km from Siena), this deconsecrated abbey dates back to 1280.
The church began to decline in the 15th century, leaving only the dramatic ruins of the abbey behind. This allows you to experience the magic of a church wedding with stunning architecture, while still being outdoors. Please note, only civil weddings are allowed to be performed at San Galgano.
Cappella della Madonna di Vitaleta
Capella della Madonna di Vitaleta is a small, secluded chapel located in the rolling hills of the Val d'Orcia in Siena. This humble church is surrounded by 6 cypress trees, and offers beautiful views of the surrounding countryside.
As one of the most photographed places in Tuscany, Capella della Madonna di Vitaleta has been declared a UNESCO World Heritage Site. Trust us when we say your photos will be absolutely stunning at this location!
Chiesa di San Pietro a Portovenere
Chiesa di San Pietro is a Roman Catholic church situated atop a rocky cliff at the edge of the ocean. Designed in a gothic architectural style, this striking church is instantly recognisable with its dramatic location and can host intimate weddings of up to 40 guests.
Surrounded by a rocky outlook and turquoise waters, this church offers magnificent views over the ocean and village. The perfect choice for a small destination wedding in Tuscany!
Chiesa di San Biagio a Montepulciano
Located in Montepulciano, Chiesa di San Biagio is a 16th-century domed church in an elevated position, offering beautiful views over the countryside. Inside the church, you'll find high ceilings, exquisite marble sculptures and historical statues. This is truly a place of impressive beauty for your wedding ceremony in Tuscany.
Remember, when planning a religious wedding ceremony in Tuscany, you'll need to lodge the appropriate documentation in advance. Check out our foreigners guide to getting married in Tuscany here for more details.
Looking for a wedding photographer in Tuscany? We would love to capture your celebration. View our latest wedding stories here, or get in touch to receive our wedding photography packages.