Under the Tuscan Moon. An Inspirational wedding Styled Shooting in Tuscany
A Theatrical Winter Wedding in Tuscany
When one thinks of a wedding in Tuscany, what typically comes to mind are weddings staged against sun drenched back drops of olive groves, vineyards or charming farms. Tuscany may be the home to fantastic wines and boast a long string of envious sunny days, but is also the home of great composers like Giacomo Puccini, (think Madame Butterfly and La Boheme) who brought to Tuscany an incredibly vibrant theatre scene, with hundreds of small local theaters present to this day in villages and towns throughout the region. 
All the credits here:
Production & Design: @mytuscanwedding
Photography: @qualcosa_di_blu_wedding_photo
Venue: @anticadimorapatrizia
Floral Design: @verdissimofioridigabriele
Rentals: @avservice_eventrentals
Lighting: @weddinglightsitaly
Make Up and Hairstyle: @ilarialanini
Accessoires: @ziio_jewellery
Bride Dress: @manuelaloprestibridal
Groom's attire: @holasposa
Wedding Rings and Groom watch: @hamiltonwatch
@gioielleriasabatini
Video: @vertigoweddingfilms
Cake: @sugarcups_cake_design
Calligraphy: @fil.rouge
Dj and Smoke machine rental: @filippogalassini_eventsdj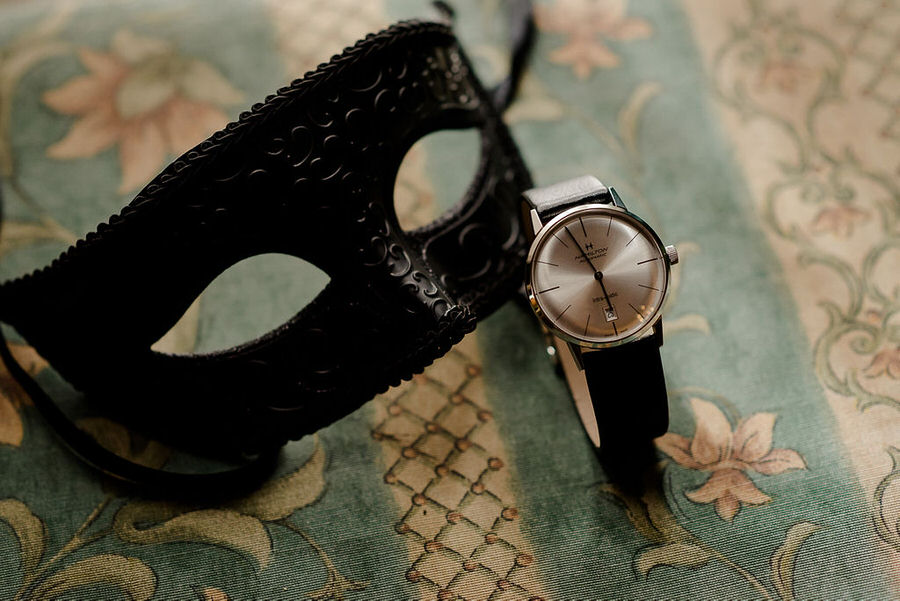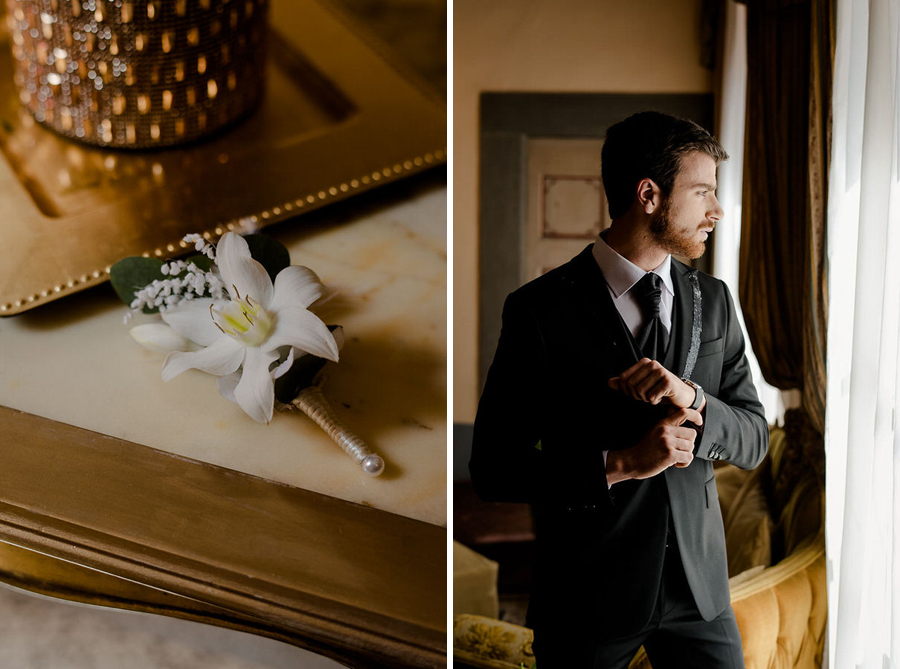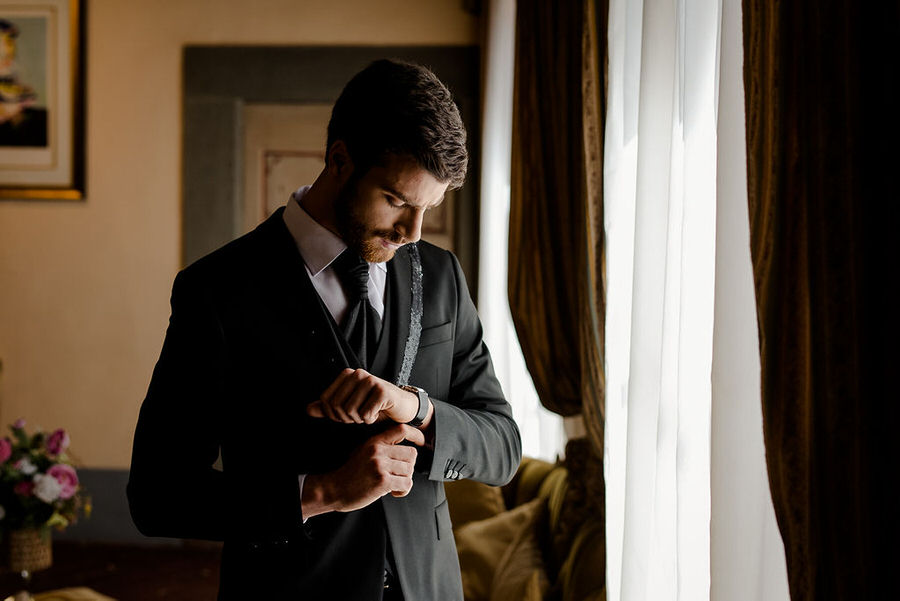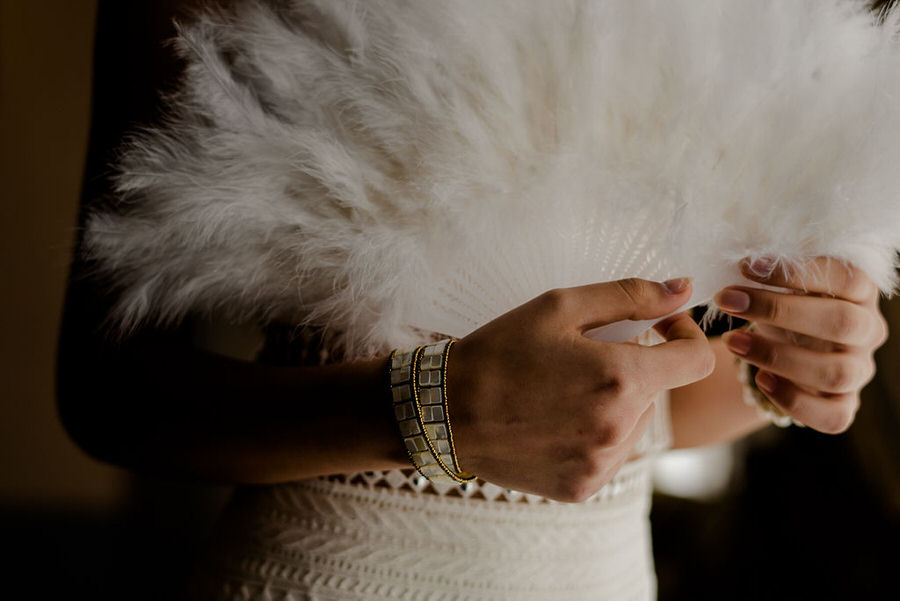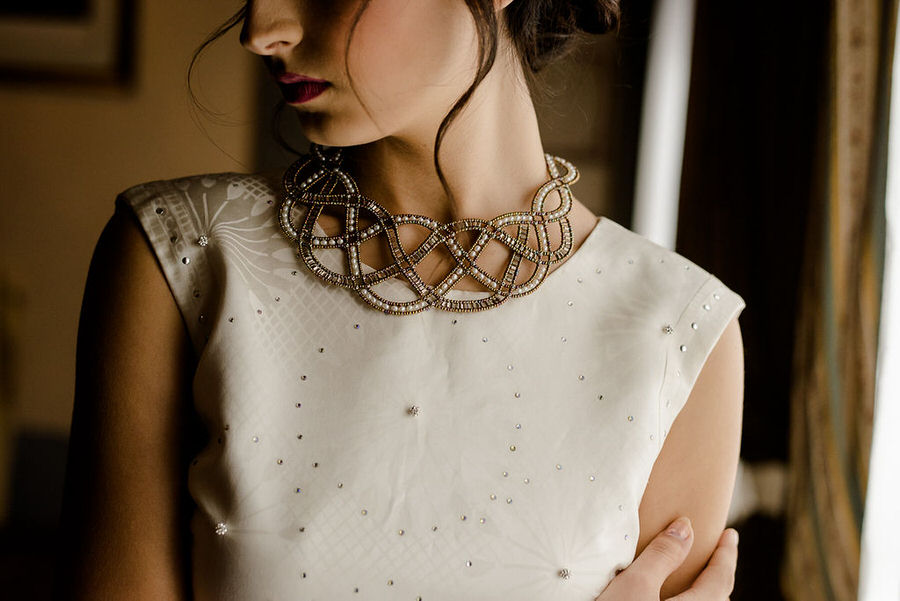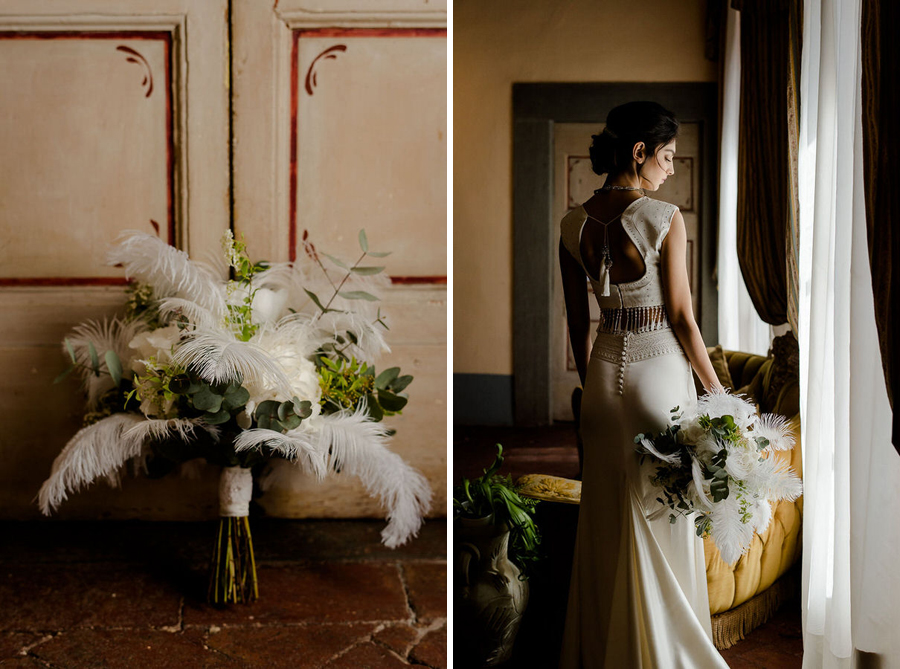 When the tourism dies down and the locals retake the streets in the winter months, these intimate theatres become the center of town social life.  With this inspirational photo shoot, we wanted to invite people to look at this hidden side of a wintery Tuscany; a part of Tuscany that recalls to us a different time, where men dressed in tuxes and ladies in elegant frocks for a night out at the theatre. We asked ourselves, what could a winter wedding in Tuscany look like, staged in one of these historic theatres, with this theme in mind? Could we recreate the feeling of a bygone Art Noveau era, while still keeping things fresh and current?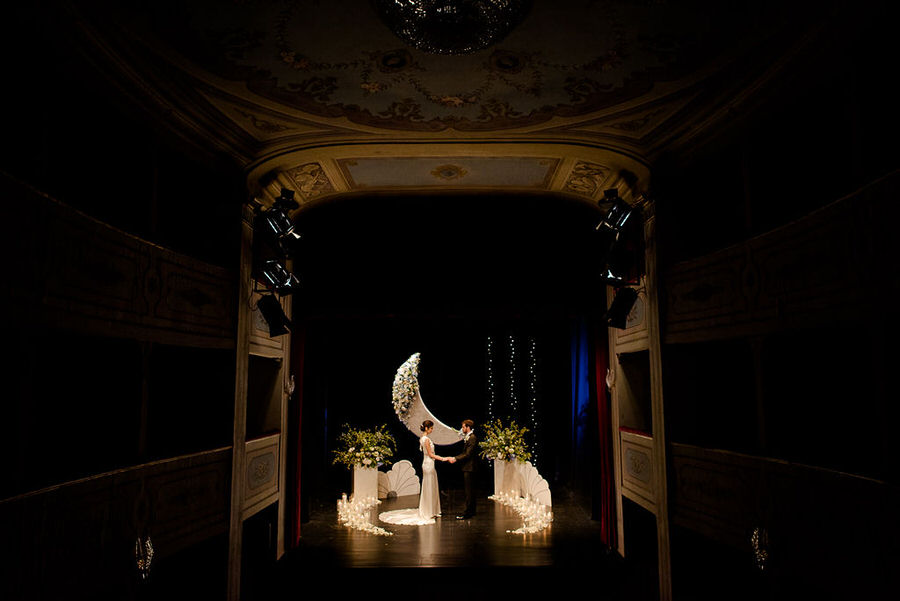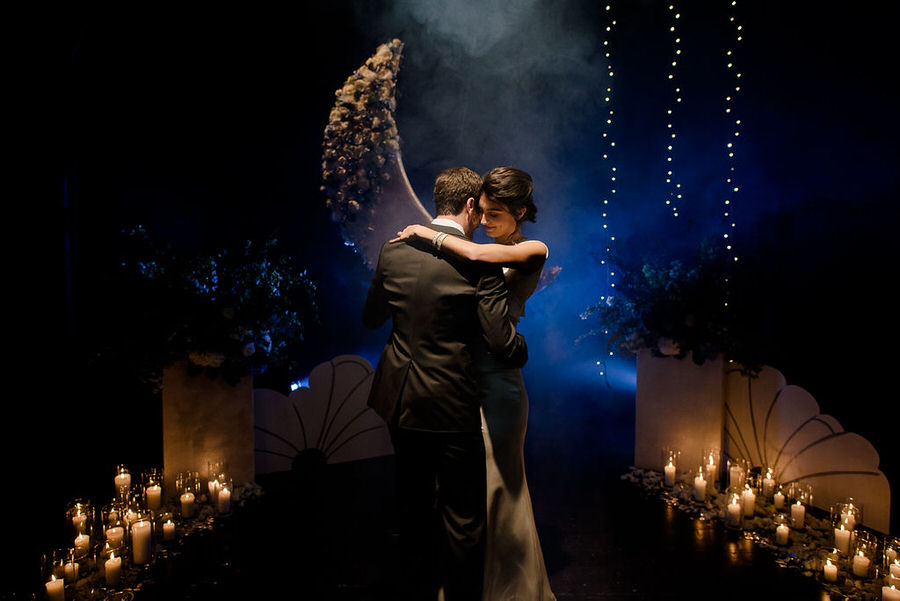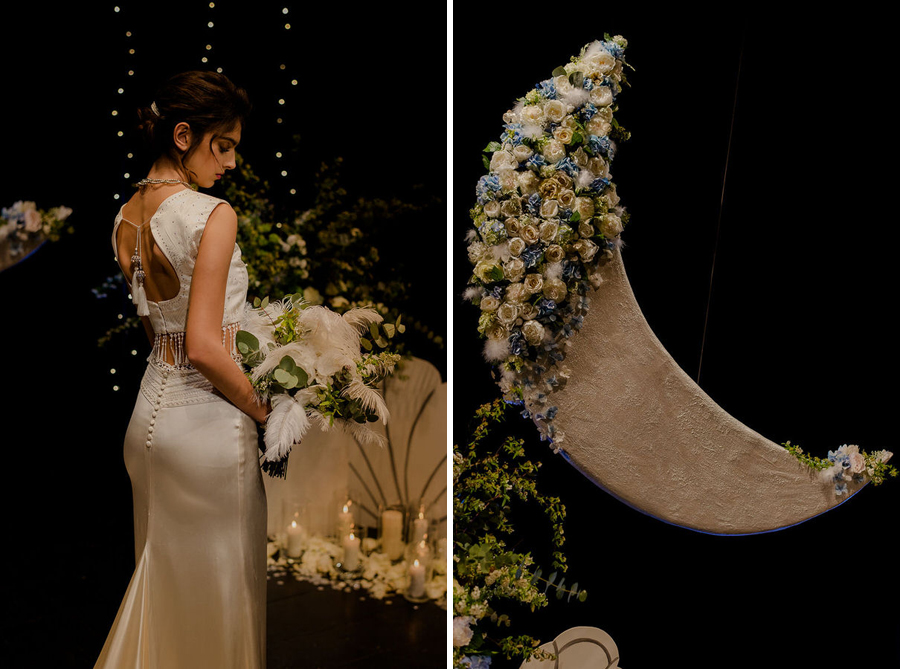 We decided to start by finding the perfect dress, one that was in harmony with our chosen theatre, Teatro de Rassicurati, located in the picturesque hilltop town of Montecarlo. The dress, created by Manuela LoPresti, is a fantastic throwback to the Art Noveau era, replete with hand painted half shell details on its silk fabric, beautiful tassel and a sensuous silhouette. The theatre itself was an interesting architectural mix of Neoclassical and emerging Art Noveau elements. We chose to focus on a few distinct décor details such as the recurring geometric and half shell motifs, which we created as part of our ceremony backdrop, encircling the couple with two half shells meant to resemble clouds. At the same time, we used modern back lighting techniques to create a romantic, otherworldly feeling for both the ceremony and reception design. For styling, we drew our cues from fashion of the roaring 1920's using feather fans, and Art Noveau inspired jewelry such as an intricately beaded head bands, necklaces and bracelets hand crafted by Ziio Jewels of Lucca.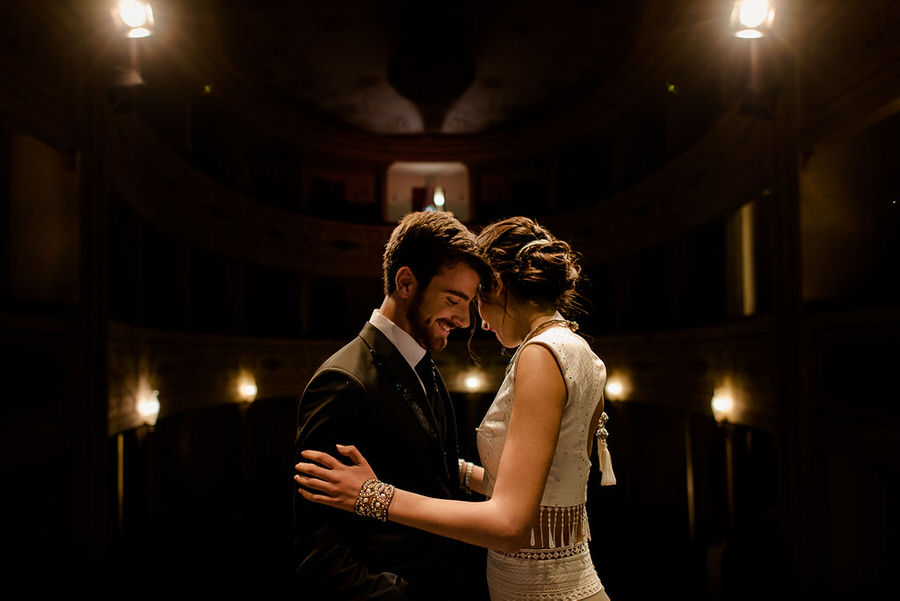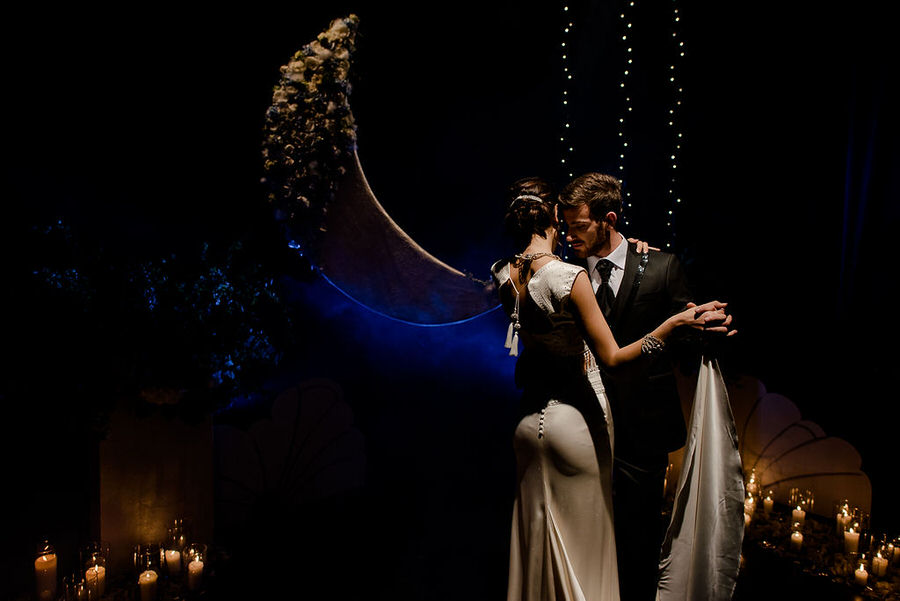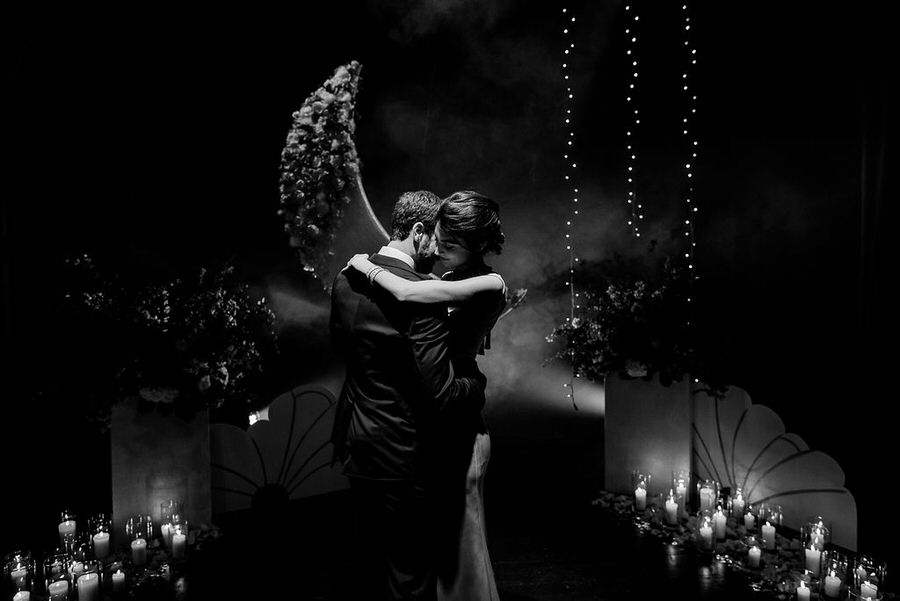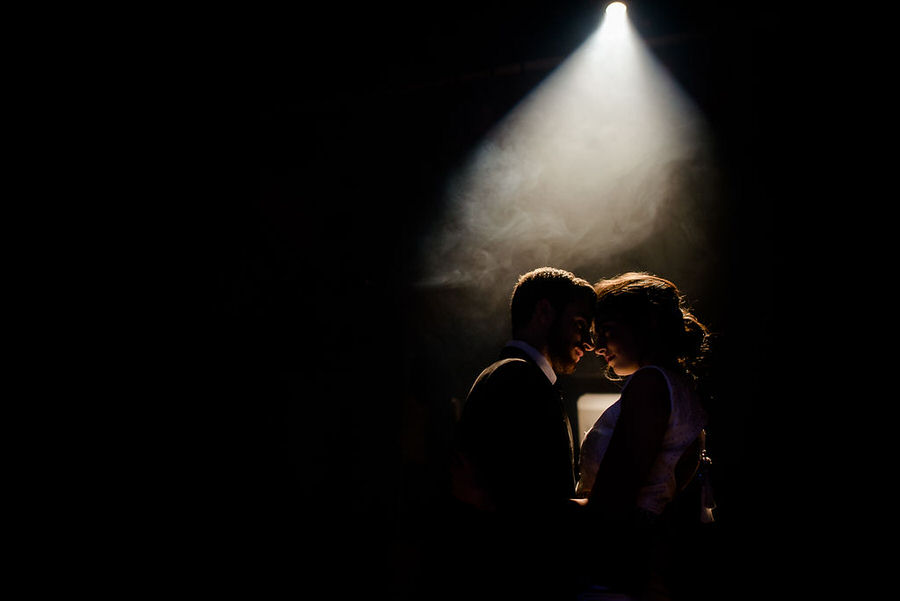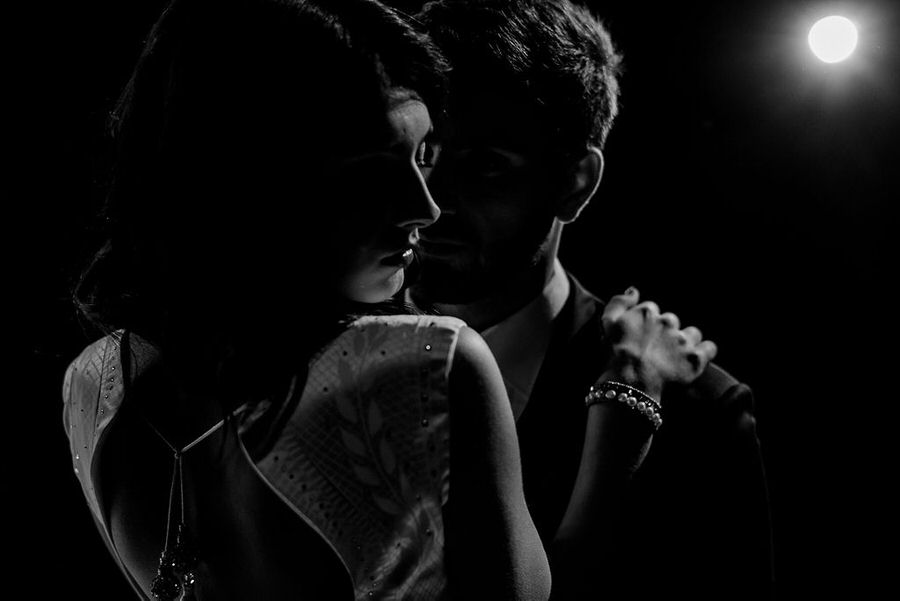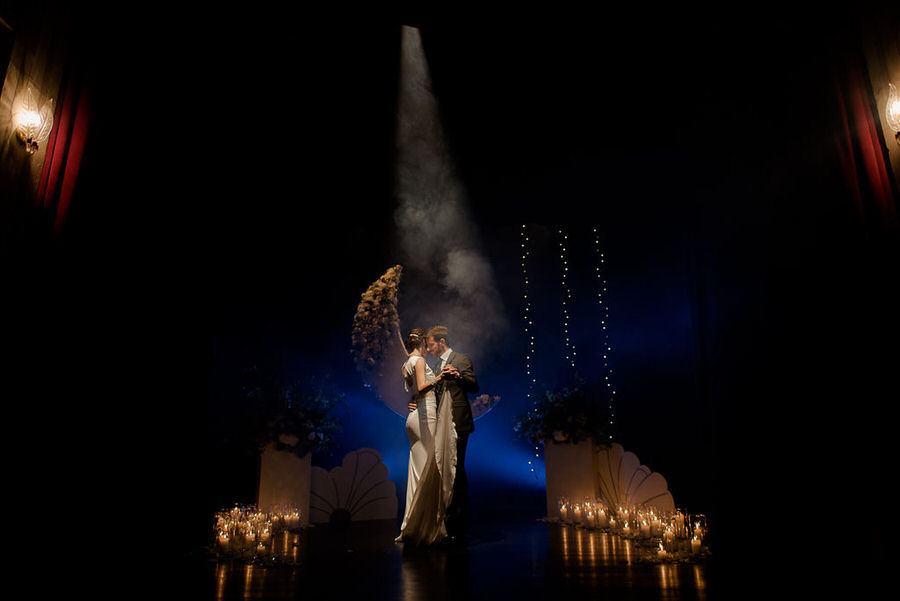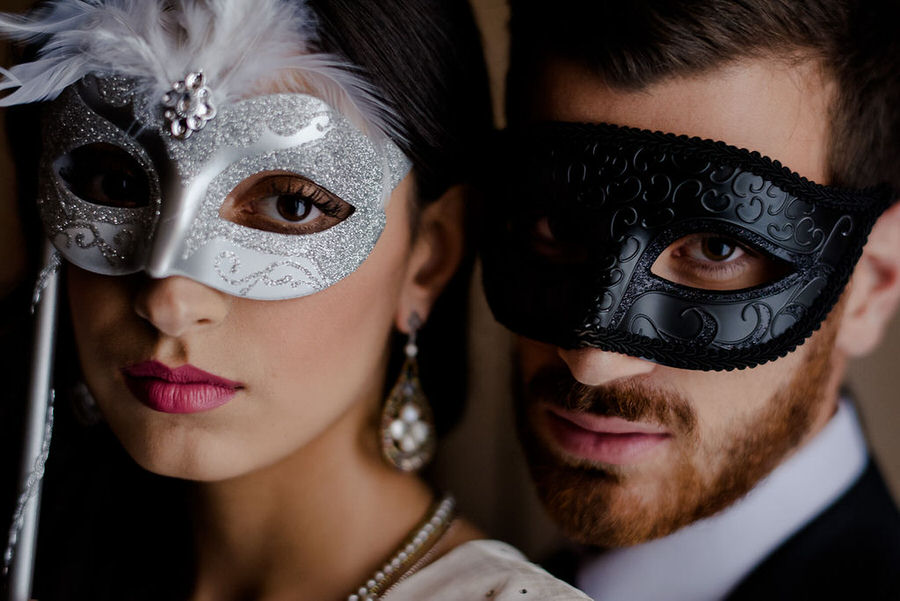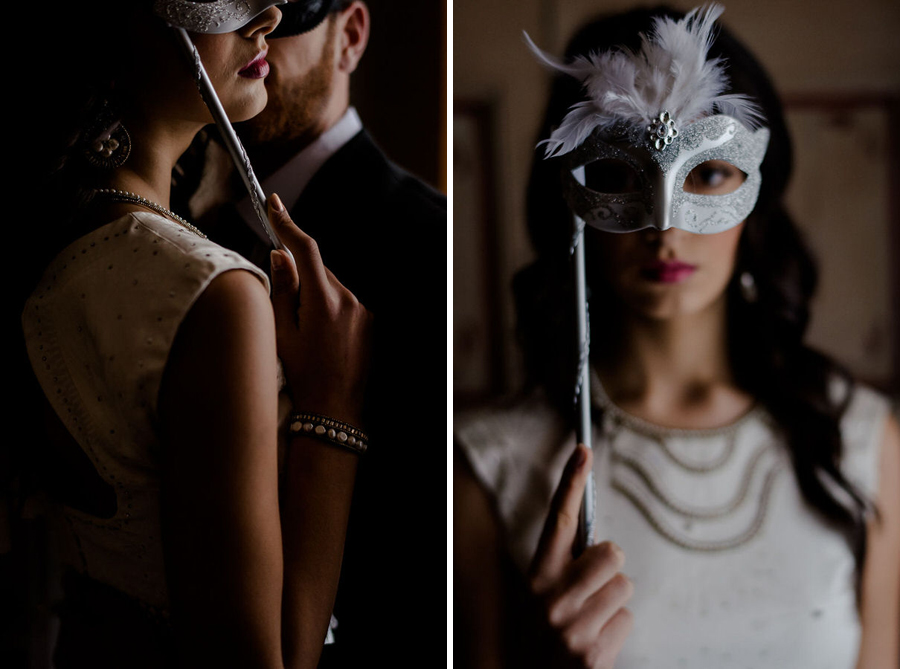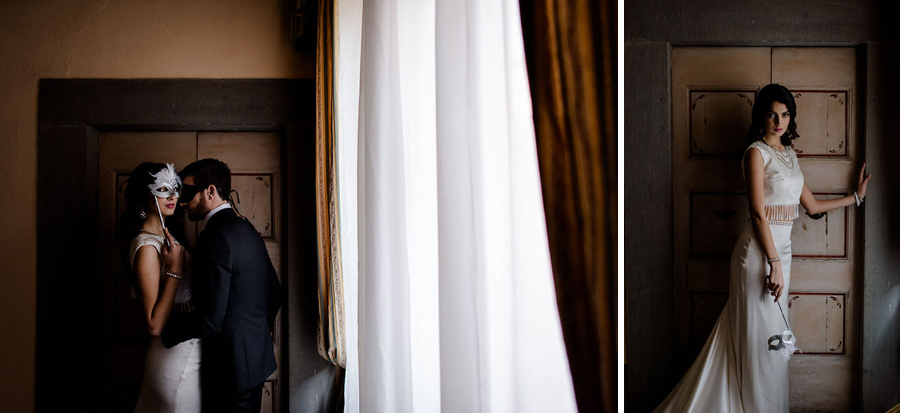 We hope that this shoot can provide couples planning their wedding in Tuscany in the winter months, with a few creative ideas of how to create a romantic and nostalgic mood, perhaps using historical buildings such as these local theatres, that they may never have otherwise considered,  as their backdrop and inspiration for their wintery Tuscan wedding.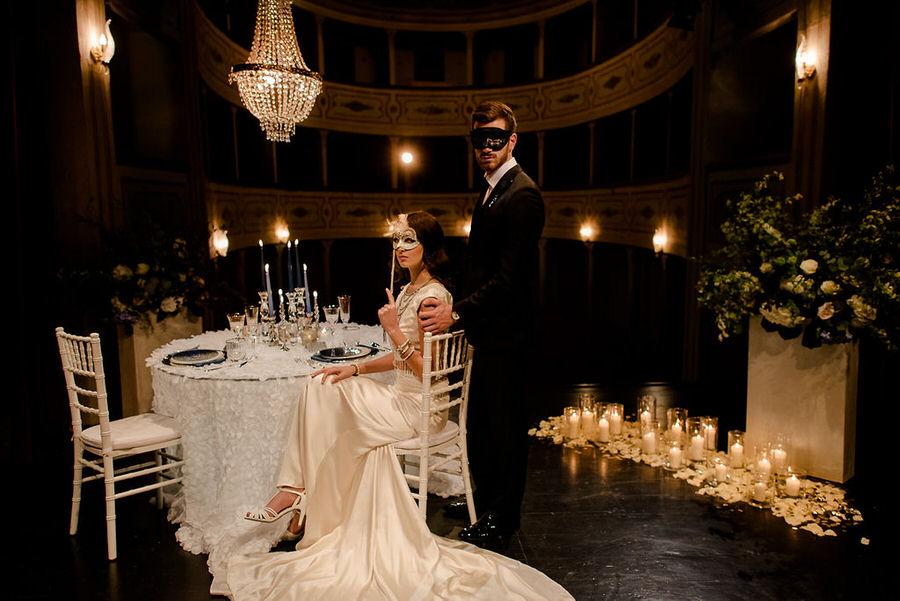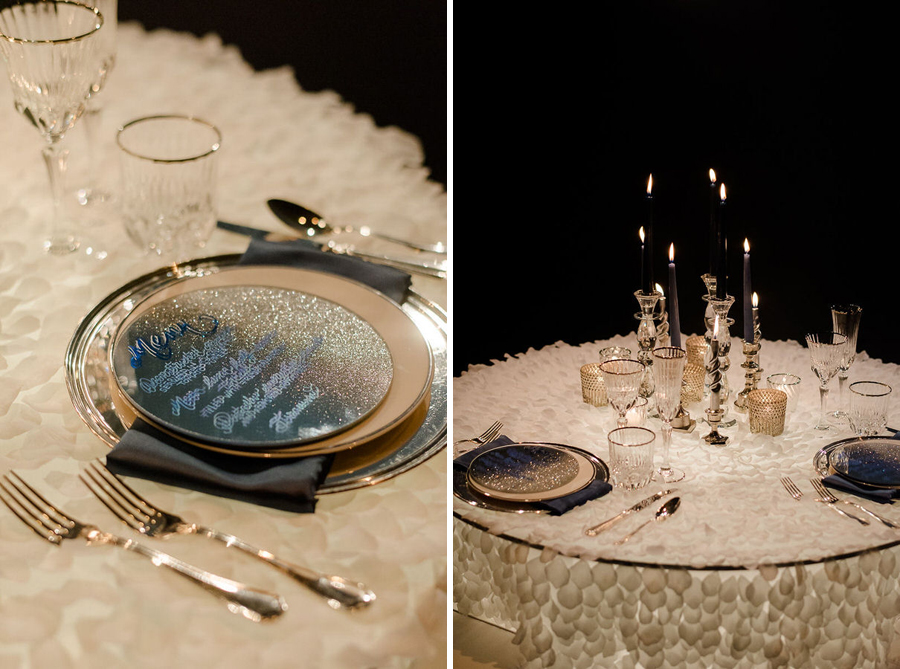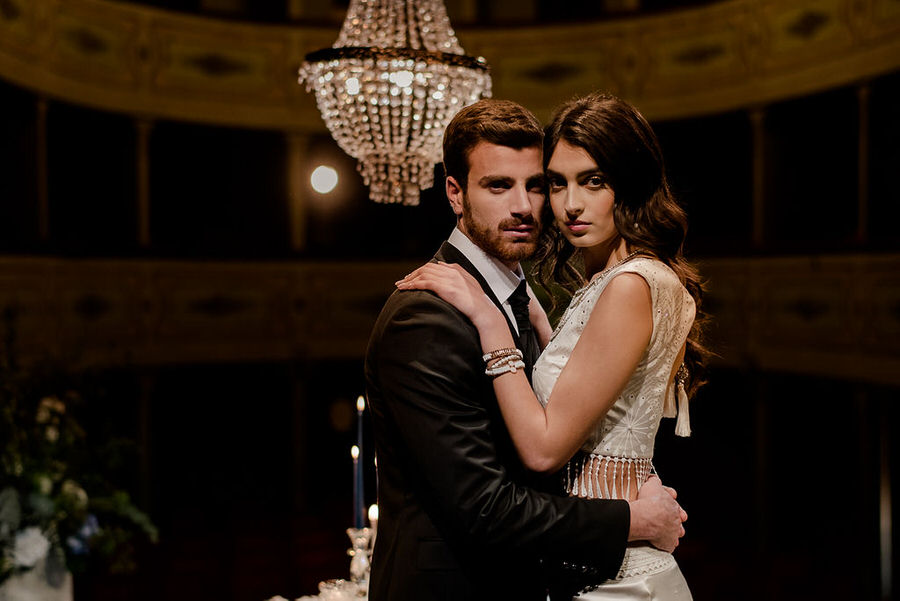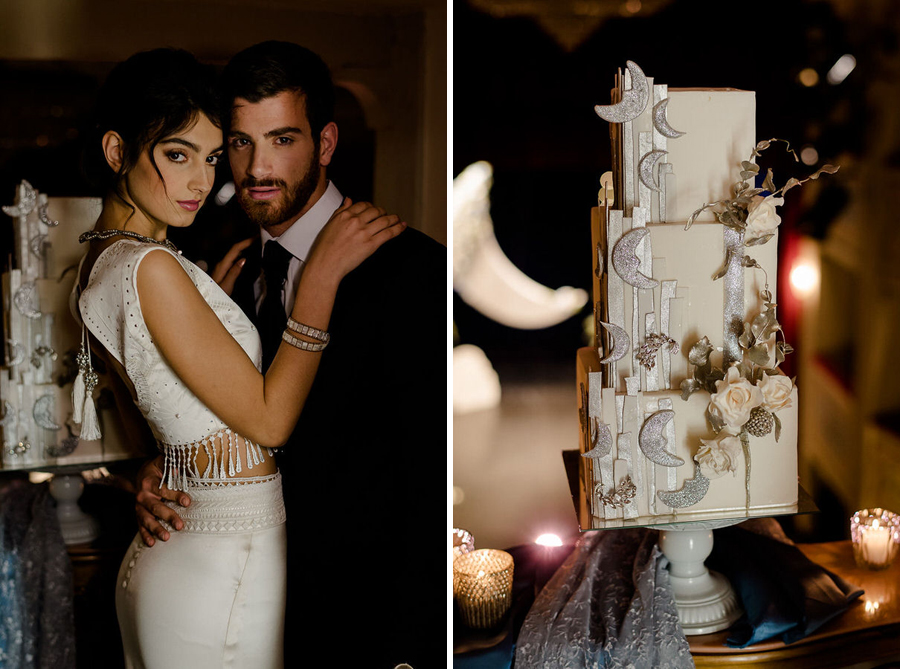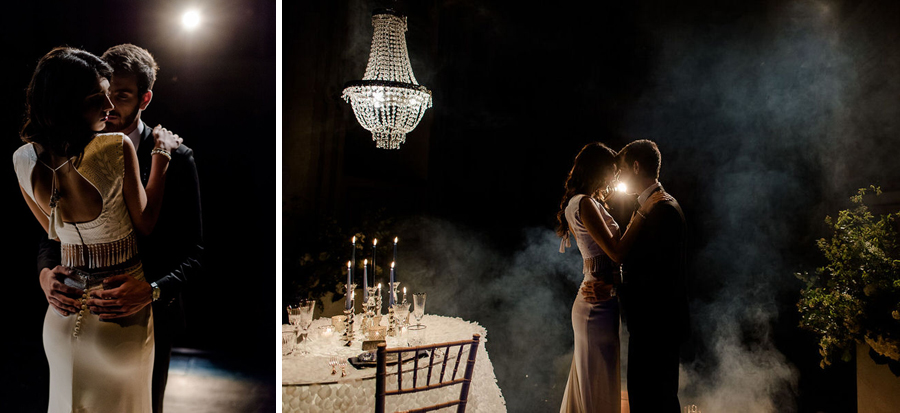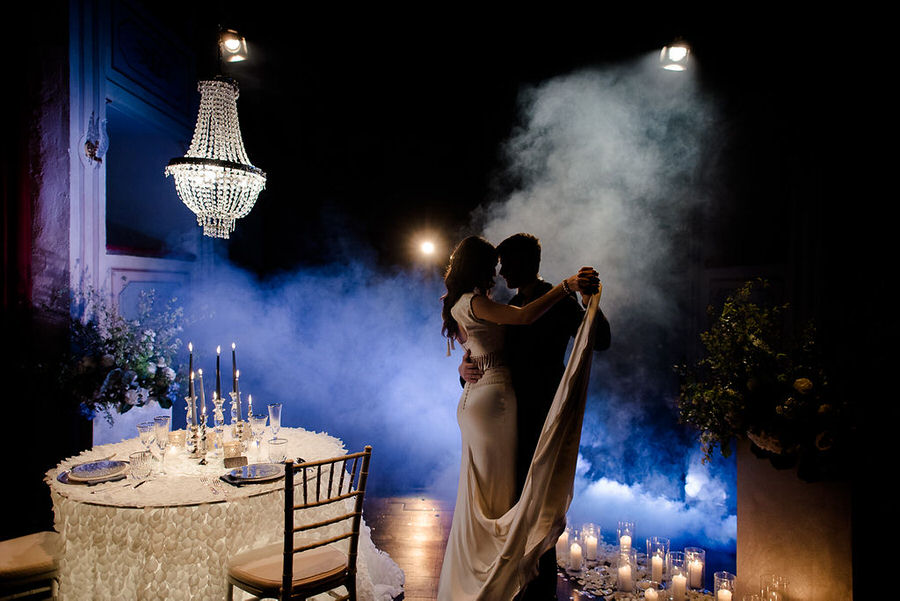 Take a look at this amazing video! 🙂
Inspiration Shooting – Montecarlo from Vertigo Wedding Films on Vimeo.