A Photographer's Guide to the Best Wedding Venues in Florence
Searching for the best wedding venues in Florence? Located in the heart of Tuscany, Florence is a perfect choice for your wedding in Italy, offering a beautiful mix of historic architecture, lush countryside and rich culture.
As Tuscan wedding photographers, we've worked across some of the most picturesque venues in the region – from private villas to greenhouses and luxury hotels. Keep reading for our photographers guide to the top 10 best wedding venues in Florence below!
Villa Cora, Firenze
Located inside a centuries-old park overlooking the famous Boboli Gardens, Villa Cora is undoubtedly one of the most beautiful residences for a destination wedding in Florence. Just a few minutes from the historical city centre, this luxury villa boasts an elegant rooftop terrace, heated outdoor pool and breathtaking views, with 45 guest rooms for you and your loved ones.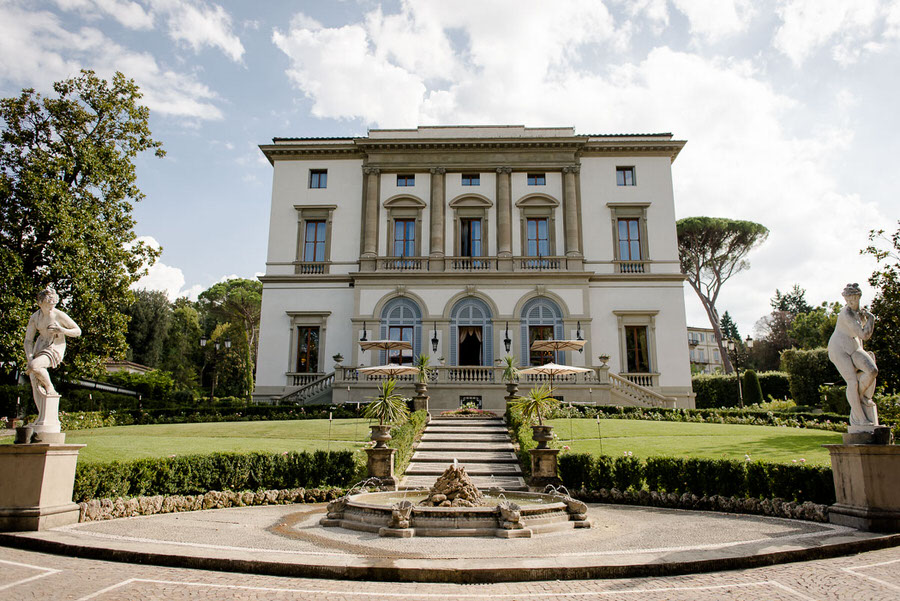 Villa La Vedetta, Firenze
Villa La Vedetta is a luxury hotel surrounded by private parks and sprawling Italian gardens. Conveniently located (walking distance from Piazzale Michelangelo!), this converted hotel is ideal for an intimate Italian wedding, with 18 rooms available on-site. Offering a private, relaxing atmosphere, Villa La Vedetta also features panoramic views with a large terrace overlooking the city and surrounding hills.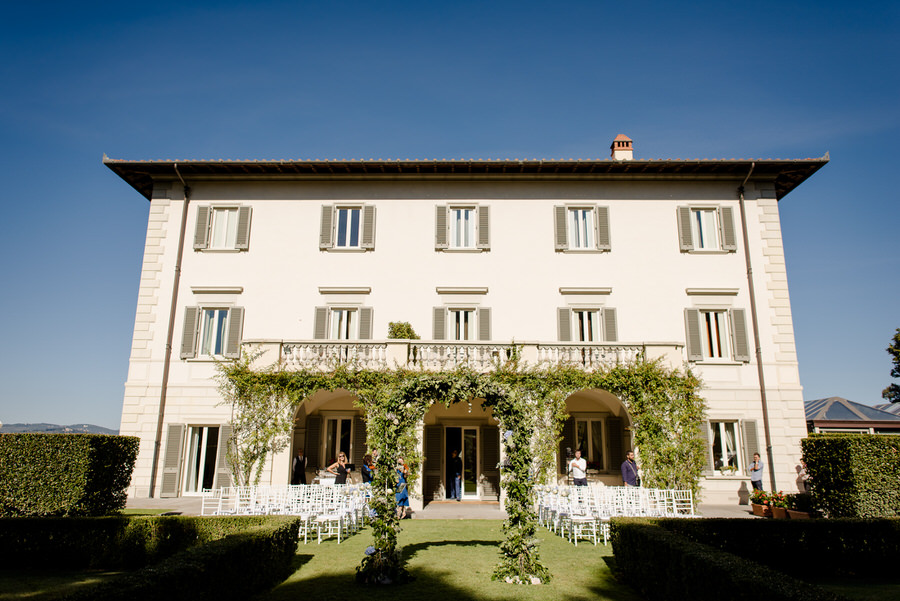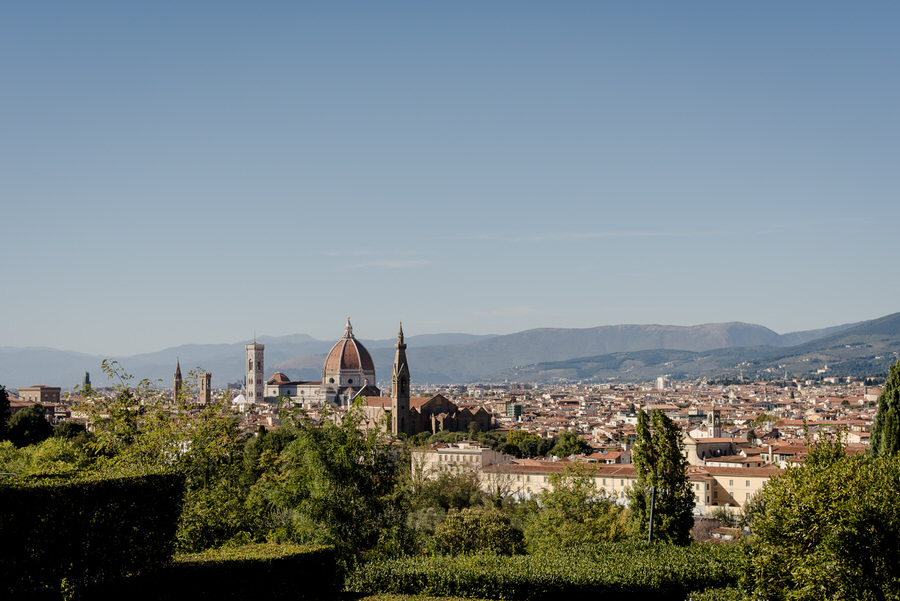 Villa San Michele, Fiesole
If you're searching for romance, luxury and lush outdoor gardens, look no further than Villa San Michele! This former monastery has been converted into a boutique hotel, featuring rose-filled gardens, beautifully designed rooms, and a historic church. With a variety of unique spaces to take advantage of, you can host your wedding outside amongst the pool and gardens, or in the villa's very own restaurant.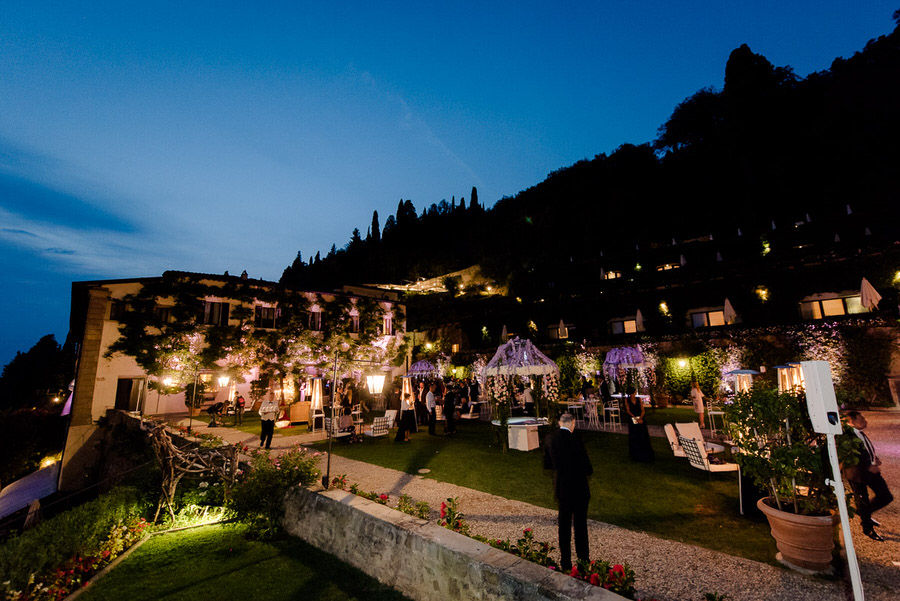 Serre Torrigiani, Firenze
For something truly unique, Serre Torrigiani is a stunning garden wedding venue located in the heart of Florence within the famous Torrigiani Garden. This botanical oasis offers 3 private greenhouses – the Historic Greenhouse, the Serre Grande and the Hangar, all filled with natural light and a selection of lush plants from all over the world. Magic!
Villa di Maiano, Fiesole
Villa di Maiano is a prestigious residence located on the green hills between Fiesole and Florence. Dating back to the 15th century, this sprawling estate features a private villa for weddings along with a farmhouse for guest accommodation. Host your reception within the majestic Tapestry Room (with the ability to accommodate 250 people), or outdoors in the beautiful Italian Oak garden!
Four Seasons Hotel, Firenze
Looking for a luxury hotel wedding venue in Florence? The Four Seasons Hotel is tucked away in the historic city centre, within walking distance from all main attractions. This unique venue is set over two buildings (bordering the largest private park in the city), with 116 immaculate guest rooms. Featuring a Michelin star restaurant, open-air terrace and enchanting gardens, the Four Seasons Hotel offers a luxury atmosphere with your very own wedding coordinator on-site.
Hotel Villa Le Piazzole, Firenze
Hotel Villa Le Piazzole is an ideal location for weddings in Florence, located on the outskirts of the city centre for a private, isolated feel. Immersed in vineyards and olive groves, this 17th-century villa offers incredible views over the Florentine hills, with both internal and external spaces available for your reception. Enjoy the sprawling Italian gardens, outdoor pool and large terrace, with a warm and welcoming atmosphere for you and your guests.
Villa Montefiano, Fiesole
Villa Montefiano is a country-chic wedding venue located on the stunning Florentine hills, just 20 minutes from the city centre. Featuring stunning green gardens, lemon groves and a fabulous outdoor terrace, this Tuscan villa is surrounded by trees and offers a peaceful and relaxed feel for an Italian wedding reception. A true hidden treasure!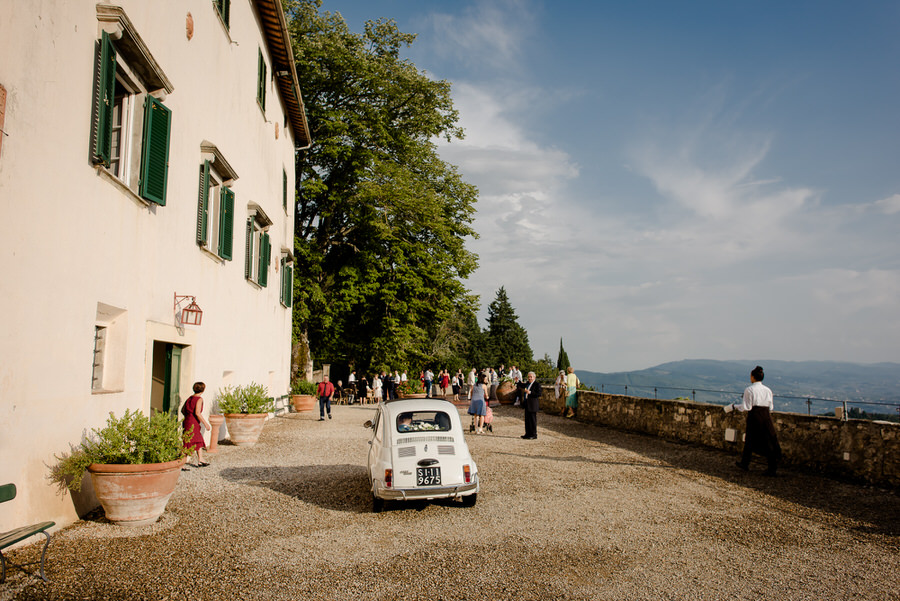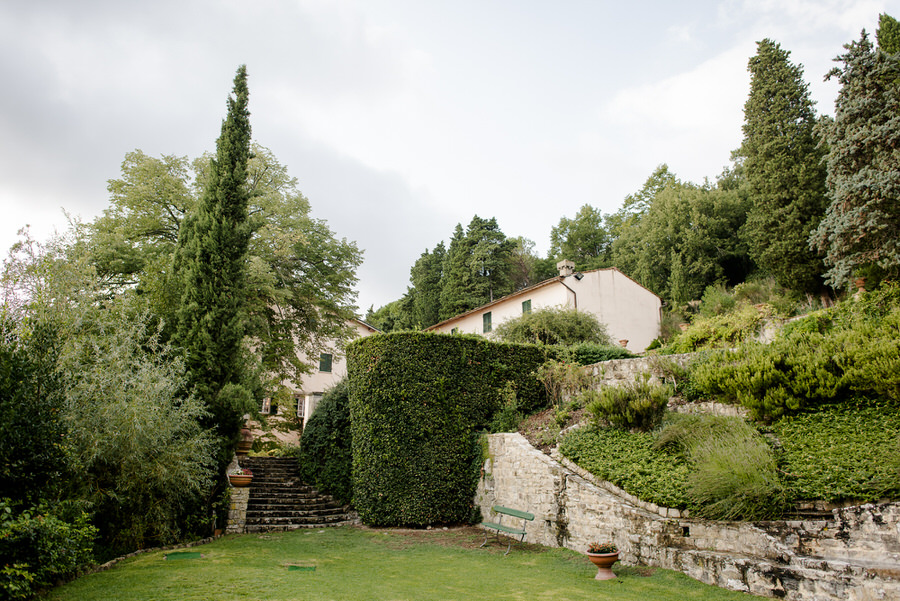 Villa Le Fontanelle, Firenze
For unbeatable views over the city of Florence and complete privacy and seclusion, consider the beautiful Villa Le Fontanelle. This exclusive estate includes a 15th-century villa, picturesque Italian gardens, a fortress and an antique greenhouse, all set within the serenity of the Tuscan hills. You can host your ceremony at the small historic chapel or private lawns, before celebrating your reception on the large outdoor terrace against a breathtaking backdrop.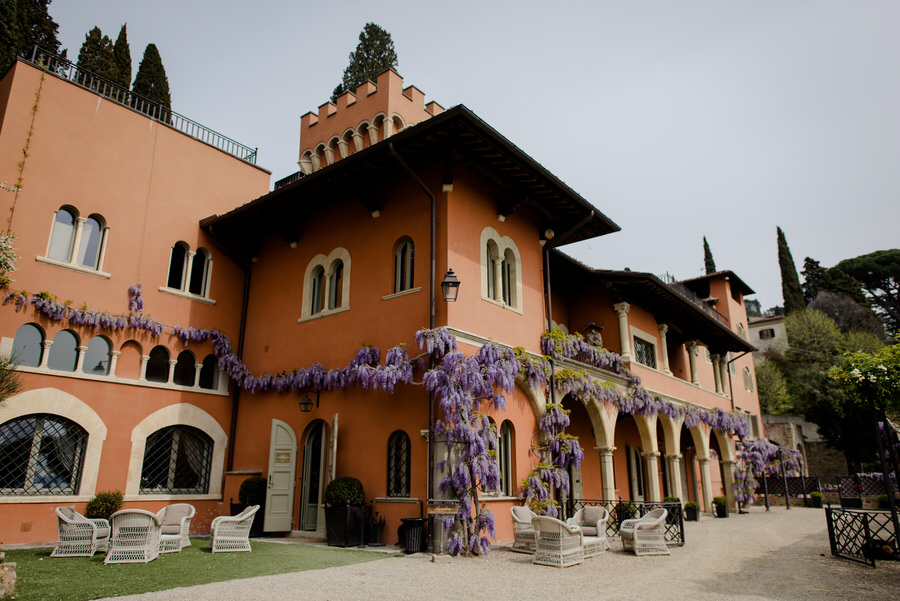 Art Hotel Villa Agape, Firenze
The romantic Art Hotel Villa Agape is a boutique wedding venue surrounded by an 8-hectare park of olive and cypress trees. The Villa features prestigious guest rooms, lush green gardens and spacious grounds that lend themselves perfectly for a Tuscan wedding. Set in the heart of Florence (close to Oltrano), this ancient building is also conveniently located just minutes from the old town and is easily accessible by car and public transport.
Interested in learning more about weddings in Florence? Read everything you need to know about getting married in Florence here, or view our latest wedding stories for inspiration!