Getting married in Florence: Everything you need to know!
Thinking about getting married in Florence? From the historic city centre to the surrounding countryside, Florence is one of the most magical and romantic locations for a destination wedding in Italy.
As Tuscany wedding photographers, we have plenty of experience shooting weddings in Florence, and wanted to share our top planning tips with you below. Keep reading for our complete guide on everything you need to know about getting married in Florence – from venues to legalities and more.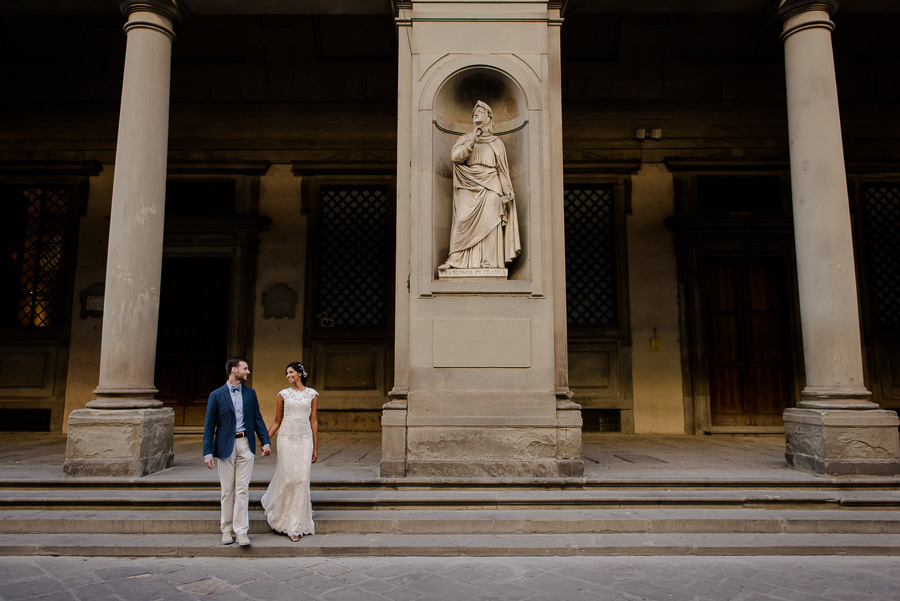 Why get married in Florence?
Florence is an ideal wedding location for multiple reasons!
First, you have the option of getting married in either the city or the countryside, giving you the best of both worlds. The city is filled with unique architecture, stone palaces and famous Renaissance art, while the countryside is lush and green with incredible views.
Florence also offers an authentic Italian experience, being renowned for delicious food and wine and rich culture. And if you're planning a destination wedding, Florence is the perfect central location with plenty of accommodation options, making it easy for your guests to make travel plans. It's easy to see why so many celebrities (like Kim Kardashian and Kanye West) choose this romantic city to tie the knot!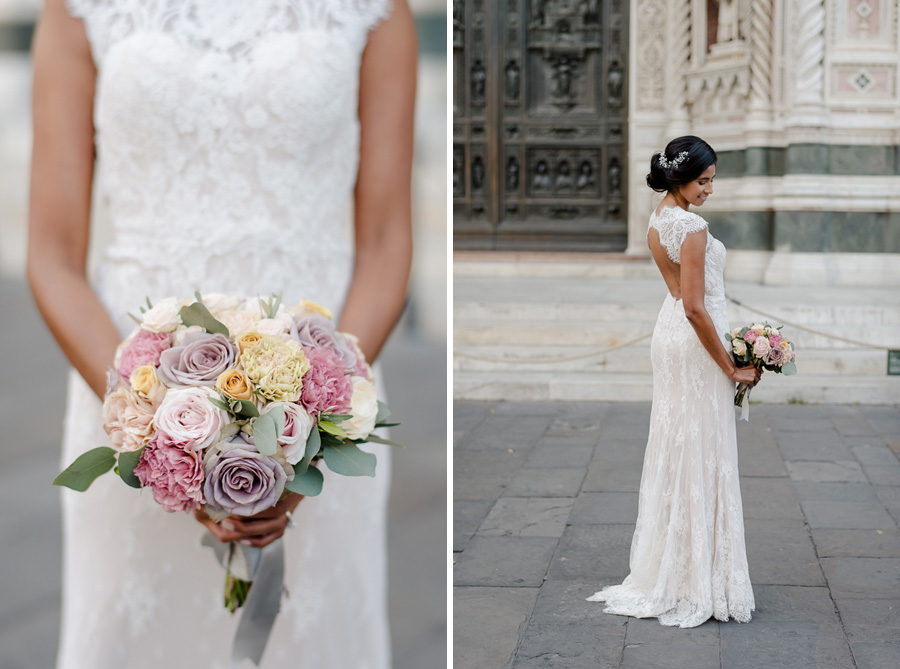 Where are the best places to get married in Florence?
Couples getting married in Florence can choose to host their day either in the city centre, or in the surrounding countryside villages. It all depends on the vision you have in mind for your dream day!
The city centre offers many beautiful venue options for a luxurious wedding. One of the most unique places to get married in Florence is the majestic Palazzo Vecchio. As Florence's city hall, this historic building is perfect for a civil ceremony. Also in the city centre, you'll find a range of premium venue options like 5-star hotels, luxury villas and premium restaurants. Villa Cora is one example of a stunning wedding venue in Florence city centre, overlooking the famous Boboli Gardens.
Alternatively, for a more rustic and relaxed ambience, you can choose a private villa or medieval castle located in one of the small towns throughout the Florence countryside, like Fiesole, Castelfiorentino and Chianti. These picturesque locations offer scenic views and lush gardens for the perfect outdoor wedding. Some of our favourite wedding venues in the Florence countryside are Villa Le Fontanelle, Castello di Oliveto, Vincigliata Castle, Fattoria di Montecchio and Borgo della Meliana. For more venue inspiration, you can check out our guide to the best wedding venues in Tuscany here!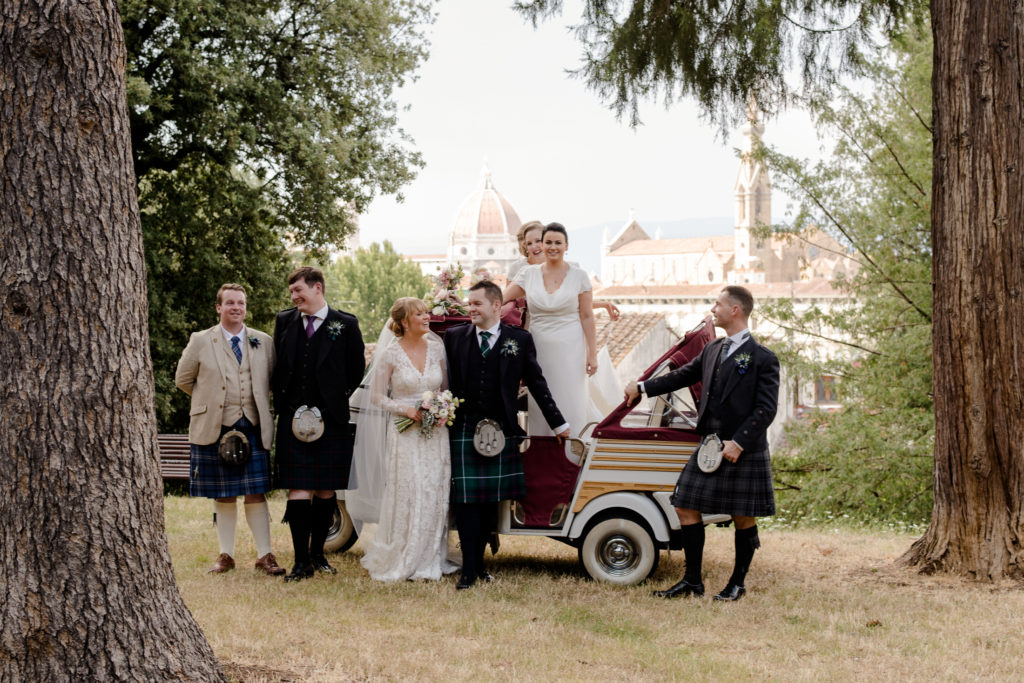 When is the best time of year to get married in Florence?
Choosing your wedding date in Florence will again depend on your vision for the day. Would you prefer warm, sunny weather for an outdoor wedding? Or cool, cosy weather for a romantic indoor wedding?
The most popular months to get married in Florence are between May and September. These Spring, Summer and Autumn months provide beautiful warm weather and plenty of sunshine, particularly in June, July and August. This is our Italian "wedding season" and can get very busy – so be sure to book your venue and suppliers in advance to avoid disappointment.
The winter season in Florence is between December and February. These months are much colder, but can be a beautiful backdrop for a magical winter wedding inside a luxury hotel, restaurant or villa. See our complete guide to the best times of year to get married in Tuscany here!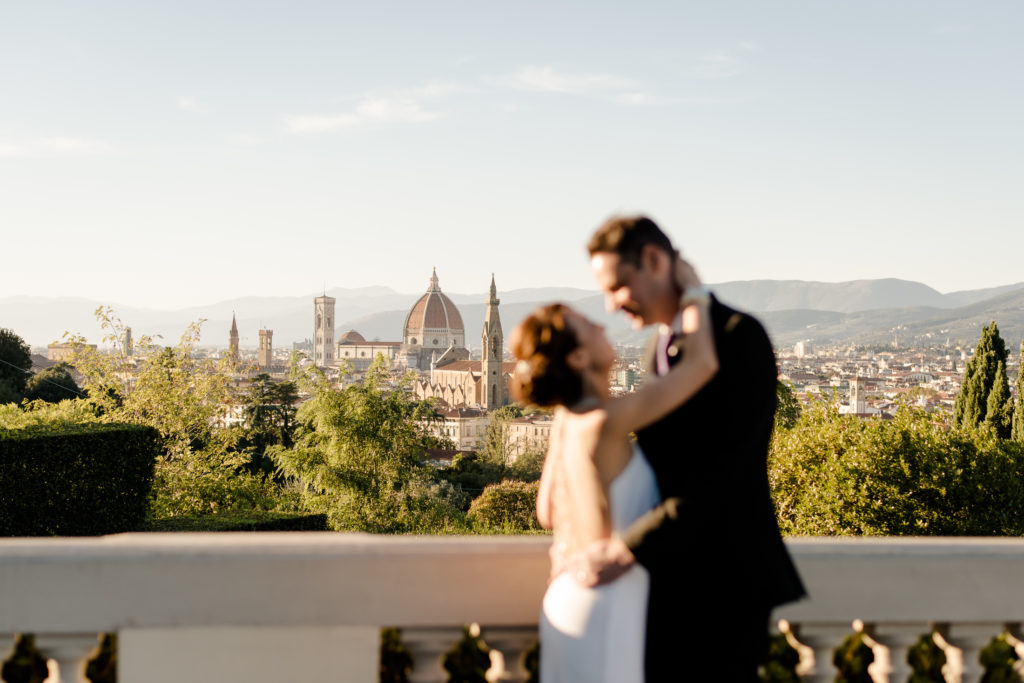 How to get married legally in Florence?
For convenience, many couples planning a destination wedding in Florence choose to host a legal ceremony in their hometown before or after their trip, and host a symbolic ceremony in Florence instead. However, you can certainly plan a legal ceremony in Florence, as long as you are prepared with the correct documentation.
To get married legally in Florence, you will need to:
Obtain either an Atto Notorio (one per spouse) or Certificate of No Impediment (one per spouse) from the Italian embassy in the state in which you reside. You may need to provide documentation such as passports and birth certificates.

Depending on your nationality, you may also need to obtain and complete an affidavit, Nulla Osta or Dichiarazione Giurata sworn before a consular office of your home country, along with a Declaration of Intent to Marry.
A Catholic ceremony must be hosted in a church, while a civil ceremony can be hosted in a town hall or other approved location.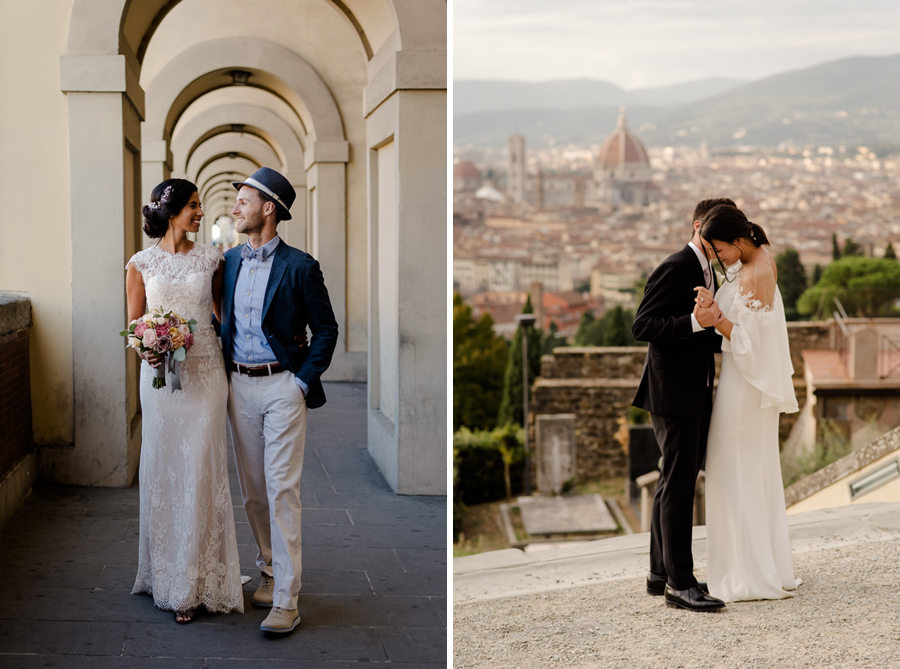 As the marriage laws can vary depending on your home country, it's always best to contact your local Italian embassy to confirm their marriage laws and documentation required. Make sure you do this early to give yourself plenty of time to research and lodge the correct paperwork. We strongly suggest working with a local wedding planner who can guide you through the process and ensure nothing is overlooked!
Ready to get started with planning your perfect wedding in Florence? Browse our latest wedding photo galleries here for inspiration, or get in touch to enquire about our Florence wedding photography services. You may also want to read our top 5 tips for planning a destination wedding in Tuscany!