A wedding in the Italians mountains: ideas and inspiration for a special day
Is there anything more romantic than a wedding in the Italian mountains? It's a question of personal taste, no one can give a definitive judgement. One point is clear though; when you decide to organise a wedding party at high altitude, from alpine peaks to snowy hills, you have that extra wow factor to exploit.
Because the allure of the mountains is undeniable. Starting from the panorama that lends itself to a noteworthy photographic service and continuing to the gastronomic selection and the comforts that one finds in the mountainside resorts. Because this is the heart of the matter: to organise a wedding in the mountains does not mean facing a spartan wedding, in the cold and in an uncomfortable lodge.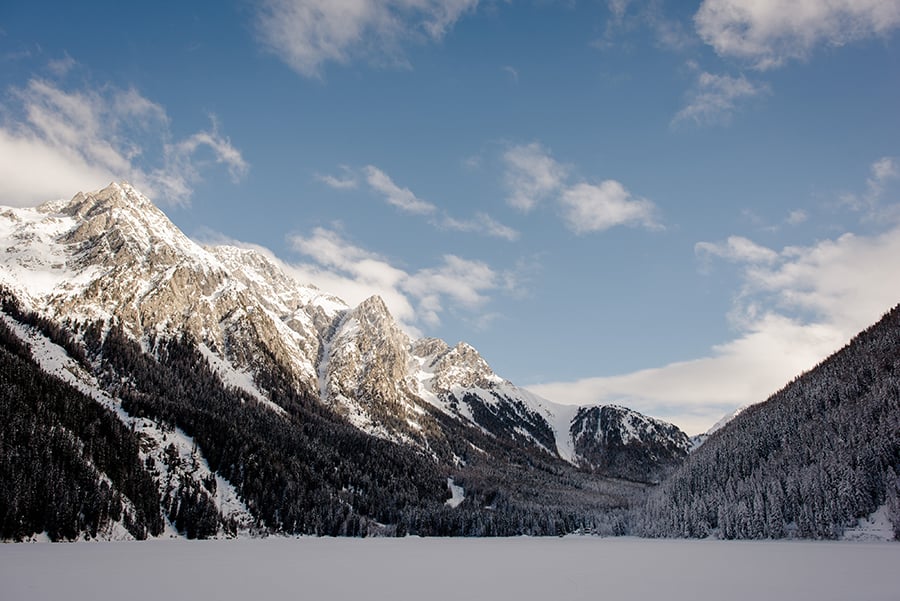 Those who decide to succumb to the allure of a wedding at high altitude know well that there are many available options through which the comfort of the bride, the groom and their guests remains a top priority. And you won't necessarily confront snow, cold and unforgiving temperatures. The reason? We have created a wedding guide to getting married in the Italian mountains that will break down each step of the process in order to live this day at its very best. And to organise an unforgettable event for the bride and groom as well as the guests.
To have a Winter or Summer wedding in the mountains?
The difference is substantial, to many it can seem that this choice lends itself to a winter wedding, but that's simply not the case. Or even better, you can choose according to your desires, and always find an ideal solution. Provided that you can adapt yourself to your surroundings.
The mountains are surely an ideal choice for those who would like to marry in the winter months because they offer breath-taking scenery and unforgettable surroundings. However, the mountain peaks in the Summer months also offer an ideal solution for those wanting either a religious or civil ceremony, to then enjoy the legendary climate and stunning green landscapes.
You can therefore choose the mountains for your wedding any month of the year. It always depends on what you prefer: snow-covered peaks, freezing temperatures and the charm of Winter; or the sweet temperatures of the alpine summer? It's your choice.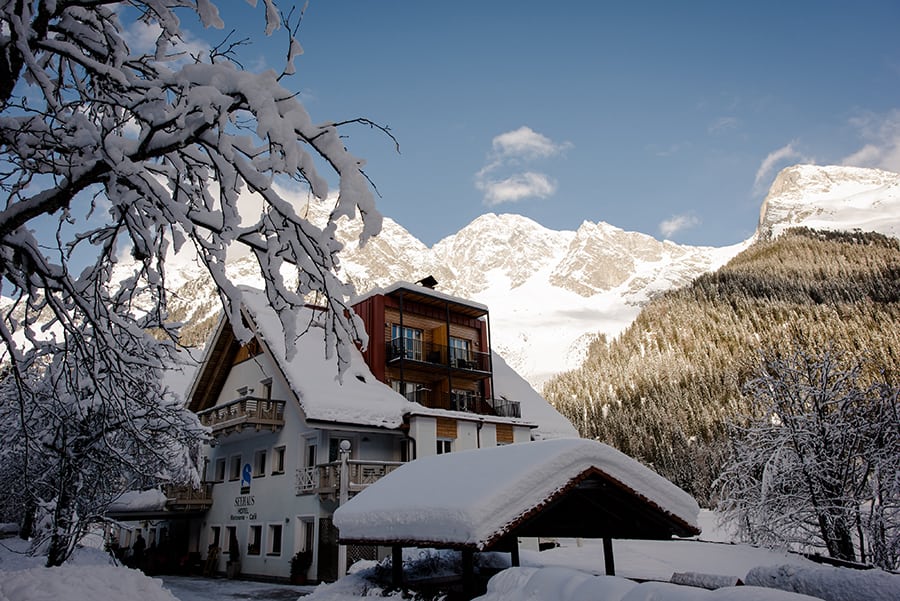 Where to organise a wedding in the mountains
One of the essential points for making a decision that is helpful to everybody, pleasurable and suitable to your needs. But above all, capable of leaving an indelible memory. The question is: what is the ideal location for this special event? If you would like to stay in Italy, you can choose from the most famous Italian winter wedding locations such as:
Madonna di Campiglio
Courmayeur
Sestriere
Ortisei
Cervinia
Selva Val Gardena
Cortina d'Ampezzo
Of course, many of the locations of Piedmont, Lombardy, Trentino Alto Adige and Friuli Venezia Giulia are great. Without forgetting the Aosta Valley and many parts of Central Italy such as those one finds in Abruzzo. Much depends on your needs; how you would like to live this moment.
If you choose a location close to a skiing district, in the Winter season you can also organise some activities on the snow with your guests. Do you prefer something more straightforward? Less snow and more convenience, simplicity of movement and services. In many cases the solution is simple: choose a specific facility.
Luxury hotel
An interesting choice, popular for the comfort and certain level of service if offers. When you go to the mountains you don't have to choose a lodge or rural houses, you can also organise your wedding in a 5-star hotel, with all the comforts associated with such a choice.
For example, you can book a ballroom facing the winter garden and a luxury suite for the wedding night, even with Spa treatments included. In these settings, as you know, there is an established tradition associated with thermal baths, saunas and wellbeing treatments. Then there's the advantage of the comfort: all the guests can stay in the hotel and leave comfortably the next day. Even arriving directly at the hotel by car.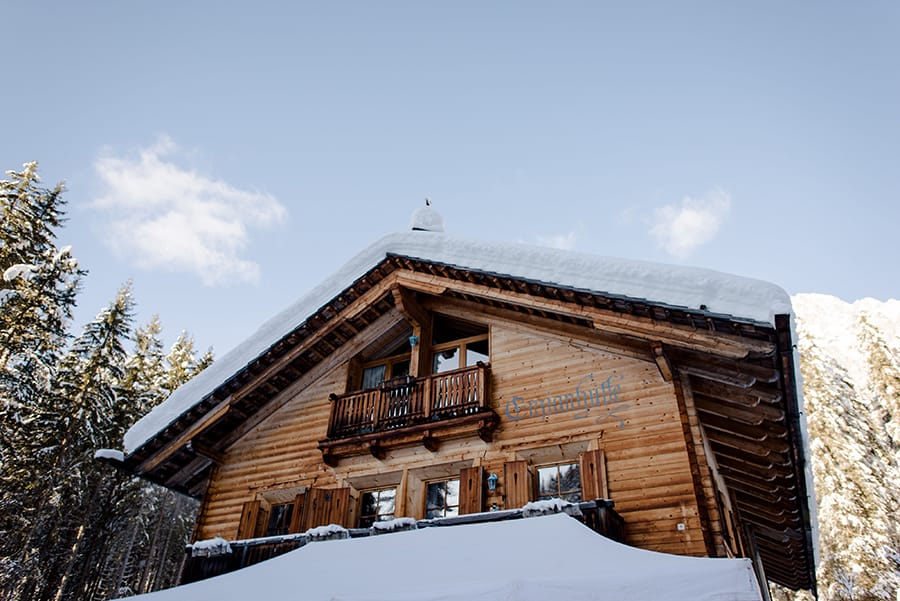 Yet another advantage for this solution? The possibility of taking advantage of the hotel's services in organising the crucial details of the wedding. For example, you can use their rooms for welcoming your guests and give the utmost support to the wedding planner who needs to supply the flowers and decorations.
Would you like an iced cake that captures the snow surrounding the hotel? You can have it, because you have a fully equipped kitchen there for your every need. Would you like to wake up the day after the wedding and dedicate the whole day to massages and beauty treatments? You can do that too: that's the beauty of a hotel.
Lodge, chalet, refuge
As opposed to a hotel, these are more intimate and confidential. But the charm is undeniable. If you're not attracted to the luxuries of a 5-star hotel complex but prefer wooden tables, rustic kitchens and large fireplaces with crackling fires then this is the answer for you.
But be warned, getting married in a mountain lodge or a typical dwelling does not mean denying yourself all comforts! It means choosing a different style, familiarity. It could even be what one needs to achieve an intimate ceremony with a small-scale party. A family affair with your closest friends.
The mountains, precisely because they're isolated and hard to get to, could be the starting point for organising a romantic getaway. Some specific ideas? You could go for an intimate ceremony in a small local church, or if you prefer a civil ceremony you could ask the local council for help in finding the ideal location. And then everyone back to the lodge to try the delicious local specialties.
Don't forget your event's style
With such an exceptional location, it's easy to let the preparatory details enchant you and to use the natural style of the place to render your event truly unique. An Italian mountainside wedding becomes the ideal occasion for conjuring up a characteristic theme. Maybe based on nature, or a fairy tale atmosphere, going back to local traditions and nature.
Realistically, it's useful to go beyond simply choosing the decoration; you can make a real impact on the wedding by planning something truly remarkable. A leitmotif that brings together all the details of the event. One of the more common choices? Snow: pure white and aligned with the chromatic details of any wedding.
How to dress for a mountain wedding
Another influential aspect in deciding on your mountain wedding: the apparel. How should one dress for these occasions? In truth, everything depends on the period that you've chosen to celebrate the event. Summer or winter? Of course, there's a very clear difference between the summer months and the coldest: let's discover together the characteristics to respect and the advice to follow.
The groom's attire
How should the groom dress for a mountain wedding? You can make the most of a long overcoat for overcoming the freezing temperatures and enrich your look with accessories of a certain style, such as gloves and a top hat. Be careful in your choice of shoes though, the alpine setting can present grassy, rocky terrain! Which presents difficulties to those dressing too elegantly or in uncomfortable shoes.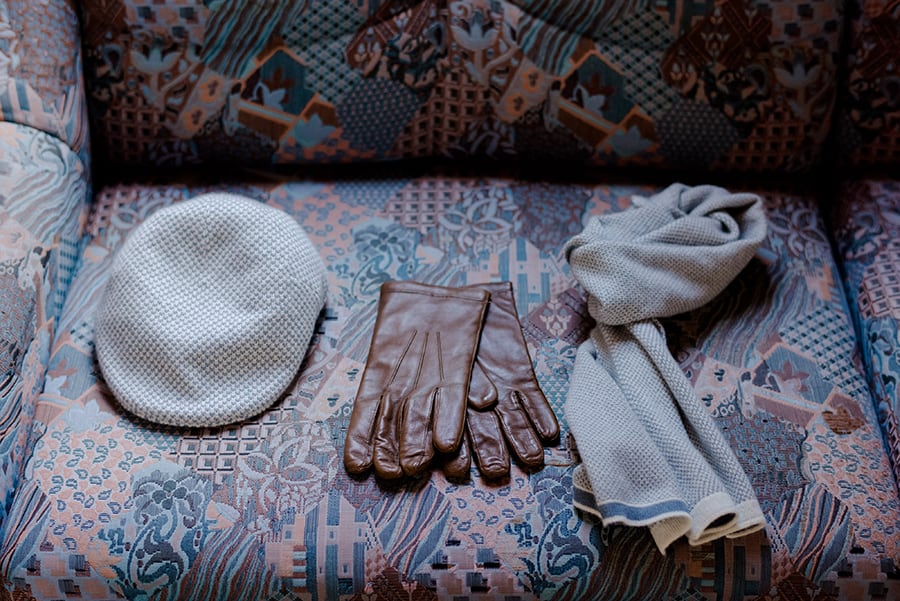 How to dress the Bride
There are specific dresses made for the coldest climes, maybe with fur detailing on cloaks and shawls. The potential details in a wedding dress designed for a mountain wedding could be limitless, but it would be best to remember one point: it will always be a location that could present certain difficulties. Therefore, it would be best to avoid over-complicated and uncomfortable dresses.
What to eat, a mountain wedding menu
It's useless trying to hide it; the charm of a wedding amongst lodges and chalets is also down to the incredible gastronomic traditions it has to offer. We're mainly talking about game, a substantial and healthy meat that when combined with an unbelievable range of wines, it leaves your soul incredibly satisfied. When preparing for your wedding, you must choose wisely and respect the local traditions.
The traditions also extend towards grappa and beer, two flavours that must never be missed when organising a mountain wedding. All this can become even more interesting when you organise tastings of local products, organised by the locals: this way you can experience something truly typical.
Organising the best photographic service possible
What is there to say: a mountain wedding offers breath-taking scenes, thrilling panoramas. It's too easy finding a good location for memorable photos. But that's not enough: remember that you are in a beautiful but unpredictable place, to wed at high altitude means running the risk of falling victim to an unforgiving climate.
And we're not just talking about wind or rain, here you're at the mountain's peak and there's a high probability of snow. Lots of snow. It is therefore paramount to work with the photographer in finding the main location, with a Plan B in case of inclement weather. Furthermore, you can consult the weather forecasts in order to organise yourself in time and have the tools necessary for making the most of the light and colours of the mountain.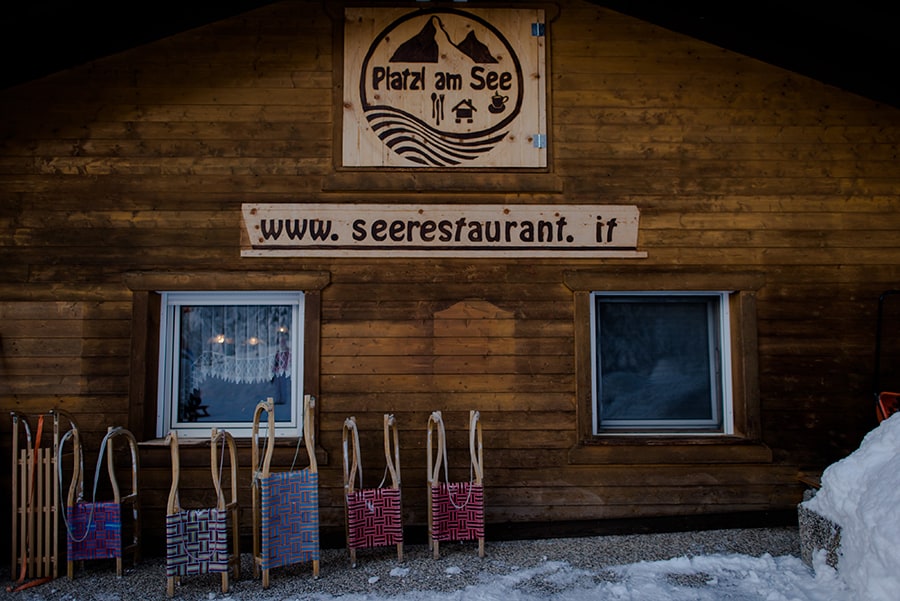 Which location to choose?
You can focus on green fields if you're leaning towards a summer wedding, or else you can choose some panoramic viewpoints around the hotel. Or you can still think of a snow-covered forest, a mountain village or even more aside. In these cases, it could be useful to work together with a local guide.
In any other situation, it would be possible to pinpoint a pleasant spot according to your tastes, but when you marry in the mountains there's an important point to consider: the feasibility of the location. Being guided by someone with local knowledge means you have greater possibilies without leaving it to chance.
Are you ready for an unforgettable mountain wedding?
It is not easy making this decision, sometimes it seems easier to lean towards the countryside. Or even the city. Everything is easier, simple, immediate. But do you know what a wedding is? A day in which dreams become reality. And if you have this longing, it's only right to follow it. Do you agree?