Winter Wedding in Italy – How to Dress and Find the Location
Are there any special rules for organizing a winter wedding?
Sure there are! Here's a series of steps and tips to follow:
Do you know anything that is more fascinating and magical than a winter wedding? Impossible! Each one of us is pleased to know (or at least to feel fairly certain) that we can leave the house without having to seek shelter from the rain. But, getting married in the middle of winter can provide one of the strongest and most intense emotions.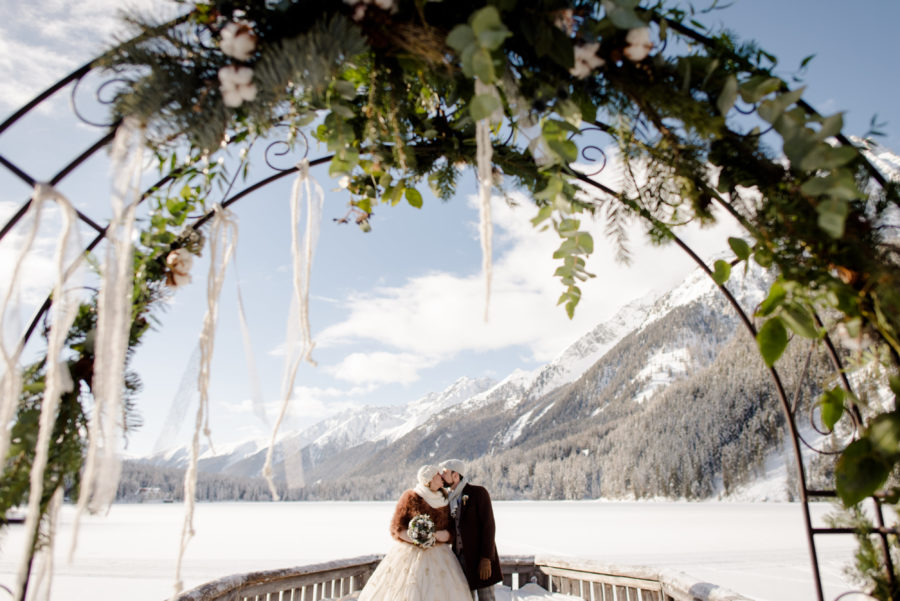 Haven't I convinced you yet? I didn't think so. The problem often concerns two things that can't be ignored when tackling this theme: the organization of the event and the location. Obviously, if I were to ask you to organize a winter wedding sight unseen, you would risk making a terrible mistake.
But, if everything is handled in a way that plays to the strengths of this choice, you will leave your guests completely astounded. In addition, you'll transform your wedding day into a memorable event like no other. Wanna bet? Let's start with what can make all the difference in terms of planning.
Hope for the best but plan for the worst
Never plan for a wedding that will somehow magically fall on a beautiful, sunny day in December or January. Whether it's in Milan, Palermo, Tunis or Berlin, your event must be organized so that you can face the challenges of rain, wind and snow.
From the arrival of the guests to that of the couple, every movement must be thought out so that it is safely under cover with means of transport to the location. Each spot must be reachable with the four wheels you came in.
Also, always remember what the restaurant has to offer in these cases. For example, is there a designated winter room? Or is the room really only ideal for summer weddings and then re-arranged to try to satisfy couples during the colder months? The structures in the north are usually well-supplied, compared to those in the south which are usually more suitable for a beautiful wedding in spring or summer.
Whatever the case may be, everything must be considered. This is just the introduction as to what could prove helpful in defining your winter wedding. You can read the rest in the next few paragraphs of the article.
Winter Weddings: What to Wear
A decisive point for any event that is further away from the months of July and August: for those who decide to organize weddings in the winter, they must choose the appropriate clothes that can protect them from the cold temperatures. But, at the same time, they must also be able to satisfy all their tastes and desires. After all, one gets married only once and for the couple involved, there is no room for compromise.
If the bride desires to leave some parts uncovered with her wedding dress, she should consider accessories like stoles and capes—or perhaps a coat that blends into the gown and becomes one piece. Even footwear must be specifically designed for the occasion. In any case, it's no problem, because the shops that sell wedding dresses are rich in solutions; you've only got to ask the advice of the consultants.
This concerns both the bride and the groom. Of course, the latter is less prone to wear clothes with bare shoulders and arms, but the choice must be considered anyway. It's better to use a warmer fabric for the bride's dress and perhaps accessorize in a way that complements the groom's suit; for example, a nice cylinder with a classic look.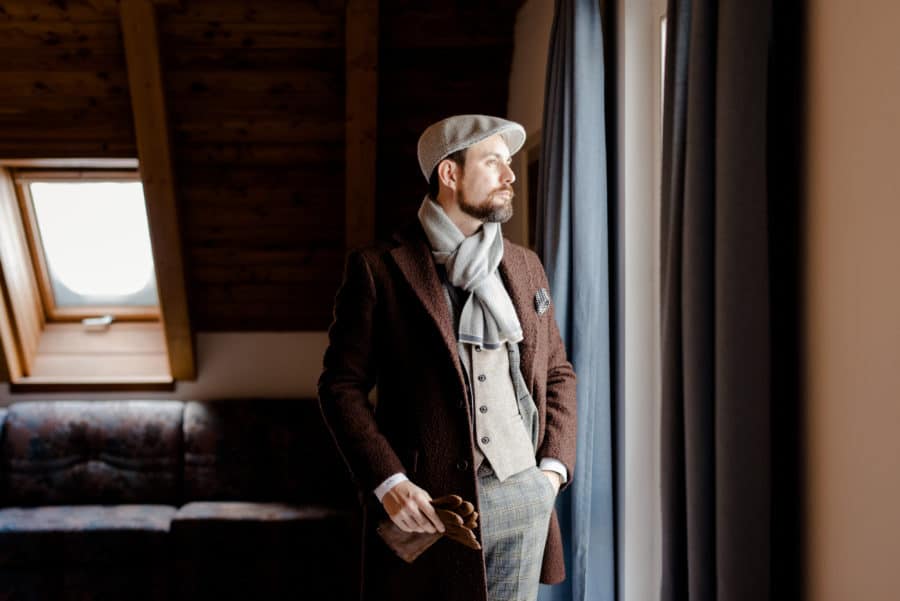 Where to get married in the winter months
The basic rule is that it must be indoors, but that should go without saying. So, the real question is: how does one organize a wedding with guaranteed success in December, January or February? The first thing is to find a special place, perhaps far away from the city.
A lot depends on what you are able to choose, but a nice idea is somewhere in the mountains. Maybe in a wooden cabin, a warm and welcoming place. Or you could opt for a luxury hotel with a spa and a starred restaurant, a place where you could also have your honeymoon.
The success of a winter wedding is linked to the place you choose to host the reception lunch or dinner. Any specific ideas? Here are some special places for hosting the guests and wedding protagonists in the coldest months of the year.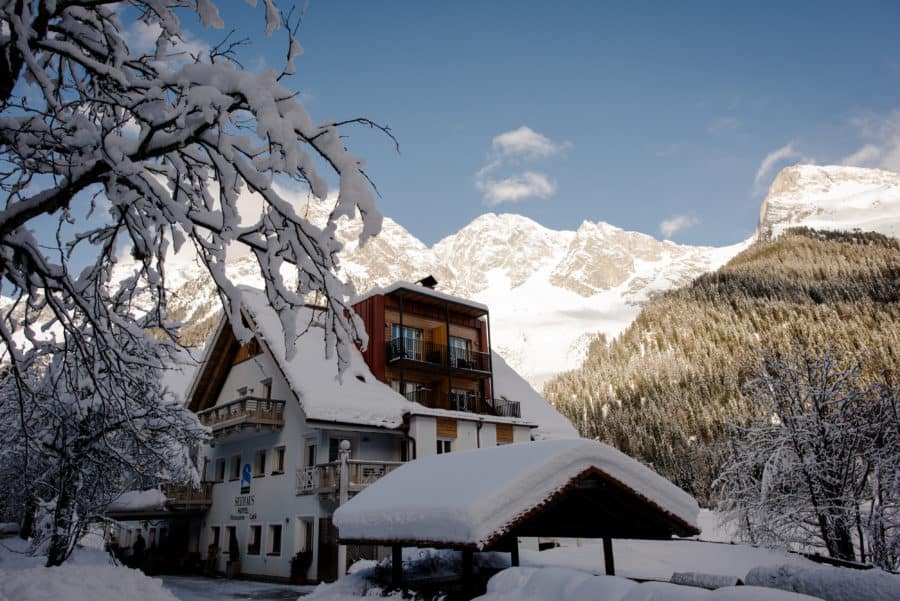 A castle
There is no better idea for those who have always dreamed of a magical place to fulfill their dream. To get married like you're in a fairy tale with a ballroom, and a princess or a prince from another time: is this your goal? Perfect! A castle is a choice that can solve many problems of having a winter wedding, while enhancing the charm.
Don't forget the importance of the arrangement: candles, tapestries and curtains can become the ideal backdrop for a wedding with a medieval, classic flavor.
You can probably only afford to rent out a few rooms, not the entire castle: the expenses would be excessive, and you don't always need lots of space. Do not forget, moreover, that castles and historic houses are flanked by excellent wine cellars where you can find a special selection of wines and grappa.
A cabin
Undeniable charm. How do you imagine a winter wedding in a cabin? Without a doubt this solution works best for those who are happy with an intimate and reserved setting. Perfect for those with few guests, even though you can choose from wider solutions, this classic Alps construction started as a simple building. Almost Spartan.
Tourism then led hoteliers and restaurateurs to transform these wooden and stone structures into small, warm and inviting little retreats. Celebrating a wedding in a mountain hut means meeting up with friends and relatives around a table to sample a traditional menu, tasting good wines and sharing a unique experience. Maybe while it's snowing outside.
Considering that the huts are located in an alpine context, it may be mandatory to spend the night at a hotel and then start the next day, with the ideal light and favorable temperatures.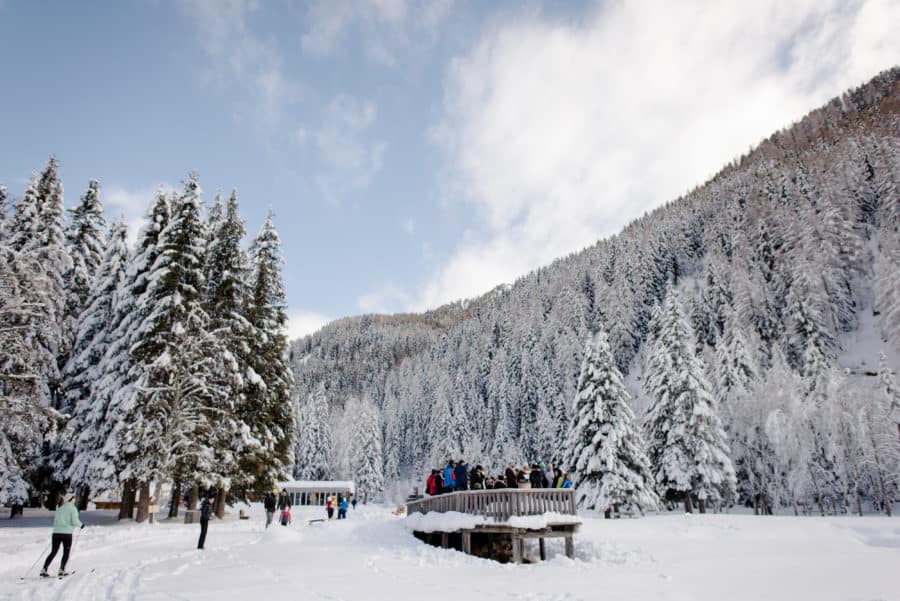 A luxury hotel
Let's change perspective. This is the ideal solution for a winter wedding with many guests. There are hotels with specific rooms and services, dedicated to those who want to get married in the mountains with many people to invite. Comfort is an essential requirement here and the services are designed to pamper guests.
A sauna, a Kneipp path, a Turkish bath, a massage: why not accompany the best day of your life with wellness and body care? These grand mountain hotels are often perfect for those who want to delegate everything to wedding planners. So, getting married in winter becomes a walk in the park.
Moreover, a wedding organized in a hotel allows for many more options when choosing the theme and decorating the rooms with everything you need. Remember that you are organizing a winter wedding, which means that menus, placeholders and other details will always have to reflect this. Unless you have a different plan and theme.
Means of transport: amaze your guests with new ideas
When you get married on the Amalfi coast, choose a convertible as a car, maybe a Fiat from the '60s, cherry-colored or yellow like the lemons from those lands. For a winter wedding, however, the choice must go in a different direction.
In the city, you can book a classic limousine, comfortable and spacious, giving some advantages if you have to get out of the car while it's raining. Whereas, if your wedding is in the mountains, you can make some crazy choices. For example, how about arriving on a sled or a snowmobile? The latter is less romantic but just as innovative. Or, if the terrain allows for it, a horse-drawn carriage is always an option to consider.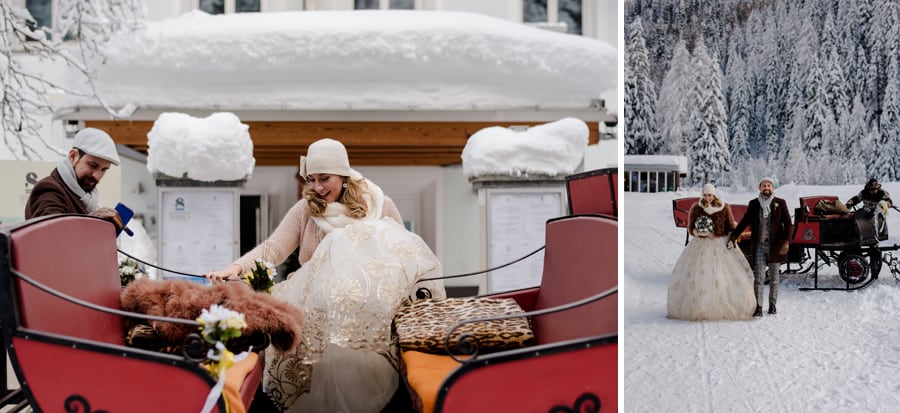 Menu: What to Eat at a Stellar Lunch or Dinner Reception
A winter wedding is not just an opportunity to enjoy the colder months in a special setting. You can (or rather, you have to) select a seasonal menu and take advantage of what nature has to offer in winter. The wine list must also be paired to the meal, without forgetting about grappa and liqueurs.
Obviously, it is impossible to define a complete menu here, but the advice I can give you is simple: take advantage of the local traditions. Winter is the right time to have more substantial, full-bodied dishes, without being afraid of weighing down the guests. Summer naturally leads to lightness, but during the winter we can be more daring. Maybe a nice dish of venison or game can make the difference, especially since the period from January to March is the best time to taste these products.
Then there are the regional selections that can become veritable signature dishes for those who decide to get married in winter. Take Tuscany for example: wouldn't it be interesting to organize a wedding in a historic house near Siena or in Chianti with a tasting of various cheeses and cold cuts, washed down with good local wine, in a banquet that precedes the lunch reception? Think about it, because all of this is perfect for a winter wedding.
Another topic: soup. Certainly a winter wedding lends itself to this dish, but it is always better to pay attention to the specific tastes and expectations. Not everyone agrees about soup. It may seem like a second best choice compared to a nice meat dish or well-cooked fish. Perhaps it is better as an appetizer, especially if served with croutons.
And for dessert? What do we do for that? Let's not limit ourselves, but still choose recipes in line with the season. Don't forget to designate a little corner of the room to sample chocolate, whiskey and cigars, according to taste. By the way, a sampling of the local beer could also be a good idea for a wedding in the mountains.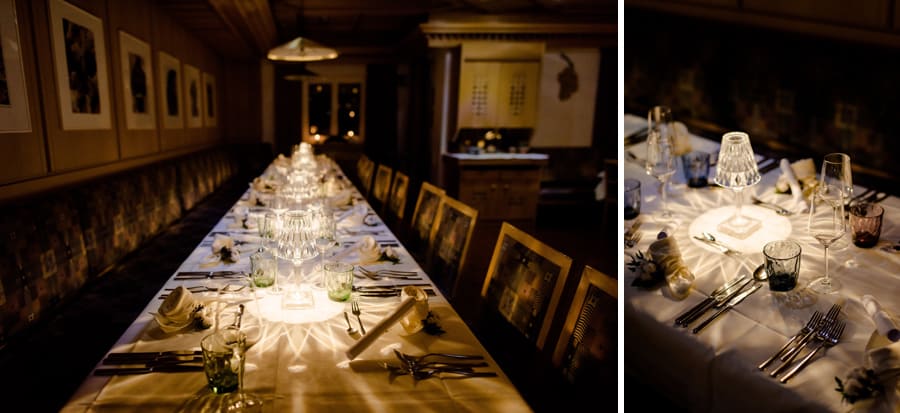 Photographing a winter wedding: the great challenge
All things considered, it may seem problematic. But, photography in the coldest months of the year has its plus sides, too. It is not true that you need the summer sun or spring light to get a quality shot. The important thing is to know how to handle the situation in the best way. And play around in order to get the best results out of the worst possible conditions.
To achieve this, we need an indispensable triptych: appropriate equipment; a professional who is able to use the outdoor conditions to their advantage; and an accurate understanding of the area with which to develop the work. Shall we start with the last option?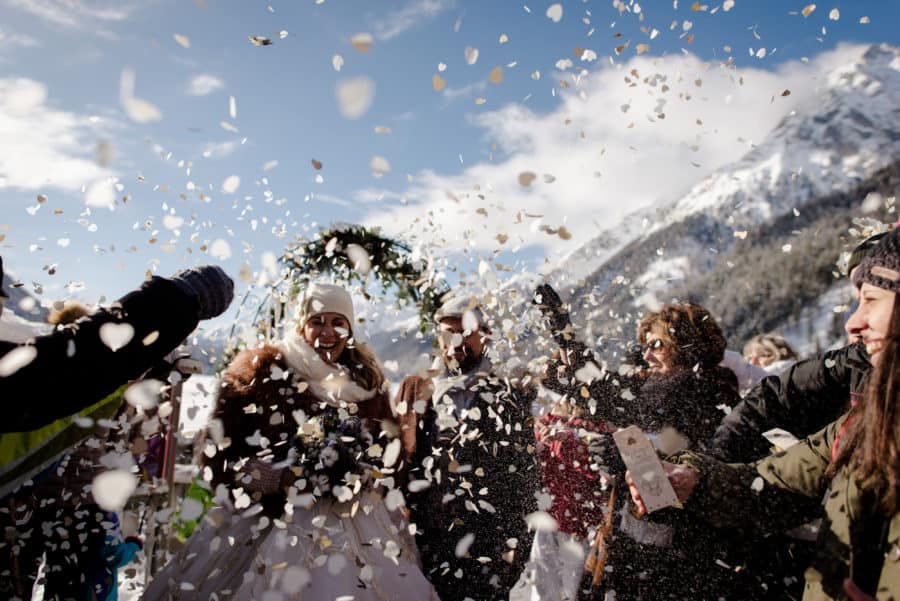 Location of photographs
To have good photos of your winter wedding, the professional in charge of the visuals must study the area. They must understand where, how and why to perform the photo shoot that precedes the lunch or dinner reception.
Usually it is a place that is located a short distance from the restaurant with a panorama or impactful point of view. But always consider the season: what happens if it isn't sunny? And what if it's raining? Or maybe it's windy? All possible conditions can manifest themselves. So, what can we do?
Or what about the reverse condition? The location is perfect for taking photos against a snowy backdrop, but there isn't any snow. What do we do now? When the weather allows you to move around, everything seems easy. But the winter wedding photographer must be ready to handle anything, so they must have a firm knowledge of the land, light and possible alternatives.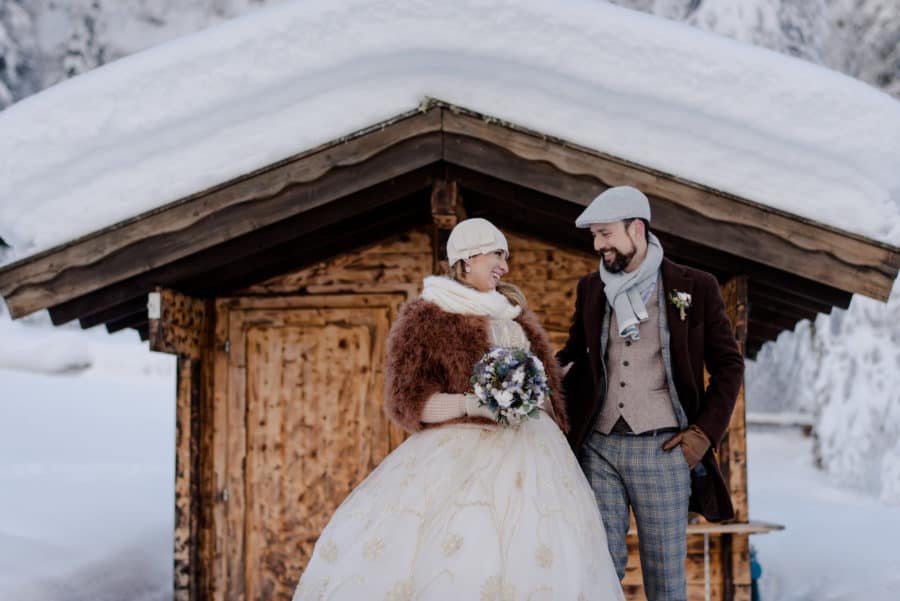 Techniques and equipment
Without going too much into technical details, one can say that photos taken during bad weather conditions are also respectable. Indeed, in many cases, particular results can be obtained by capturing moments of contrast and emphasis, using certain effects of light. Sometimes to avoid rain and other elements, you just have to wait a moment.
Perfect, now you have to follow a certain direction. Do you have the right equipment? Never forget umbrellas and plastic sheets to cover the cameras and flashes. Then, photographic techniques aside, it all depends on the ingenuity and experience of the photographer: you have to reinvent everything and try out new perspectives so as not to hide the bad weather, which is impossible, but to enhance what it has to offer.
Last step: the attitude of the couple. A winter wedding can have some bad surprises with respect to the weather. Everything is organized indoors, but the photos outdoors can be worrisome. The solution? Soul. Pictures with long faces are even more difficult to take. The photographer can help here, advising and guiding the couple in the poses.
Do you still have any doubts about a wedding during the winter months?
It's not a simple choice, I admit it. Better to imagine that you can enjoy the sun and mild temperatures on your special day. But you can't control your heart either: are you thinking of organizing a wedding in the winter? Leave your doubts in the comments.