Are you looking for a completely unique wedding venue in Tuscany? A historic castle might just be the perfect backdrop for your special day!
The beautiful region of Tuscany offers several enchanting castles for a romantic Italian wedding, each with their own rich history, medieval charm and breathtaking views.
Keep reading to explore 8 of the very best Tuscany wedding castles, as chosen by an Italian wedding photographer.
Castello di Vicchiomaggio, Chianti
Castello di Vicchiomaggio is a solid stone castle situated in the Florentine countryside. Surrounded by the beautiful Chianti hills, this impressive Tuscan castle offers a truly romantic backdrop for your Italian wedding. Enjoy cocktail hour in the Renaissance garden, before hosting an intimate dinner in the luxurious banquet hall. The castle also features an onsite restaurant, vineyard and outdoor swimming pool with views overlooking the Val di Greve valley.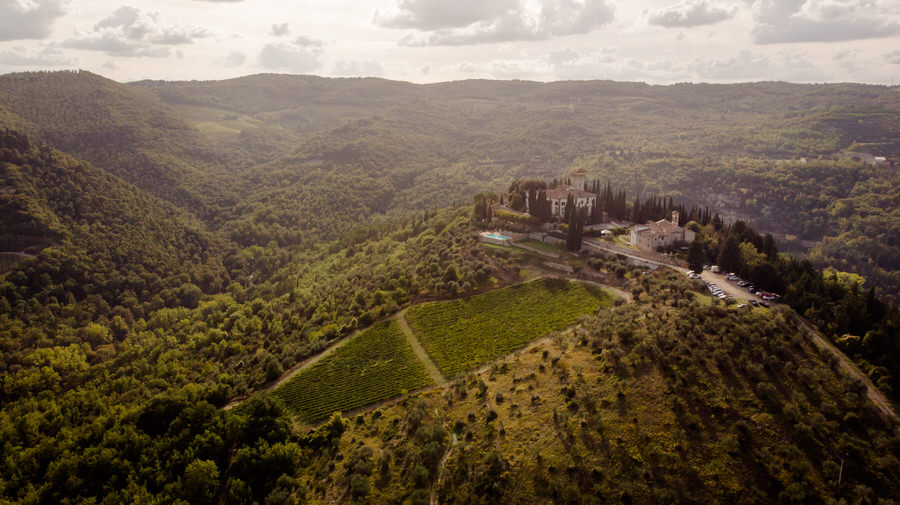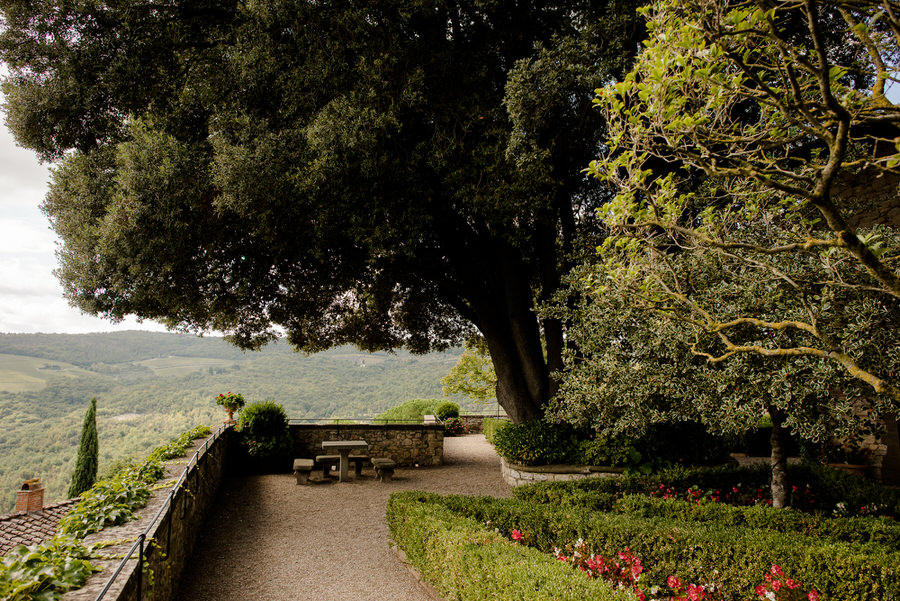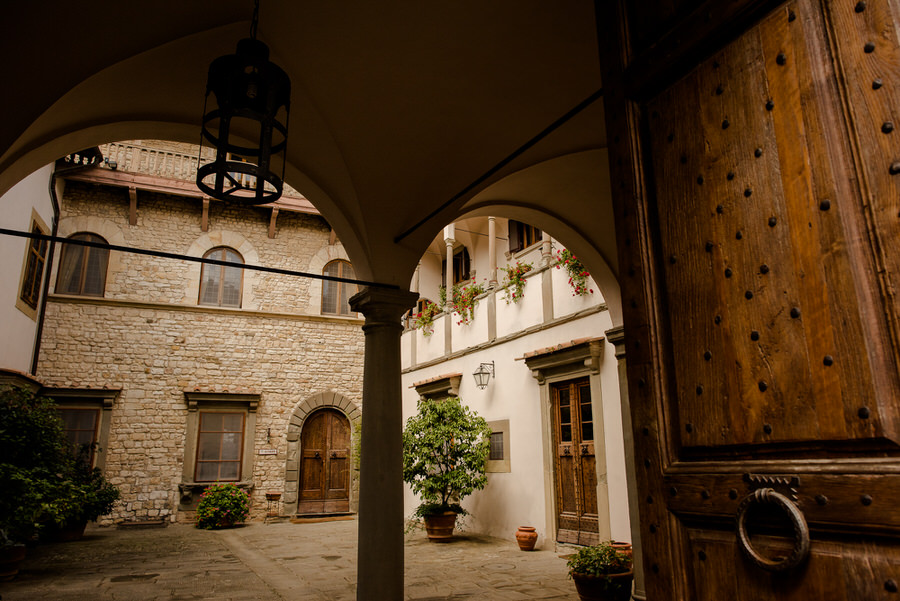 Castello del Trebbio, Chianti
Castello del Trebbio is a historic estate and winery immersed in the rolling hills of the Chianti Rufina region, just a few kilometres from Florence. This stunning private manor was constructed in 1184, and still maintains its original charm to this day. Surrounded by picturesque vineyards, beautiful courtyards and luxurious villas, Castello del Trebbio also features an onsite restaurant (La Sosta del Gusto) to cater your event with exceptional Italian cuisine.
Castello di Meleto, Chianti
Located in the heart of Chianti, Castello di Meleto is an enchanting Tuscan wedding castle renowned for its natural beauty. This 11th-century castle offers several breathtaking gardens, elegant indoor halls and an authentic medieval atmosphere, with a backdrop of cypress trees and expansive vineyards. Intimate weddings can be hosted in the courtyard or garden, while larger receptions can take place within the castle. Perfect for a rustic Tuscan wedding!
Castello di Montegufoni, Montespertoli
Immersed in the hills of Tuscany, Castello di Montegufoni is a grand castle with a relaxed country atmosphere. Featuring a mix of private gardens, courtyards and terraces, the options are endless for hosting your Italian wedding, with onsite accommodation for you and your guests. After dinner, you can dance the night away in the unique "Limonaia" or by the outdoor pool – all surrounded by the magical Tuscan landscape!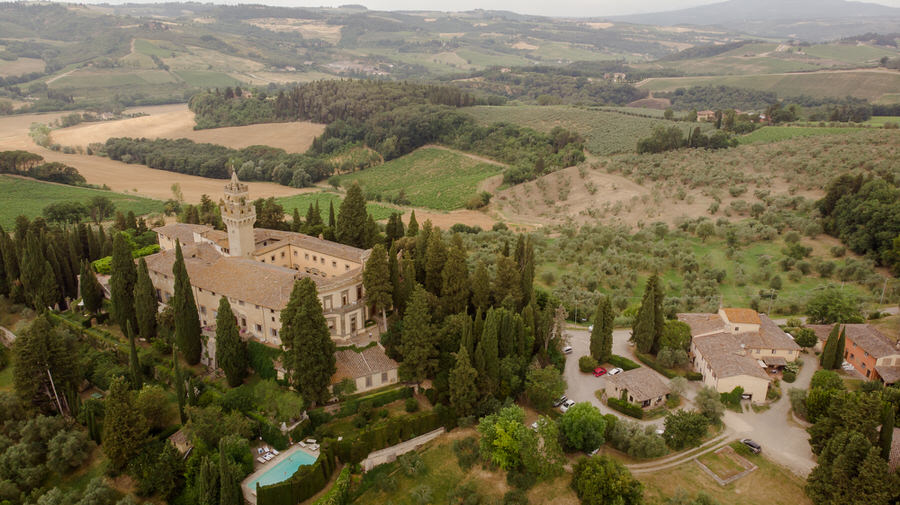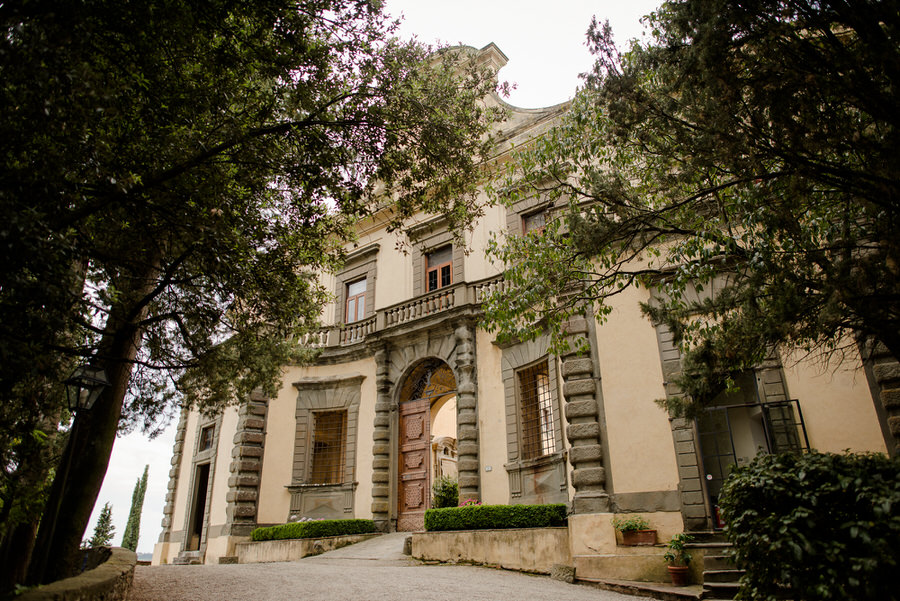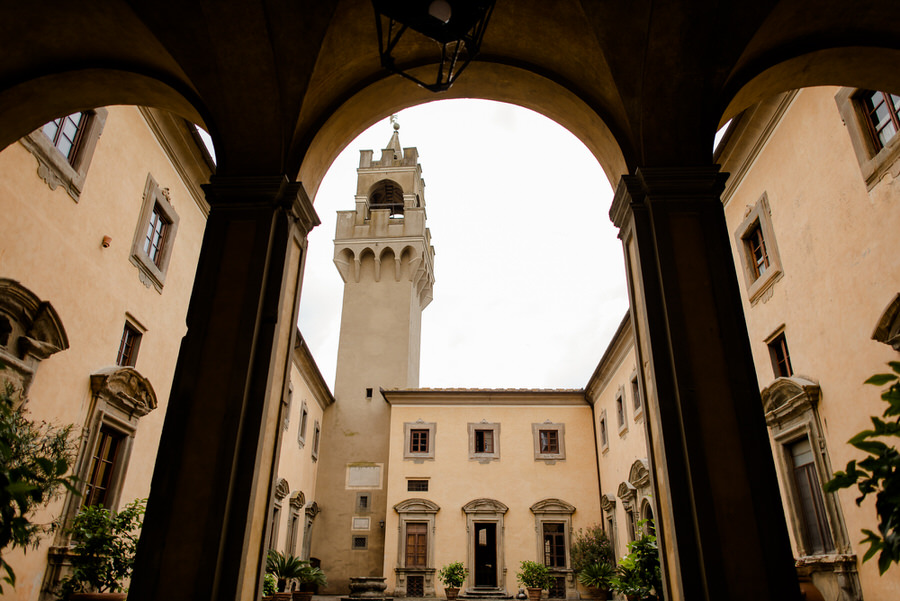 Castello di Castagneto Carducci, Livorno
Castello di Castagneto is a rustic castle venue that oozes medieval charm! Situated on the green hills of Livorno, this stunning property offers both indoor and outdoor spaces for weddings in the Tuscan countryside. Originally built in the 1200s, the castle is designed with vine-covered walls, private gardens and beautifully restored interiors. Host your ceremony in the Church of San Lorenzo, before enjoying a beautiful sunset from the terrace with views overlooking the Tyrrhenian sea.
Castello di Verrazzano, Chianti
Castello di Verrazzano is a spectacular Tuscan wedding castle just a short distance from Greve in Chianti, between Florence and Siena. Located on the top of a hill, this breathtaking castle and wine cellar has been immaculately restored and is surrounded by elegant Italian gardens and private vineyards. The space also features a panoramic terrace with sweeping countryside views (able to seat up to 120 guests) and a nearby converted farmhouse for accommodation.
Castello di Velona, Montalcino
Castello di Velona is a centuries-old Tuscan castle located in Montalcino. This romantic setting offers a variety of charming outdoor spaces, exclusive indoor rooms and luxurious accommodation suites. Celebrate your wedding amongst the romantic scenery of the Siena hills, with a beautiful terrace overlooking the landscape. The estate also features an onsite restaurant and vineyard, allowing you to enjoy the best Tuscan wines and cuisine.
Castello Banfi, Montalcino
Immersed in the serene Montalcino countryside, Castello Banfi is one of the most exclusive castle venues in Tuscany, offering a stunning and romantic atmosphere. Many couples travel from around the world to host their wedding at this family-owned estate, renowned for its beautiful gardens, famous vineyards and delicious wines. With several indoor and outdoor spaces available, the castle is impressively designed with grand archways, fabulous views and an incredible piazza overlooking the countryside.

Currently planning your Tuscan wedding? Learn the best times of year to get married in Tuscany here, or find more Italian wedding inspiration via our wedding stories!