Styling Inspiration for a Farmhouse Wedding in Tuscany!
What could be more magical than a farmhouse wedding in the Tuscan countryside? From the breathtaking landscapes and stone buildings to the private, peaceful atmosphere, a farmhouse or country estate is the perfect location for a rustic Italian wedding.
If you're currently planning your wedding in Tuscany, we're here to inspire you! From table decorating to colour schemes, we share some styling tips and ideas for an authentic farmhouse setting below.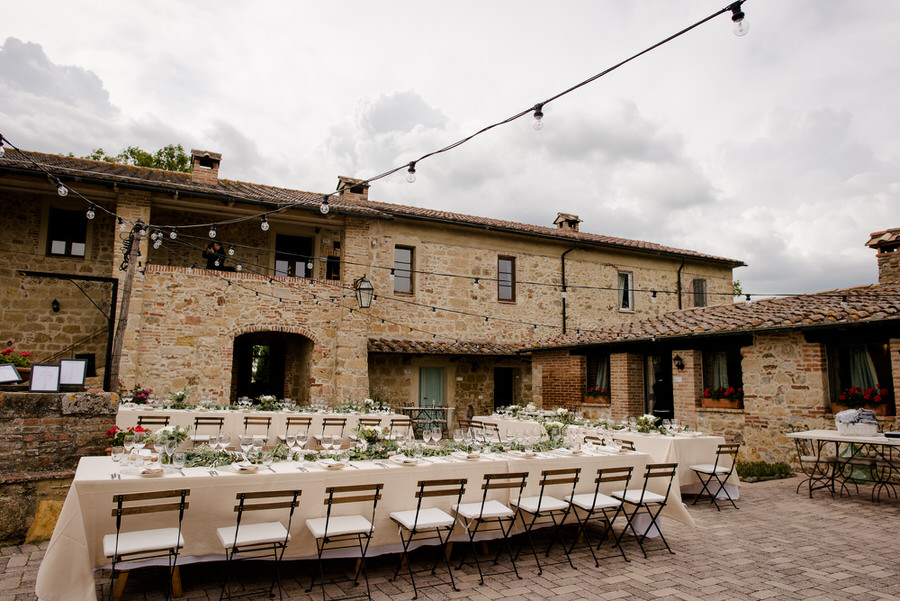 Tuscany Farmhouse Wedding Styling: Timber Furniture
Using timber furniture as the base of your design will perfectly complement a farmhouse wedding venue and create a relaxed, casual atmosphere. Choose earthy pieces like wooden dining tables, timber chairs, vintage wine barrels and wooden stools – the more rustic, the better! You can also use timber elements for other styling details like your seating chart, signage and table numbers.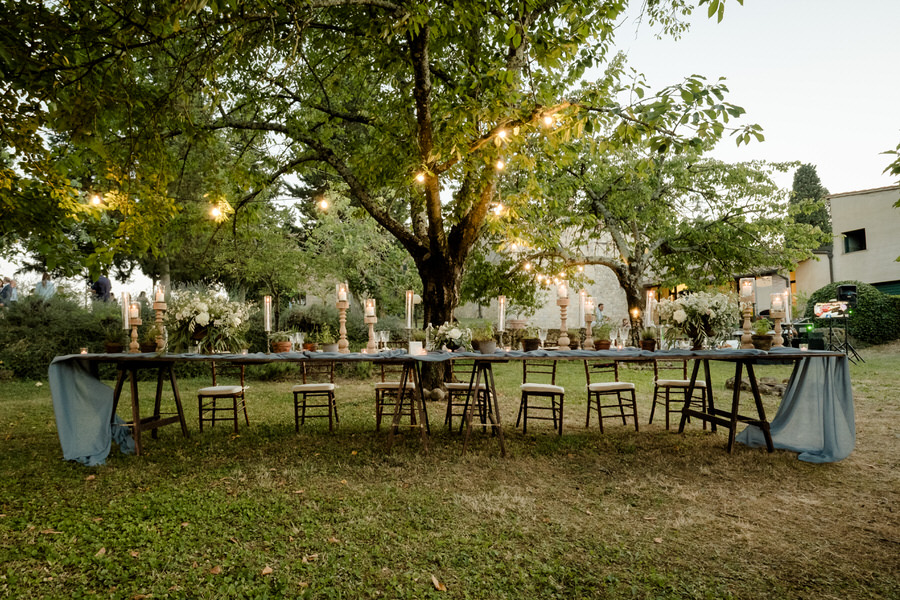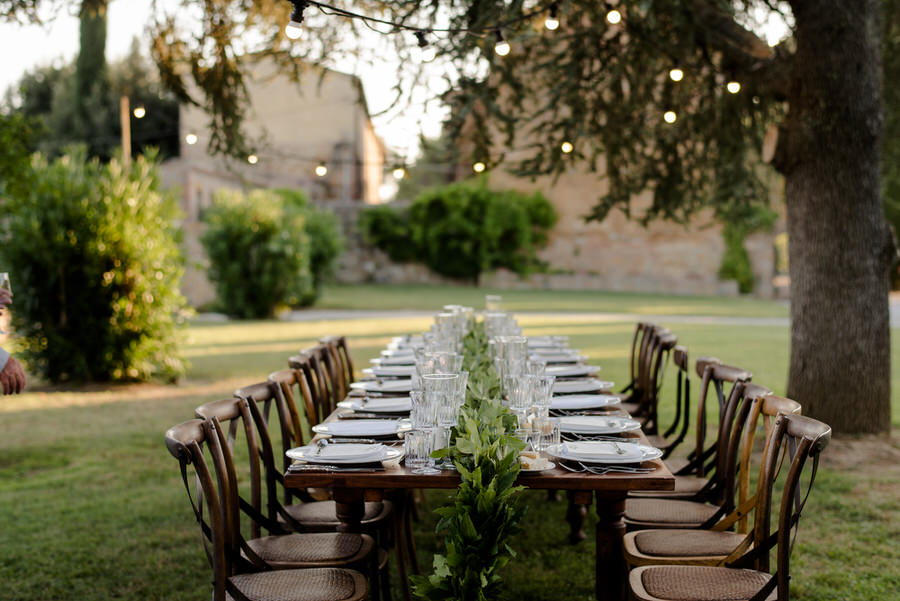 Tuscany Farmhouse Wedding Styling: Fresh Greenery
Fresh greenery is essential for an authentic farmhouse wedding in the Tuscan countryside! Potted herbs, plants, wildflowers or moss will work perfectly on your reception tables, while also adding a beautiful natural fragrance. Display your plants in vintage mason jars tied with twine or rustic terracotta pots for a country-inspired look.
Olive leaf will also help you create an authentic Tuscan feel, and can be used in many ways throughout your wedding styling. You can layer olive leaf garlands down your reception tables, hang them in clusters from above, or place a sprig on each napkin! We also love olive leaf branches in large vases, urns or pedestals for a dramatic ceremony backdrop.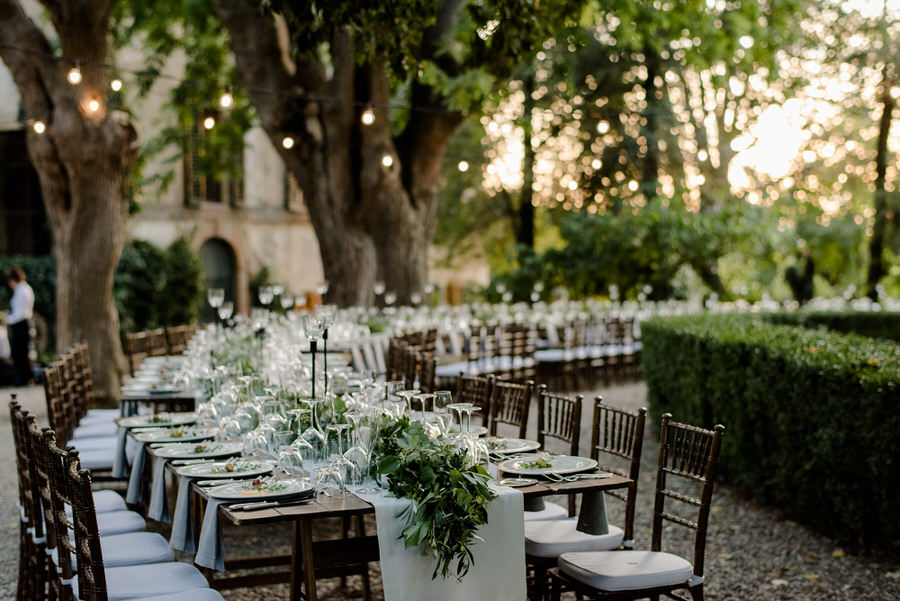 Tuscany Farmhouse Wedding Styling: Neutral Colours
Be inspired by the surroundings of your venue when creating a colour scheme for your farmhouse wedding. The Tuscan countryside is filled with rich, earthy tones like olive green, deep browns, soft greys and creams. These neutral hues will work perfectly against a rustic farmhouse venue, so keep your colour scheme simple and refined for a cohesive look. You can read our top tips on choosing a colour scheme for your wedding in Italy here!
Tuscany Farmhouse Wedding Styling: Mismatched Decor
Don't be afraid to mix and match different pieces together for your Tuscan table centrepieces! Pair vintage cutlery, crystal glassware and mismatched vases with fresh produce like lemons, limes and grapes for an eclectic feel. This will make your table settings beautifully detailed, with lots of interesting layers.
Tuscany Farmhouse Wedding Styling: Festoon Lights
Festoon lights will add a touch of elegance and style to your Tuscan farmhouse wedding. Create a warm, romantic and festive atmosphere by hanging strings of festoon lights above your guest tables – perfect for an outdoor reception. Complete the look with plenty of scattered candles and lanterns, and your guests will be ready to dance the night away in the Tuscan countryside!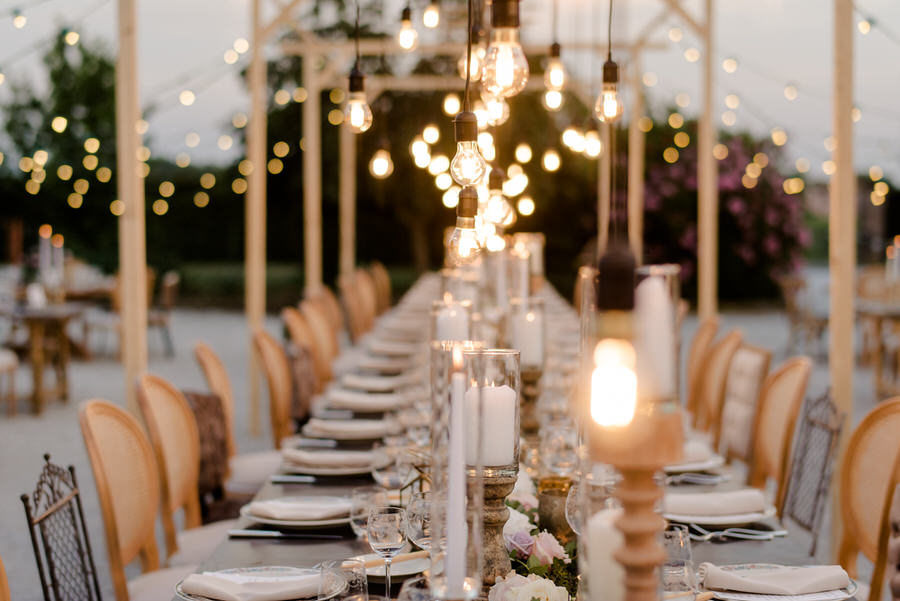 Looking for more Tuscany wedding styling inspiration? See our latest wedding stories here, or browse our favourite centrepiece ideas for a romantic Tuscan wedding.