So, your RSVPs have come in, the big day is just around the corner – now it's time to create your wedding reception seating chart!
Putting together the perfect seating plan can often feel overwhelming, especially if you're planning a large event. How do you choose the best table layout? Where should you seat your parents? And what about those single guests?
Don't panic – we've compiled our top tips for creating a flawless wedding reception seating plan below. Keep reading for a step-by-step guide, so you can finally tick this task off your to-do list!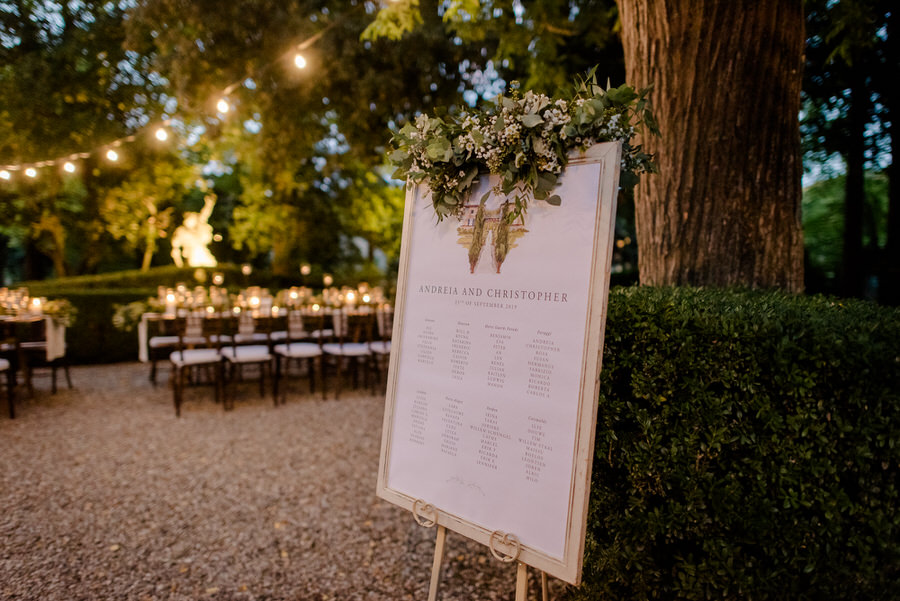 Choose Your Table Layouts
First, you'll need to decide on the right table layout for your wedding reception. There are a few different options to choose from: round tables, rectangle tables, long rows, or even a U-shaped layout.
To help you determine the best table layout for your wedding, follow these simple steps:
Consider your wedding venue. How much space do you have available at the venue? The size, shape and design of your wedding venue will help you figure out the most suitable floor plan for your reception.
For example, are you hosting your wedding in a narrow room or terrace? Perhaps one long, banquet-style table will be the best option. Alternatively, if you're hosting your wedding in a spacious ballroom or courtyard, round tables would work perfectly. Tip: Ask your wedding venue to share some photos from recent weddings, so you can see how other couples have utilised the space.
Think about your guest numbers. Are you planning a small, intimate wedding with just a handful of friends and family? If so, you may want to seat your guests together on one long table for a warm and cosy feel. Alternatively, if you're planning a large event, individual tables could be a better option.
Consider the vibe of your wedding. Next, think about the kind of atmosphere you want to create at your wedding reception. Round tables work beautifully for a more formal, sophisticated look, while long tables will help you create a relaxed and rustic vibe.
Think about where you want to sit. Do you want to include a seperate bridal table for the entire wedding party? A "sweetheart" table for just the two of you? Or would you prefer to sit amongst your family and friends? This will be the final piece of the puzzle to help you create a table layout that fits your needs.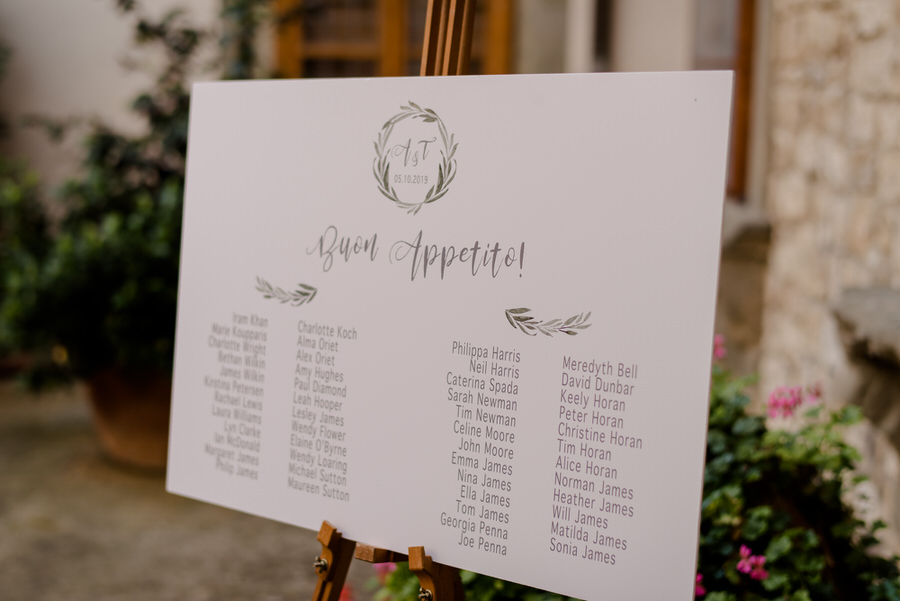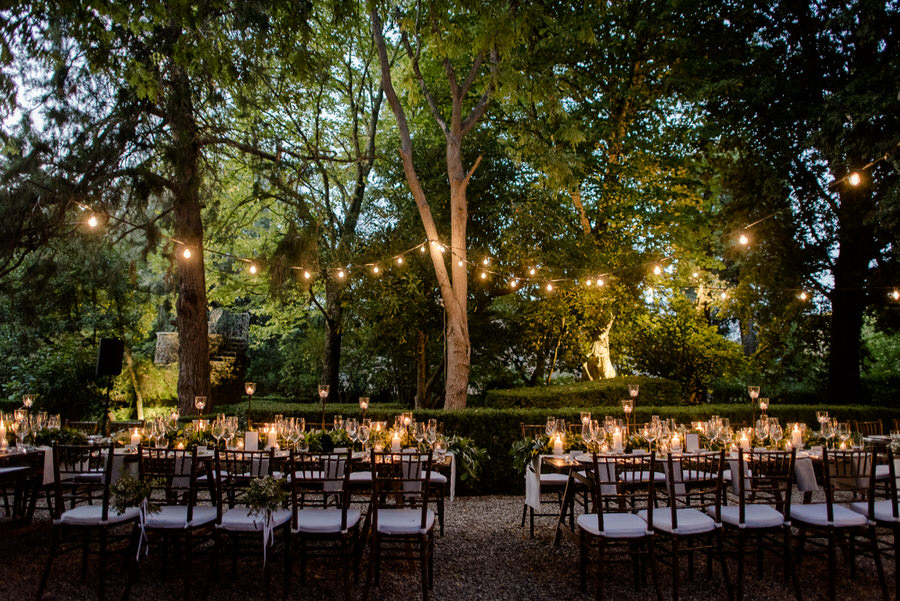 Group Guests Into Relevant Categories
Now that you've decided on your floor plan and table layout, you'll need to start assigning seats for your guests. This is where it can get a little tricky!
To streamline the process, start by grouping your guests into different "categories" based on the relationship you share with them. For example: immediate family, extended family, school friends, mutual friends, work friends, parent's friends, etc. This will give you a rough idea of who should be seated together.
Start Drafting!
Next, allocate seats for your "VIP" guests first. These are the guests who need the best seats in the house, such as your parents, siblings and bridal party members. Ideally, you'll want to position these guests closest to you and your partner.
Once your priority guests have been assigned seats, you can start drafting in other guests around them. You can do this using a digital spreadsheet, a whiteboard with markers, or even a piece of paper and post-it notes! Whatever method you choose, make sure you can easily change things around – you may need to experiment with a few different options before you find the perfect mix.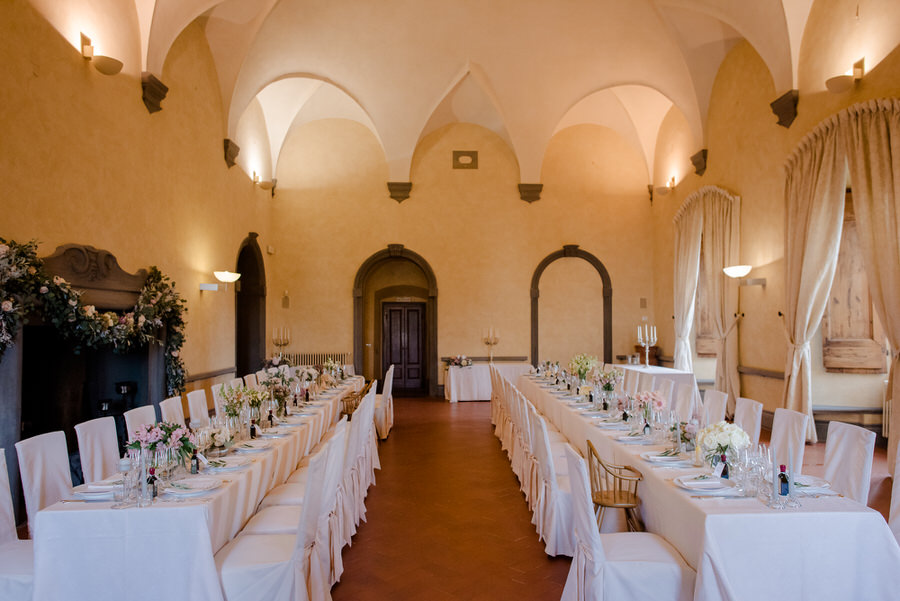 Keep these tips in mind as you begin drafting up your seating plan:
Remember, while you want to seat friends and family together, you also want to encourage mingling and meeting new people! Ideally, each table should have a mix of both new and familiar faces. You can use your guest list "categories" as a starting point, but also consider seating like-minded guests together who share similar interests, hobbies and personalities.
Be sensitive to the needs of your guests to ensure everyone is comfortable. For example, grandparents and elderly guests may prefer to be seated further away from any loud music.
If you have any solo guests, don't group them together on an awkward "singles" table. Instead, disperse them throughout your seating plan next to other guests you think they'll get along with.
Finally – start early! Don't leave this task until the last minute, or you'll be feeling pressured before the wedding. Try to confirm your seating chart at least 3 weeks in advance, so you can relax and enjoy the lead-up to your special day.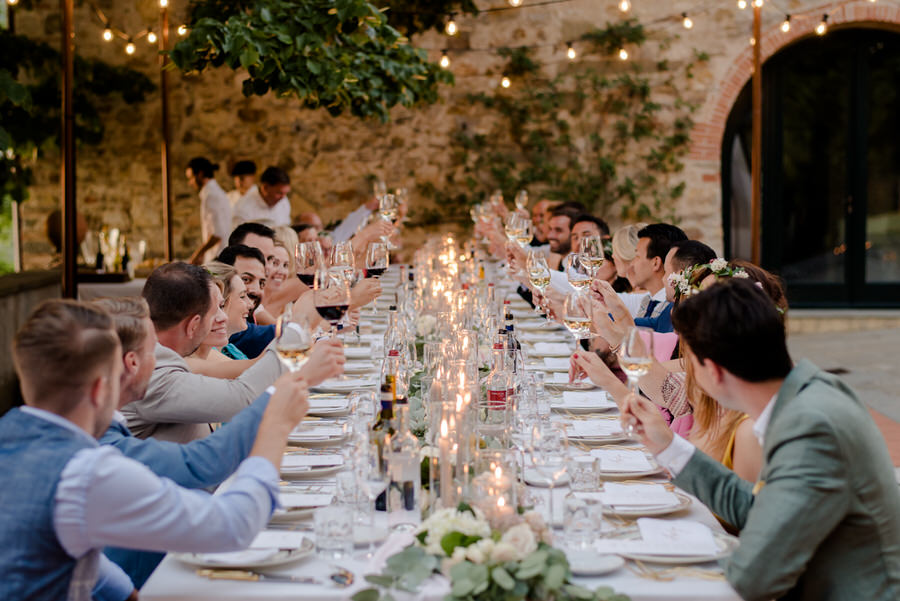 Looking for more wedding planning tips? Find our ultimate destination wedding planning timeline here! Or, if you're planning a destination wedding in Italy, get in touch for more details on our wedding photography packages. Based in Tuscany, we capture beautiful wedding stories across Italy and beyond.