Styling Inspiration for a Medieval Castle Wedding in Tuscany
Imagine celebrating your wedding in an enchanting Tuscan castle – what could be more romantic?! Castle weddings in Tuscany are some of our favourites to photograph, with majestic stone walls, amazing landscapes and a magical atmosphere.
If you're currently looking for some castle wedding inspiration, you're in the right place. From colour palettes to lighting, decorations and more, keep reading for our top styling tips for a medieval castle wedding in Tuscany.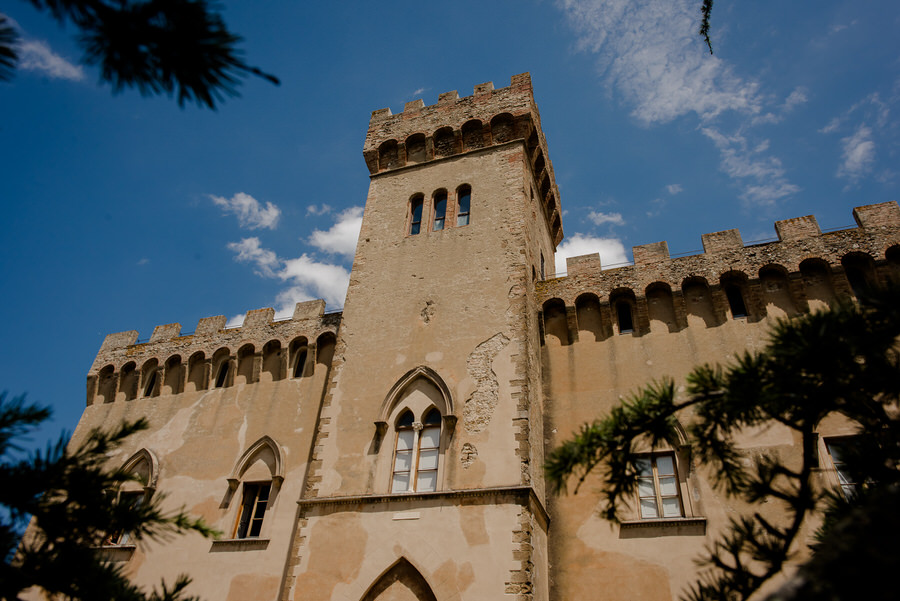 Choosing The Perfect Castle Wedding Venue in Tuscany
First things first, you'll need to find the perfect venue for a medieval castle wedding. Here in Tuscany, we're spoilt for choice with an array of rustic castles available to hire, each offering their own unique features. Many of these Tuscan castles are rich in history, dating right back to the 11th century!
No two venues are the same, so think about the kind of castle venue that will best suit your needs. For example, if you're planning an intimate wedding, you might prefer a small, secluded castle with a private courtyard. Or, if you're planning a bigger party, you might like a spacious castle with plenty of accommodation for your guests.
Think about your guest numbers and overall wedding "vision" to help you narrow down your options. You can find our top 8 castle wedding venues in Tuscany here to get started!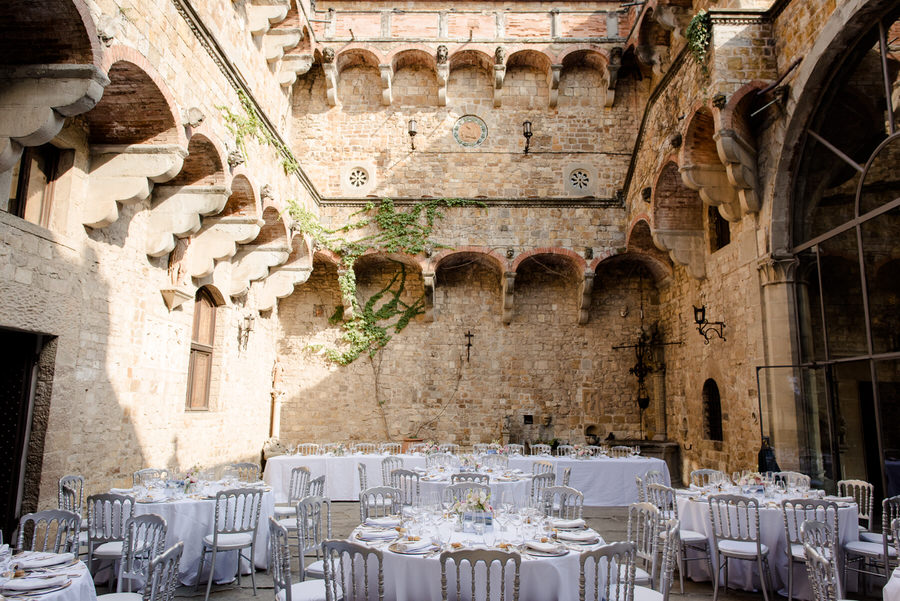 Tuscany Castle Wedding Inspiration: Soft Linens
Soft, floor-length linen tablecloths work beautifully for an elegant castle wedding. Drape your tables in cream, grey or ivory cloths for a classically romantic look. Round tables will create a more traditional, formal ambience, while long tables are ideal for a more relaxed atmosphere.
Tuscany Castle Wedding Inspiration: Gold Details
Gold accents are the perfect companion for a medieval castle wedding! Consider incorporating gold dining chairs, gold cutlery or gold candles scattered down your tables for a rich, regal look. These pops of gold will contrast beautifully against the ancient stone walls and historic architecture of a Tuscan castle.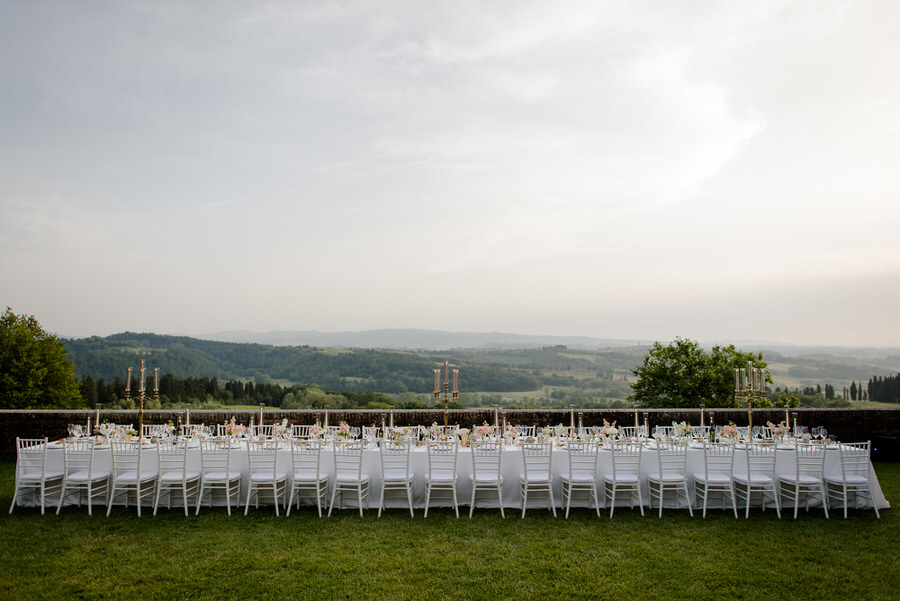 Castle Wedding Inspiration: Colour Schemes
When it comes to choosing a colour palette for your Tuscany castle wedding, think about the overall vibe you want to create.
Do you want a classic, simple look? Go for neutral colours like grey, green and white, with pops of blush pink, peach or lilac. Or, for a more dramatic look, consider rich jewel tones like burgundy, emerald and plum. You can incorporate these colours into your flowers, stationery and linens to tie all of your different styling elements together.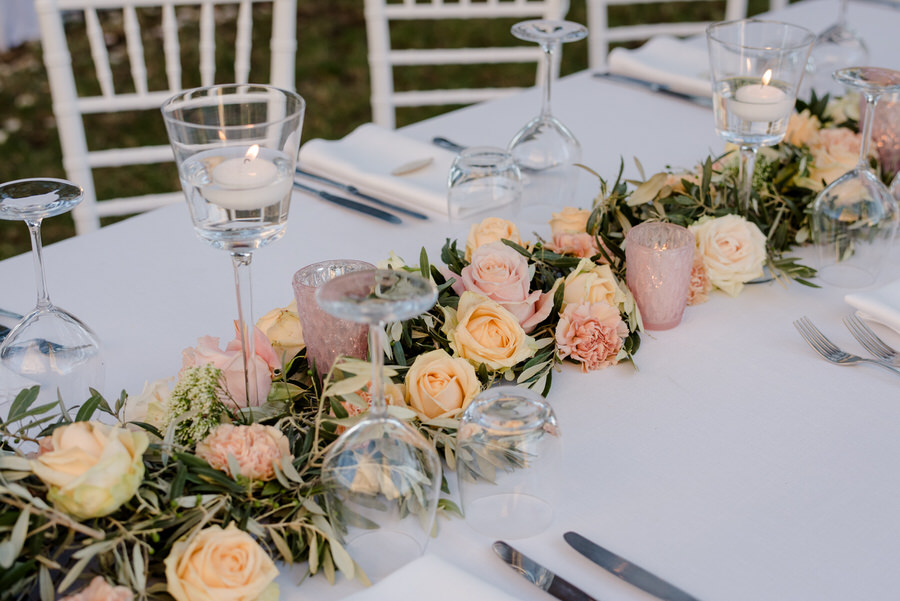 Castle Wedding Inspiration: Chandeliers and Candlesticks
Elegant chandeliers and scattered candlesticks are the perfect lighting options for a medieval castle wedding. Hanging crystal chandeliers above your guest tables will create a spectacular ambience, while scattered candlesticks throughout your venue will create a warm, moody glow.
Castle Wedding Inspiration: Staircase Styling
Many Tuscan castles feature impressive staircases, so why not make these a focal point with beautiful styling? Organise a dramatic floral garland to hang down the balustrade, or style a cluster of lanterns at the bottom of each step. This will also make for a stunning photo opportunity as you make your entrance at the beginning of the night!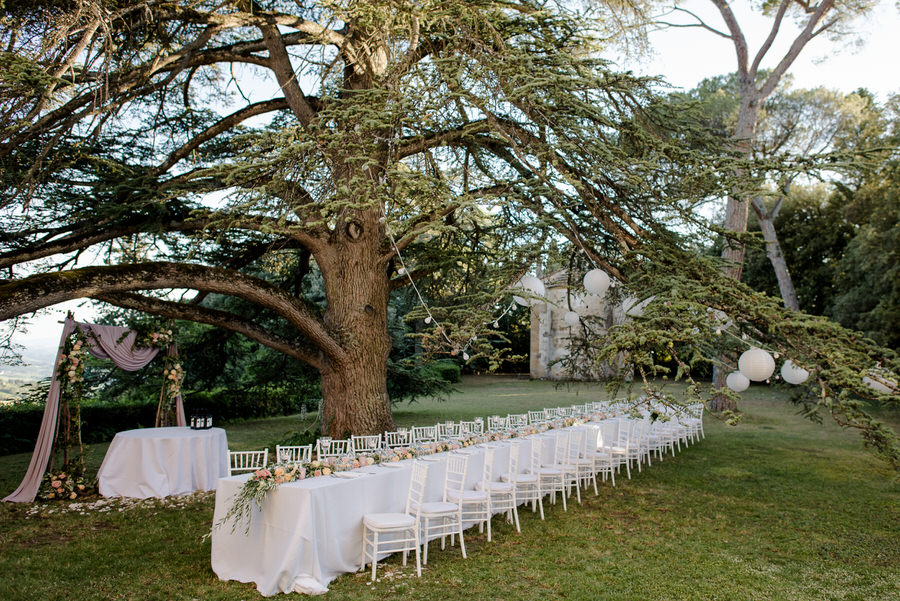 Castle Wedding Inspiration: Black Tie Dress Code
Complement your medieval castle venue with a black-tie dress code. Hosting your wedding in a historic castle is the perfect opportunity for your guests to dress up in formal gowns and suits for a memorable atmosphere. And when it comes to bridal attire, we love a dramatic veil and long train for a medieval castle wedding!
Currently planning your wedding in Tuscany? Read about the best times of year to get married in Tuscany here, or find more Italian wedding inspiration via our latest wedding stories!