Looking for centrepiece ideas for a romantic Tuscan wedding? Whether you're hosting your celebration at a historic castle or luxury villa, your wedding table centrepieces will help to transform your venue and set the mood for your reception.
But when it comes to romantic table styling, which centrepieces are best suited for a memorable Italian wedding? From fresh flowers to olive leaf garlands, keep reading for our favourite Tuscan wedding centrepiece ideas to consider for your special day.
Potted herbs
Are you planning a rustic Tuscan wedding? Create a warm, relaxed atmosphere by using clusters of potted herbs on your wedding tables. Potted herbs are the perfect centrepiece option for a simple, natural and earthy look – and, they'll provide a beautiful fragrance for your guests!
You can display your herbs in rustic terracotta pots, wooden crates, or even glass jars tied with twine. This centrepiece option is ideal for outdoor weddings in the countryside surrounded by nature!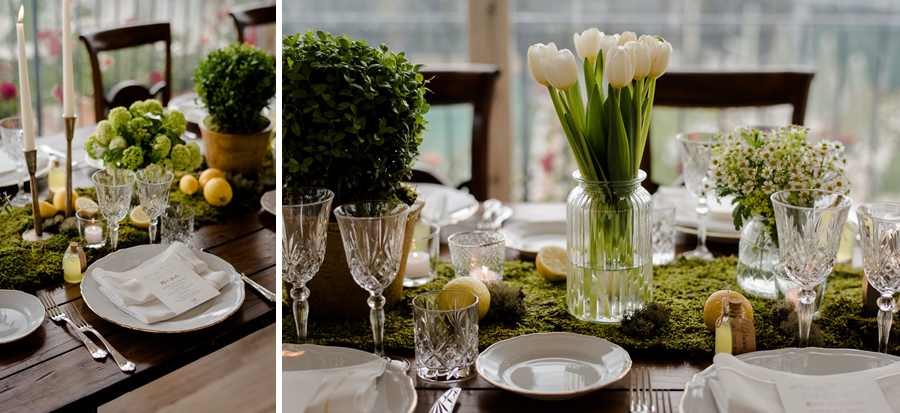 Fresh flowers
Fresh flower arrangements will instantly transform your tables and create elegant, timeless centrepieces. We recommend choosing colours that complement your Tuscan wedding venue and overall styling theme.
For example: peach, blush and pink flowers in gold vases work beautifully for a soft, romantic look. This could be the perfect option for a luxury villa or castle wedding. Alternatively, fresh bunches of sunflowers, wildflowers or lavender would be a great option for a rustic farm or countryside wedding.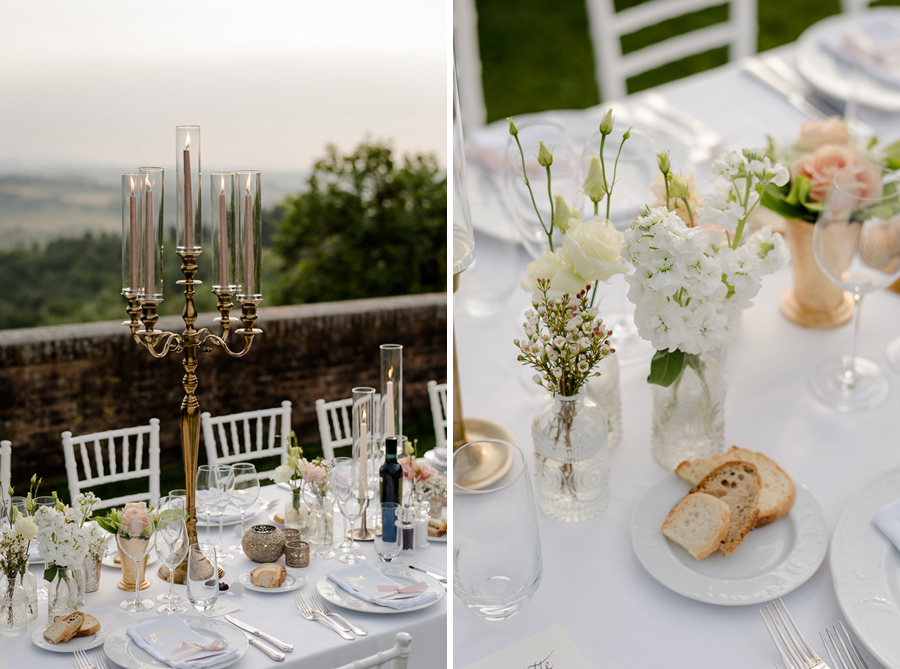 Glowing candlesticks
We think candles are essential for a truly romantic Tuscan wedding! Create a dreamy, intimate atmosphere with scattered candlesticks in different heights down the middle of your reception tables.
We love ornate candlesticks in gold, bronze or silver for a luxury look – or, wooden candlesticks for a more rustic setting. No matter which style you choose, candlesticks will be sure to create a magical glow and set the mood for a romantic evening.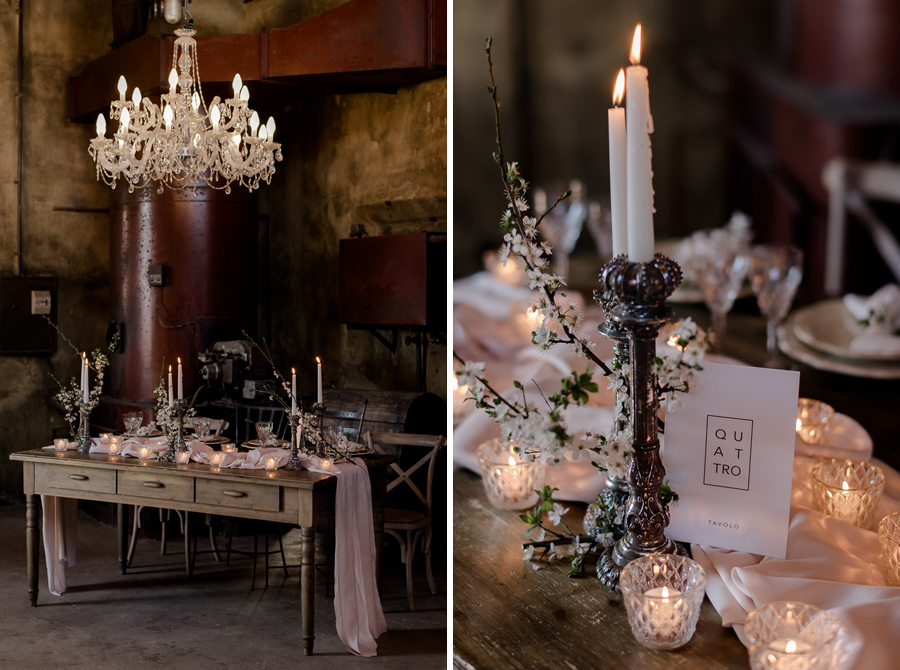 Olive leaf garlands
You simply can't go wrong with trailing garlands of greenery for an authentic Tuscan centrepiece. Keep it simple by layering garlands of olive leaf and fresh foliage, or add a pop of colour with some lemons, citrus fruits or scattered flowers. We think this centrepiece option works perfectly on long wooden tables for a rustic-elegant feel!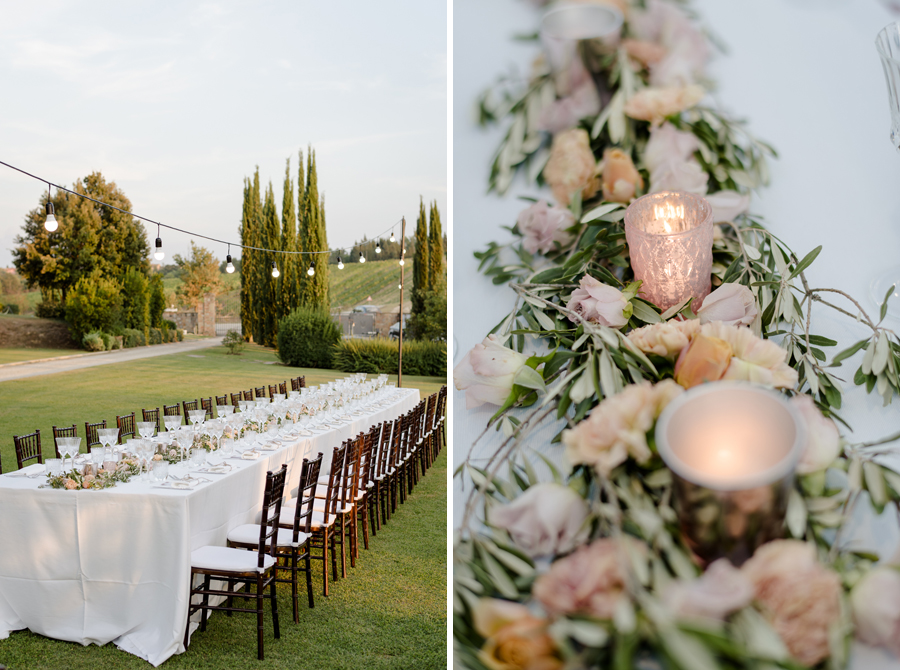 Empty wine bottles
Tuscany is home to some of the world's best wine regions, so why not incorporate some wine bottles into your table styling? Empty wine bottles can be transformed into flower vases, candle holders and even table numbers. You can keep them simple, or add some extra detail with paint, calligraphy, twine or olive leaf.
Linen table runners
Linen table runners are a beautiful addition to any Tuscan wedding reception. Create a soft, romantic feel with chiffon or silk runners in grey, white or pastel pink. Linen table runners are perfect for adding some subtle colour and texture into your reception tables, and also look incredible in photographs!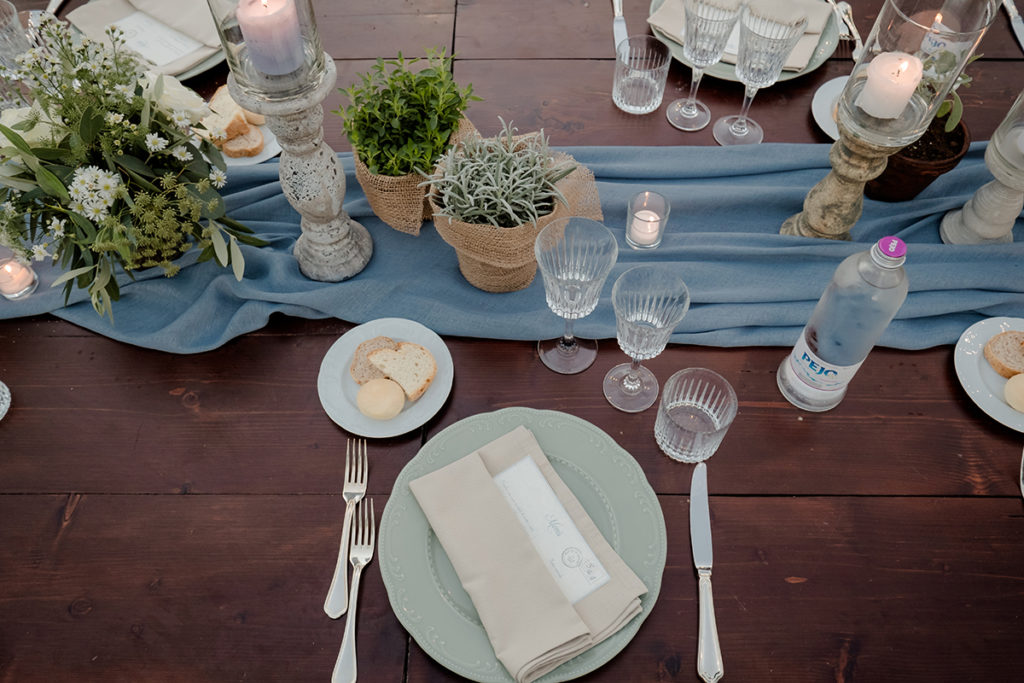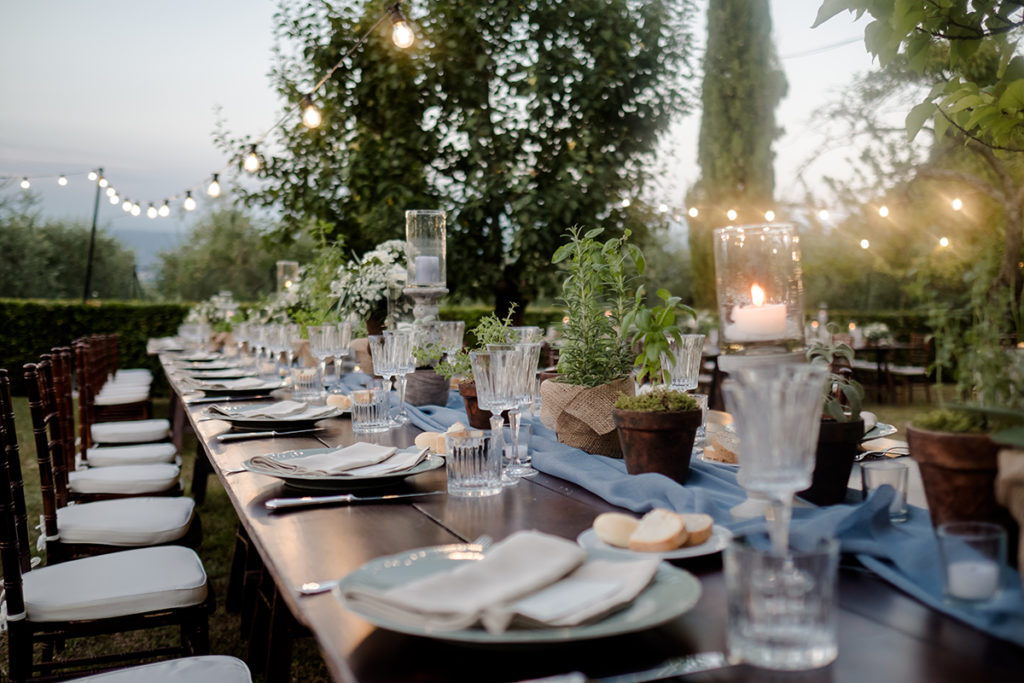 Currently planning your wedding here in Tuscany? You can find more Tuscan wedding styling inspiration on the blog right here, or head over to our photography gallery to see some of our latest real weddings. We specialise in capturing love stories throughout Tuscany, Italy and beyond.