The Ultimate Guide to Planning an Autumn Wedding in Tuscany!
Autumn is one of the best times of year for a romantic Tuscan wedding. So, what do you need to know about planning the perfect autumn wedding here in Italy?
As Tuscan wedding photographers, we have some expert tips to help you organise a beautiful celebration. From weather forecasts to styling ideas and inspiration, keep reading for our ultimate guide to planning an autumn wedding in Tuscany below!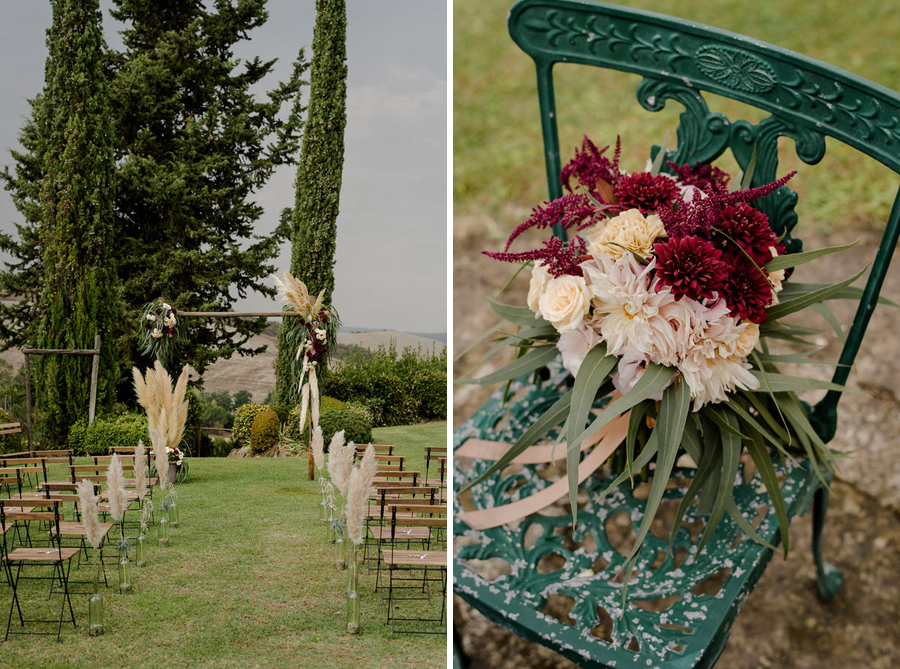 Autumn Weddings in Tuscany: Weather Conditions
The autumn months (September, October and November) are ideal choices for a destination wedding in Tuscany, thanks to our favourable weather conditions.
While the summer months can be extremely hot, the autumn season is mostly warm, sunny and mild. During the day, you can expect temperatures ranging from 20 to 25 degrees, making it extremely comfortable for an afternoon or outdoor wedding. Keep in mind that there can be some occasional rainfall during autumn, and you may need a light jacket in the evening when the temperatures drop slightly.
Another great reason to consider planning an autumn wedding in Tuscany is that our busy tourist season is coming to an end. Many of our popular locations in Italy are less crowded throughout the autumn months. Not only can you and your guests escape the crowds, but you may also be able to save money on flights and accommodation, too. Read our guide on how much it costs to get married in Florence here!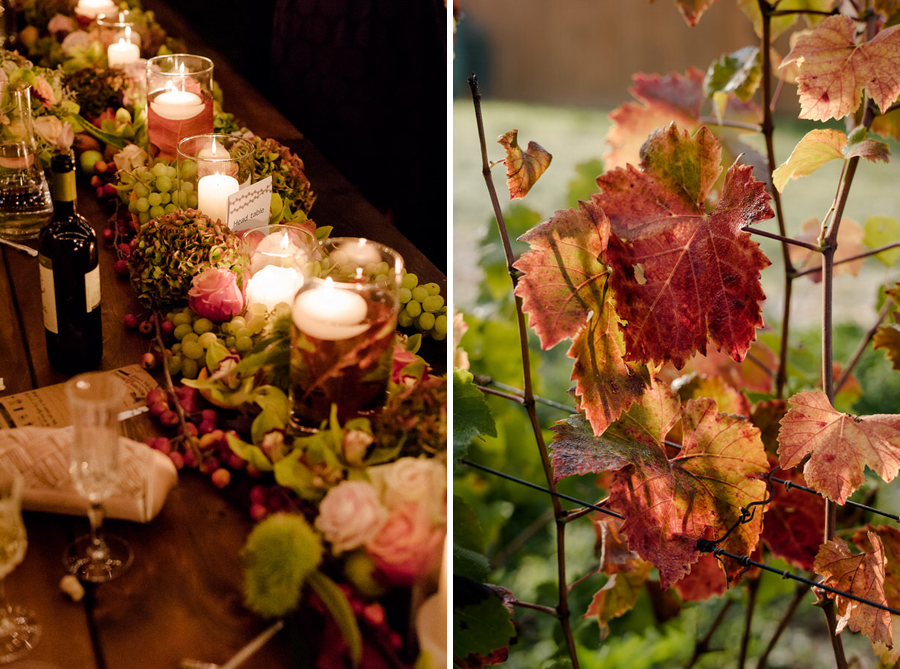 Autumn Weddings in Tuscany: Advice for Your Wedding Timeline
So, what do you need to know about planning your wedding day timeline for an autumn wedding in Tuscany? When should you plan your ceremony and reception to make the most of our autumn weather?
During the autumn months, the sun usually sets between 7.30 – 8pm. With this in mind, it can be a good idea to plan your ceremony in the late afternoon. This means you can take advantage of "golden hour" for your wedding portraits between 6.30 – 7.30pm, while your guests enjoy cocktails and canapes.
The autumn season also offers the most incredible warm sunsets, so your wedding photos are guaranteed to be amazing! You can read our guide on creating the perfect photography timeline for your wedding in Italy here.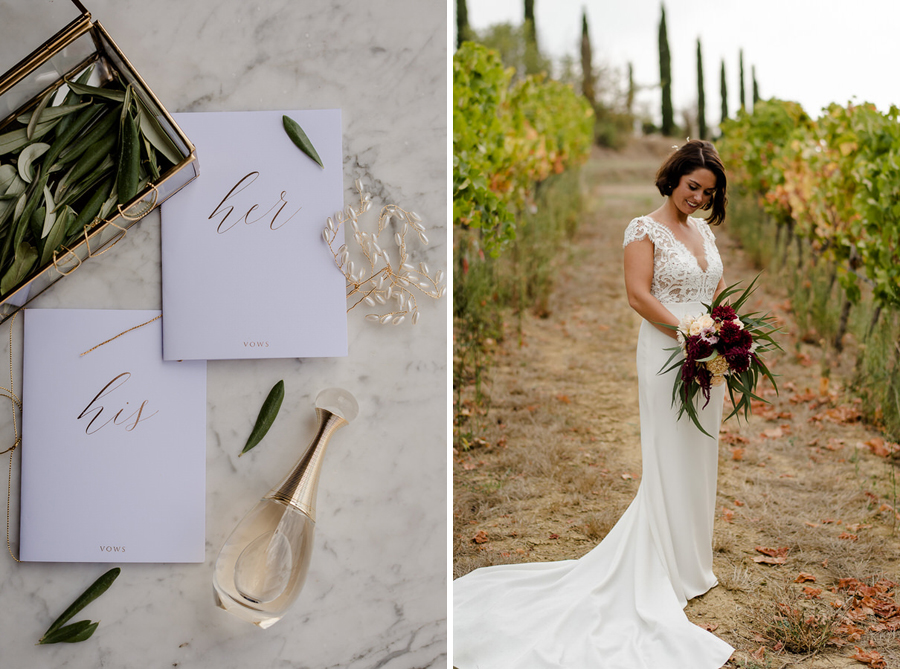 Autumn Weddings in Tuscany: Venues to Consider
Tuscany is a particularly beautiful place during the autumn months. Our harvest season is in full bloom, and there's plenty to see and do. You and your guests can enjoy organic markets, local food festivals and scenic bike rides through medieval villages.
When it comes to your wedding venue, the options are endless for an autumn wedding in Tuscany. Autumn is all about nature, so consider a wedding venue in a countryside town like Siena or Chianti to immerse yourself in our scenic landscape. Private villas, wineries and converted farmhouses are all great options for an autumn wedding. Imagine exchanging your vows, surrounded by cypress trees, overlooking the rolling hills of Tuscany against a golden autumn sunset. Magic! You can explore some of our favourite wedding venues in Tuscany here to be inspired.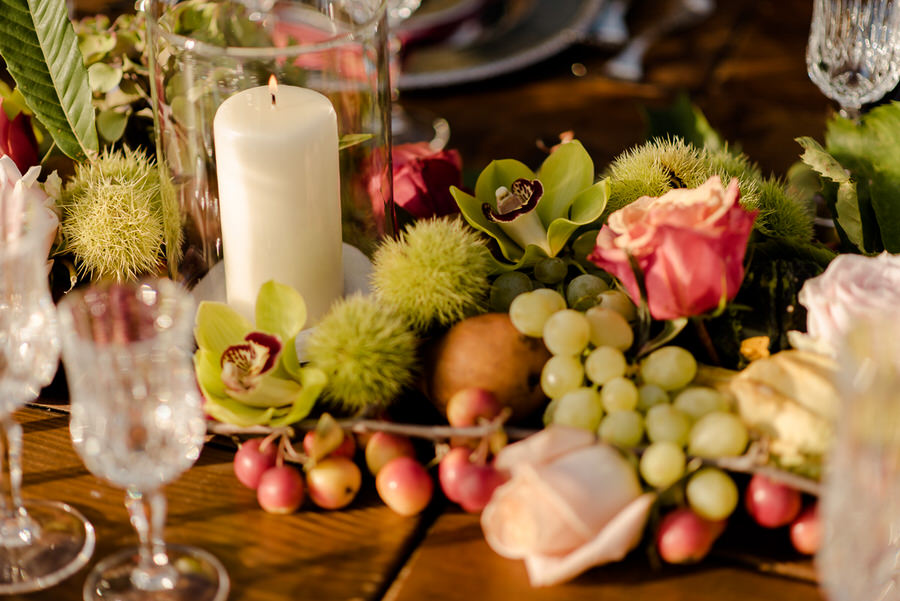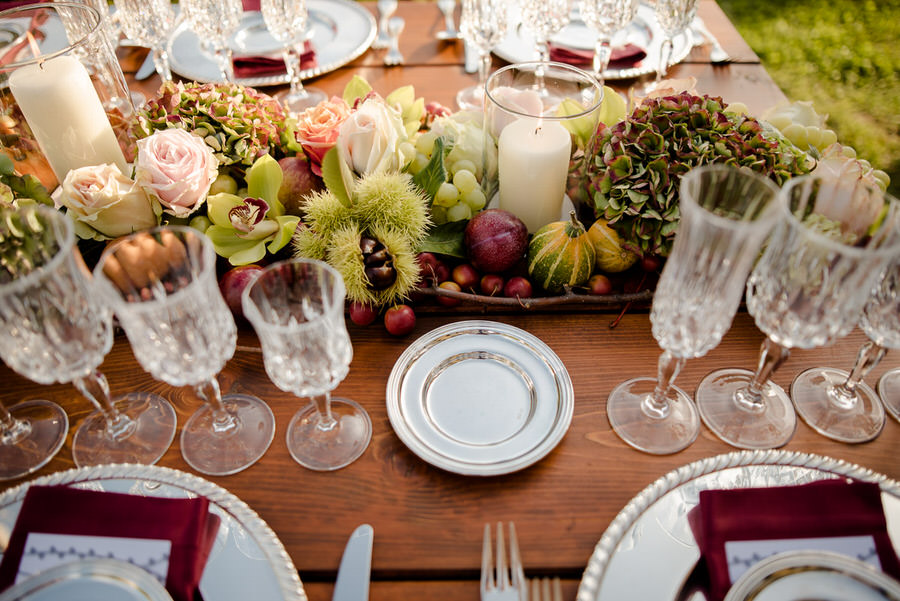 Autumn Weddings in Tuscany: Styling Inspiration
Now, let's talk about colours, themes and decorations for an autumn wedding in Tuscany. Autumn is the season of warm, earthy colours, good wine and fresh local produce. We suggest being inspired by nature and our vibrant autumnal landscape when designing your autumn wedding.
When it comes to colour palettes, think about rich, warm colours like terracotta, olive green, mustard, oranges, reds and gold. Earthy materials like timber and stone also work beautifully for an autumn wedding. Take advantage of our incredible seasonal produce to create an unforgettable dining experience for your guests, and make your table settings feel extra special with decorative charger plates, gold cutlery and rustic centrepieces like olive leaf or citrus fruits. Tuscany also has some beautiful flowers in season during the autumn months, including carnations, chrysanthemums, dahlias, hydrangeas, lilies and garden roses. 
Planning a destination wedding in Tuscany? Find more destination wedding planning tips via our journal, or see our latest Tuscan weddings in our wedding photography portfolio!
---