Planning a wedding in Tuscany? From the rolling hills of Florence to the historic countryside of Lucca, our stunning Tuscan landscape is the perfect backdrop for an unforgettable Italian wedding.
One of the most important elements in planning any wedding is the styling details that will help to transform the venue and create an amazing atmosphere for guests to enjoy. As wedding photographers in Tuscany, we can also tell you that a beautifully styled wedding will provide incredible images, too.
If you're currently looking for some Tuscany wedding styling inspiration, you're in the right place! From colour schemes to flowers and decor, keep reading for some of our favourite styling ideas to help you bring your Italian celebration to life.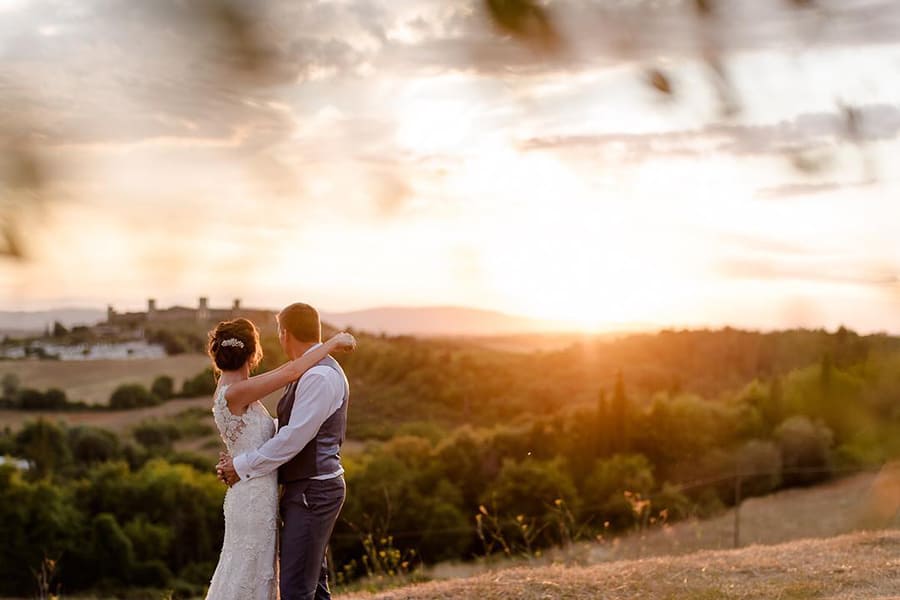 Tuscany wedding colour palette inspiration
The first step in styling your wedding in Tuscany will be choosing a colour scheme for the day. For a truly authentic Tuscan wedding look, be inspired by our natural surroundings and the colours you see in the Tuscan landscape – olive green, earthy timbers, terracotta, beige and soft greys are all perfect natural colours for a Tuscan wedding.
To add a pop of colour, you can also include romantic pastel tones like blush pink, white, peach, dusty blue and lilac (or for a winter wedding in Tuscany, darker colours like burgundy and plum work beautifully). To complete your colour palette, add a hint of bronze, silver or gold for an elegant, classic look!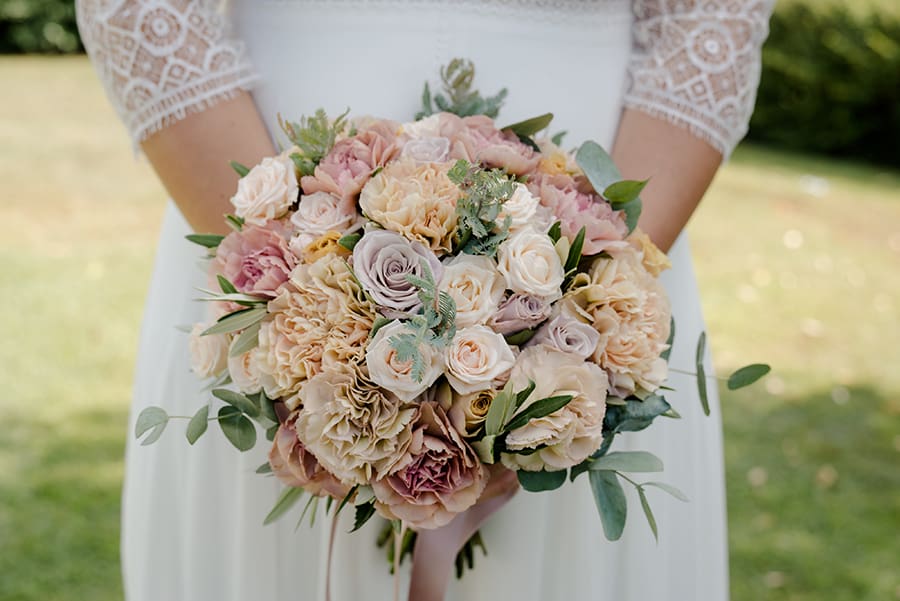 Tuscany wedding furniture and decor inspiration
Next, you'll want to think about choosing furniture and decor to style your Tuscany wedding. Our advice is to decide what kind of atmosphere you want to create, while also thinking about your venue and your personal style. How do you want your wedding to look and feel?
For example, a rustic, earthy look would work perfectly for a relaxed farmhouse wedding. To achieve this look, pair long timber tables with wooden chairs, wine barrels and terracotta pots.
For a modern industrial look, you might choose to mix metal and timber decor together for a chic setting. Or, for something more elegant and romantic, choose soft linen tablecloths, white dining chairs, and ornate tableware like gold cutlery and crystal glassware. This look works beautifully for a private villa, garden or medieval castle wedding!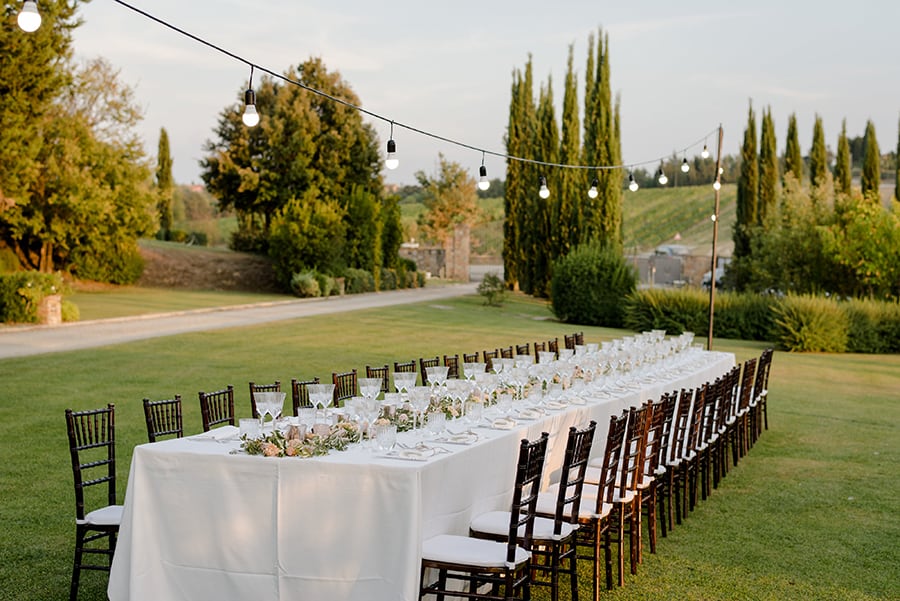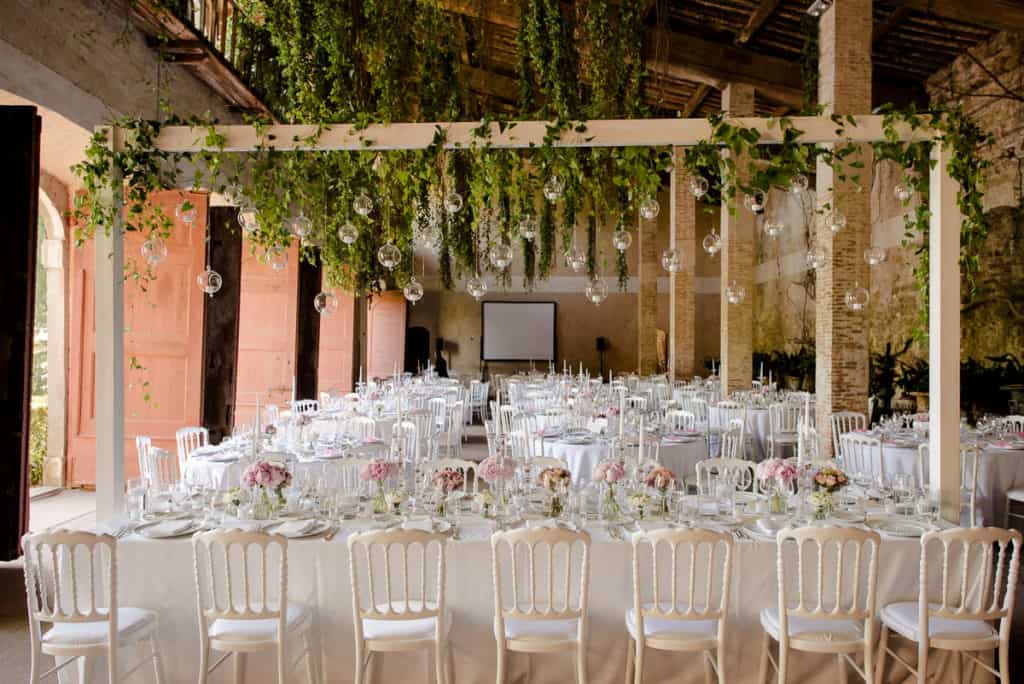 Tuscany wedding flower inspiration
Tuscany wedding styling is all about that greenery! Olive leaf is a staple for an authentic Tuscan look, and there are many different ways you can incorporate it. You can include olive leaf in your bouquet, create olive leaf table runners, or even place a small sprig on each napkin.
To add some freshness, mix your foliage with romantic pastel flowers in white, blush and peach tones to keep it simple and classic. Or, for a more rustic and authentic look, you could even add seasonal fruits like lemons, grapes or figs!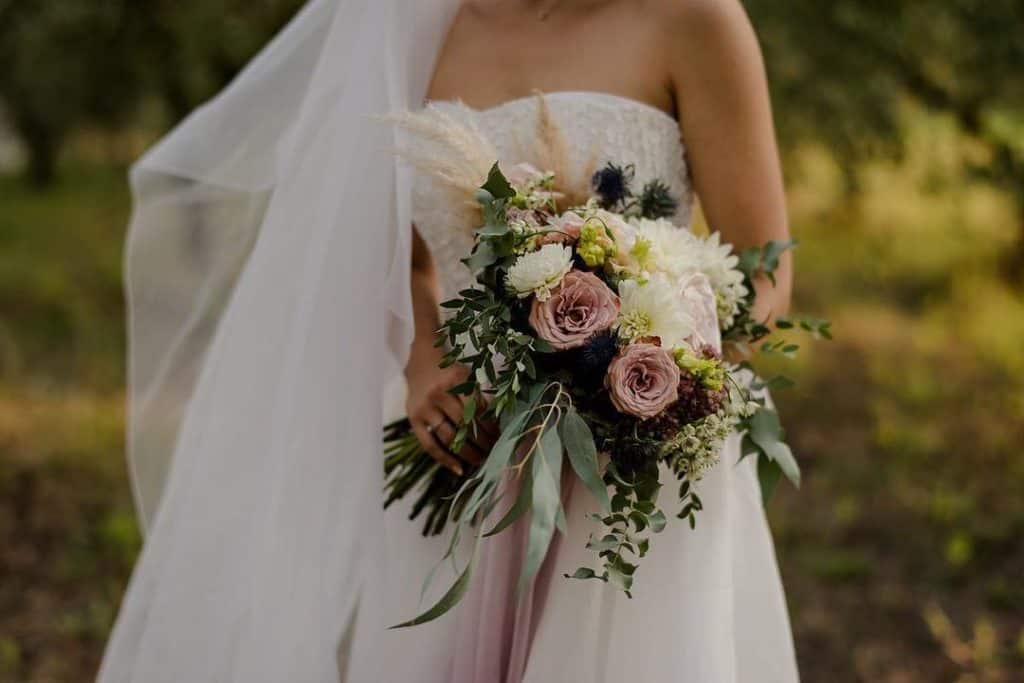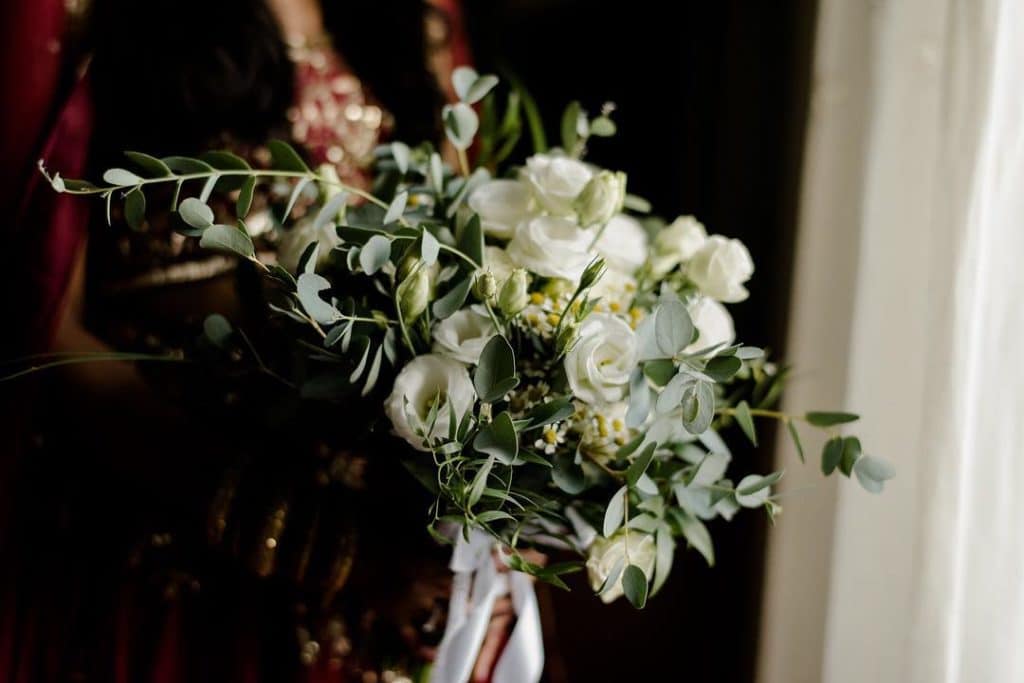 Tuscany wedding lighting inspiration
Mood lighting is one of the best ways to create an intimate and romantic ambience, especially after sunset. For Tuscany wedding styling, we love strings of twinkling festoon lights hung above guest tables, or statement chandeliers for something more dramatic.
Complete the look with table lanterns, votives and scattered candles to enhance the charm and create a soft and magical glow to dance the night away!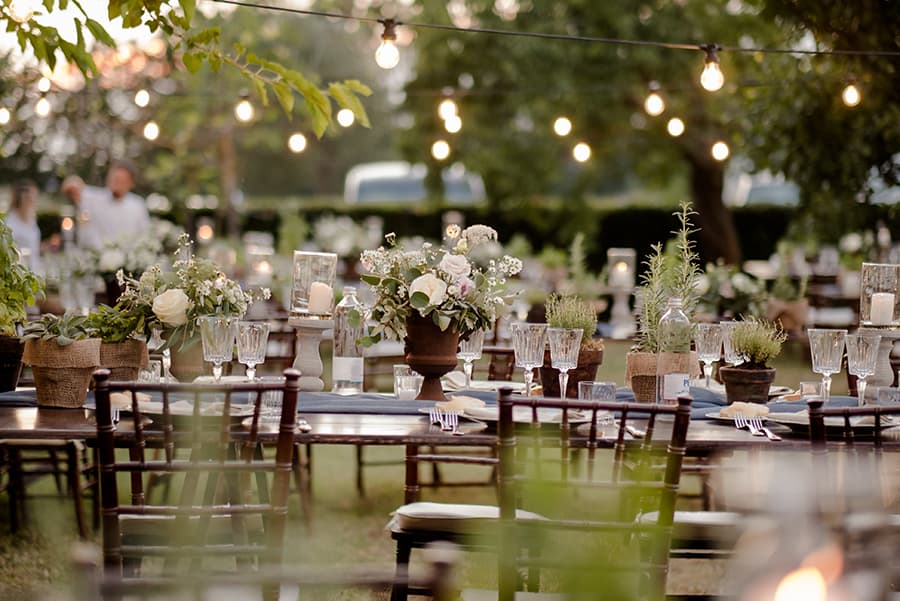 Tuscany wedding stationery and signage
Finally, don't forget the smaller details like stationery, signage and paper details to help you tie the look together. For Tuscan-inspired wedding stationery, a popular choice is elegant calligraphy or floral prints on natural paper. For signage, large wooden boards or decorative mirrors are both simple yet beautiful options that work perfectly for an Italian celebration.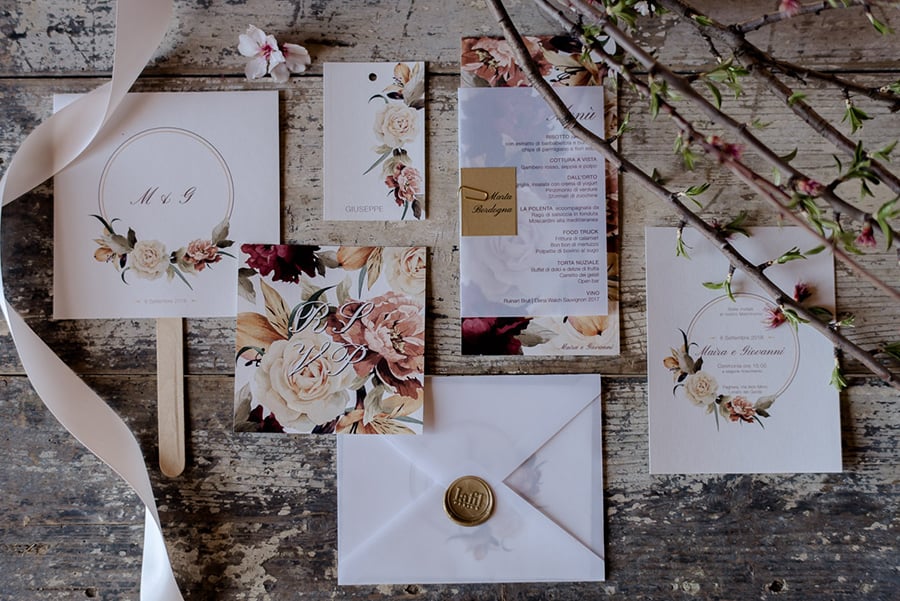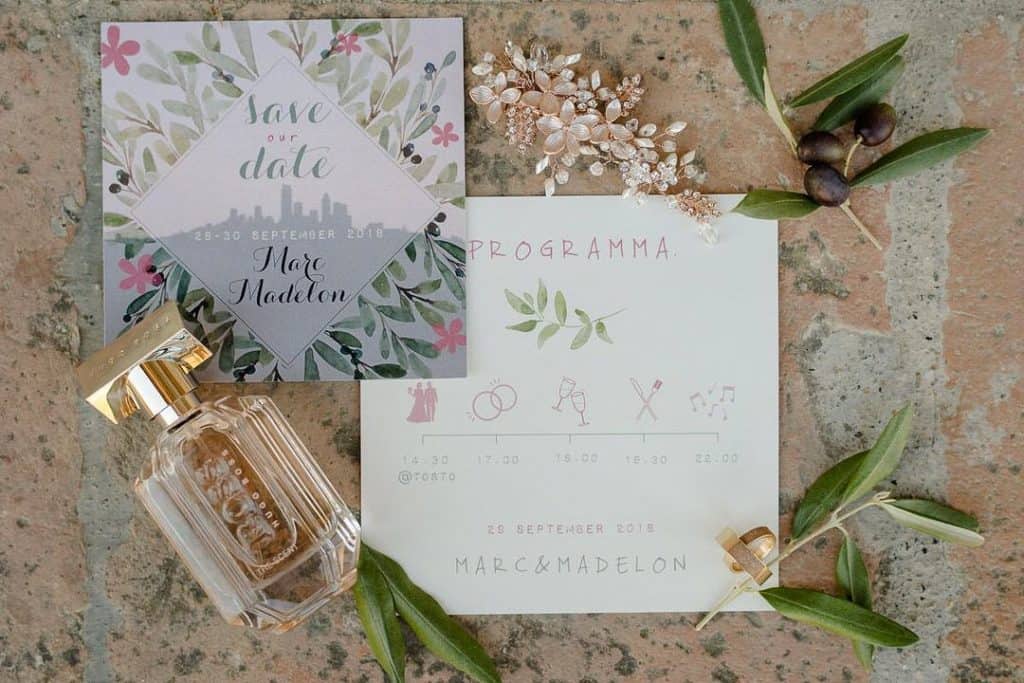 We hope we have inspired you with some authentic styling ideas for your Tuscany wedding! Don't forget, we have many talented wedding planners here in Tuscany that can assist with bringing your celebration to life, so you don't need to do it all alone. For more styling inspiration, you can find some real Italian weddings in our gallery here!
Are you still looking for the perfect Tuscany wedding venue? See our list of best wedding venues in Tuscany to get started.