Are you dreaming of a small, intimate and personal wedding with your closest friends and family – or even just the two of you? A destination elopement is the perfect way to celebrate your wedding in an unforgettable location, without the stress.
When it comes to elopements in Italy, it's easy to see why Tuscany is one of the most popular destinations. With our stunning countryside, amazing views and historic architecture, we have plenty of beautiful options for a romantic and memorable elopement.
As wedding photographers in Tuscany, we've been lucky enough to work at some breathtaking wedding venues throughout the region. From medieval castles to luxury hotels, check out 7 of the best places to elope in Tuscany below!
Villa Cora, Florence
Looking for a hotel wedding venue in Florence? It doesn't get more romantic than Villa Cora!
This boutique 5-star hotel is best known for its historic buildings, panoramic views and eclectic interiors. Located in the rolling hills outside Florence overlooking the Boboli Gardens, Villa Cora features a selection of elegant indoor rooms along with a beautiful rooftop terrace, outdoor courtyard, pool and private gardens.
This dreamy venue is perfect for an elegant elopement, conveniently located just 10 minutes from the Florence city centre.
See one of our real elopements at Villa Cora here!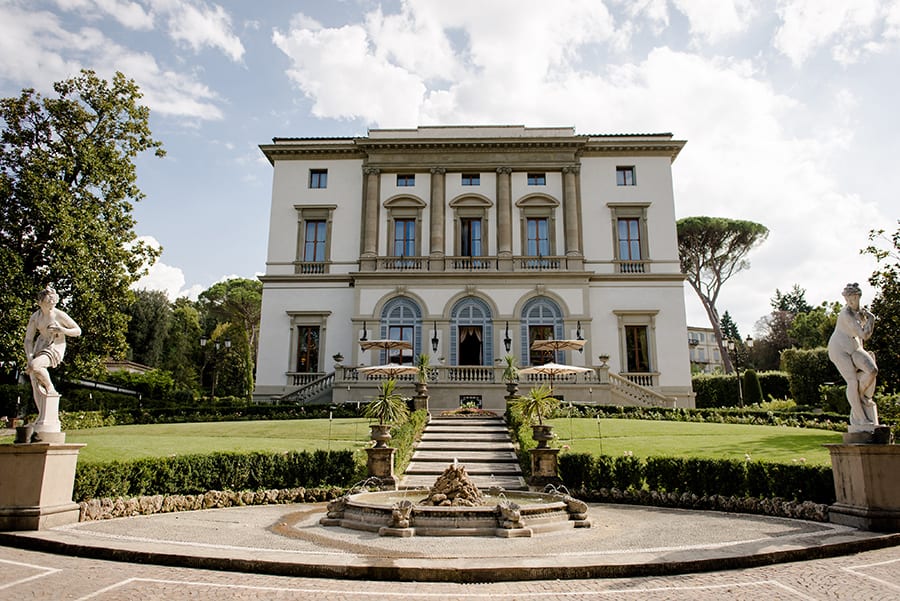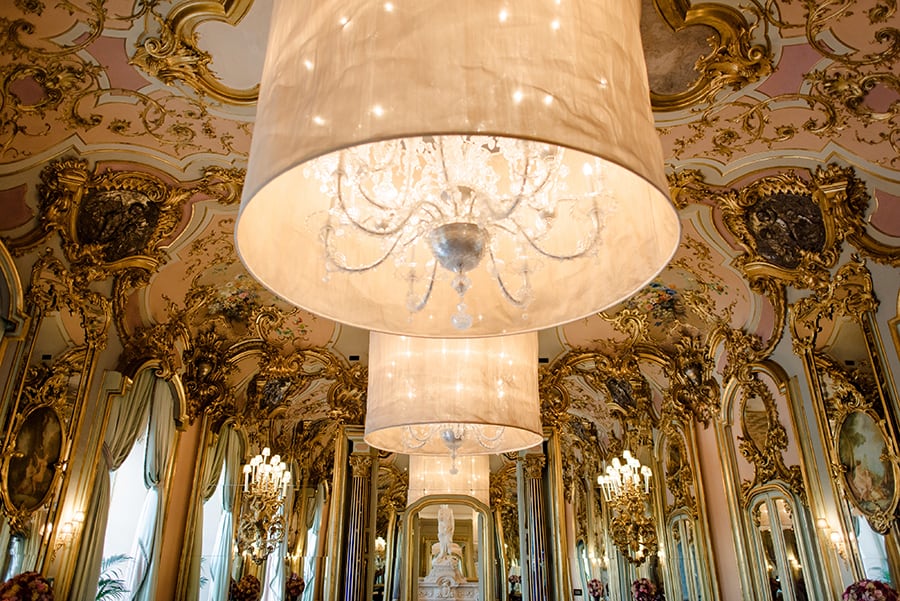 The Lazy Olive Villa, Asciano
If you want to escape from the city and immerse yourself in some spectacular Tuscan sights, The Lazy Olive Villa in Asciano will be a perfect fit for you. This private villa offers a relaxed, rustic mood with incredible views of the Tuscan countryside.
Host your wedding amongst beautiful gardens surrounded by olive trees, and watch the sunset over the rolling hills – pure magic! The Lazy Olive Villa is the ultimate elopement venue for an authentic, intimate and truly romantic Tuscan wedding experience.
Castello di Montegufoni, Chianti
Searching for a medieval castle venue in Tuscany? Look no further than Castello di Montegufoni, located just outside Florence in beautiful Chianti.
This historic castle is the perfect setting for an enchanting wedding, known for its extravagant buildings, breathtaking surroundings and whimsical, luxurious decor. Your wedding day will feel like a fairytale, with hedge mazes, historic statues, private courtyards and plenty of unique spaces to host the different elements of your day.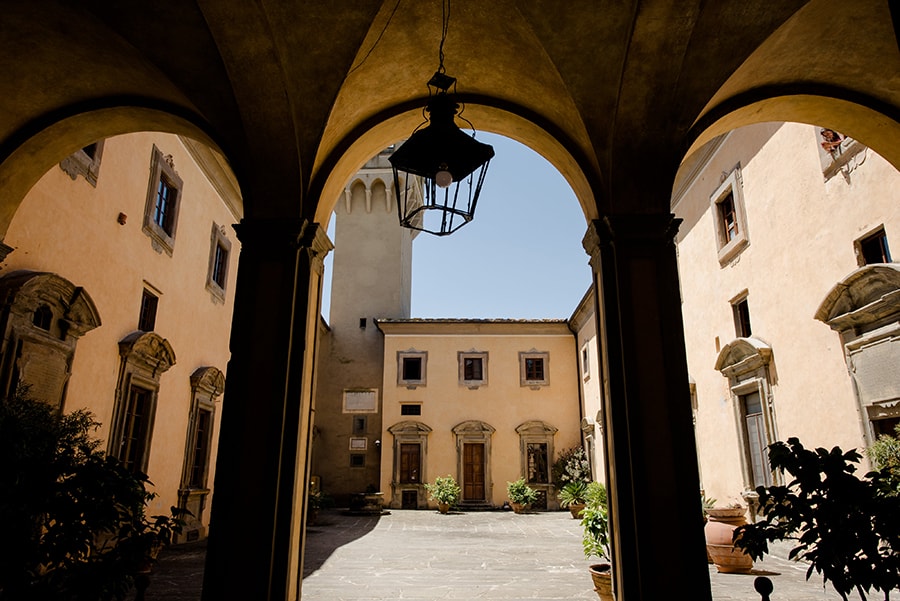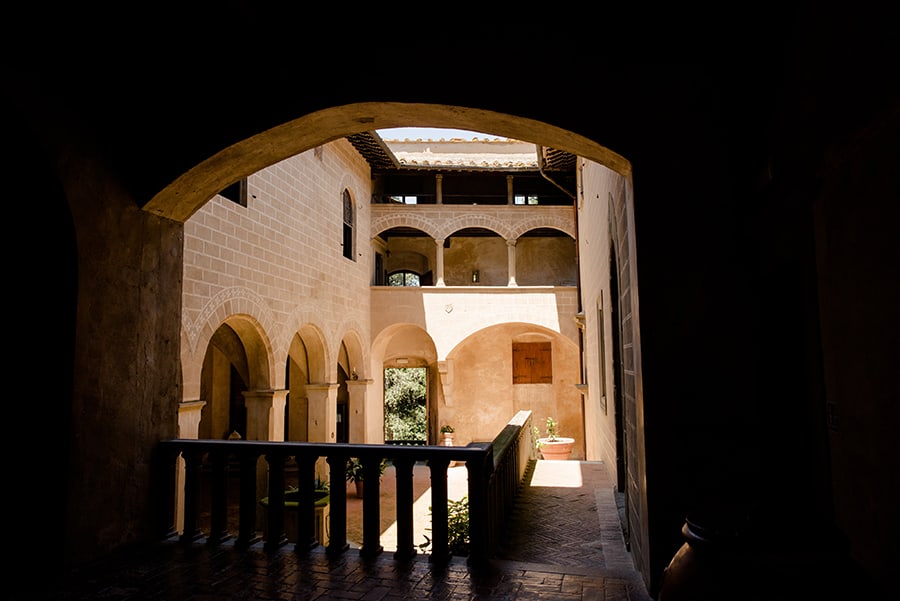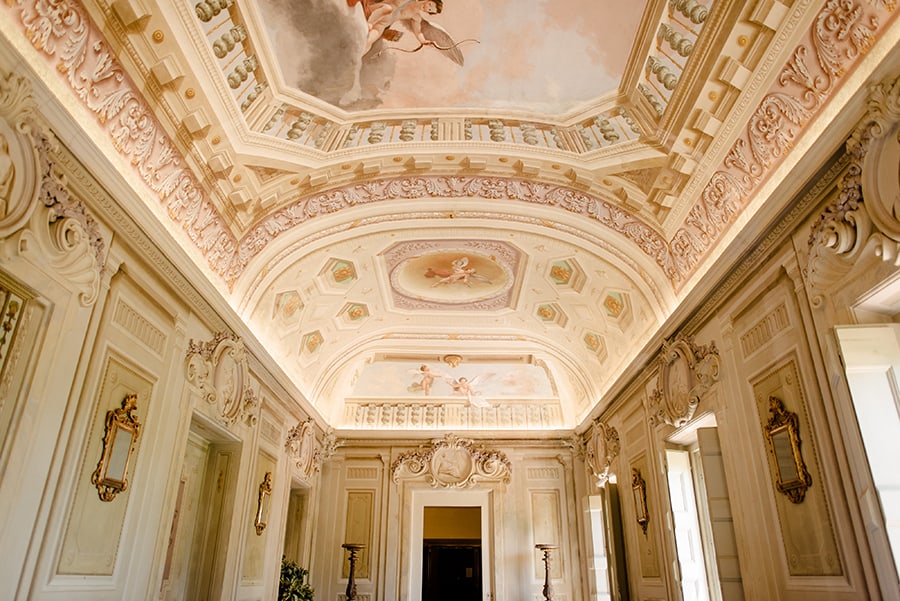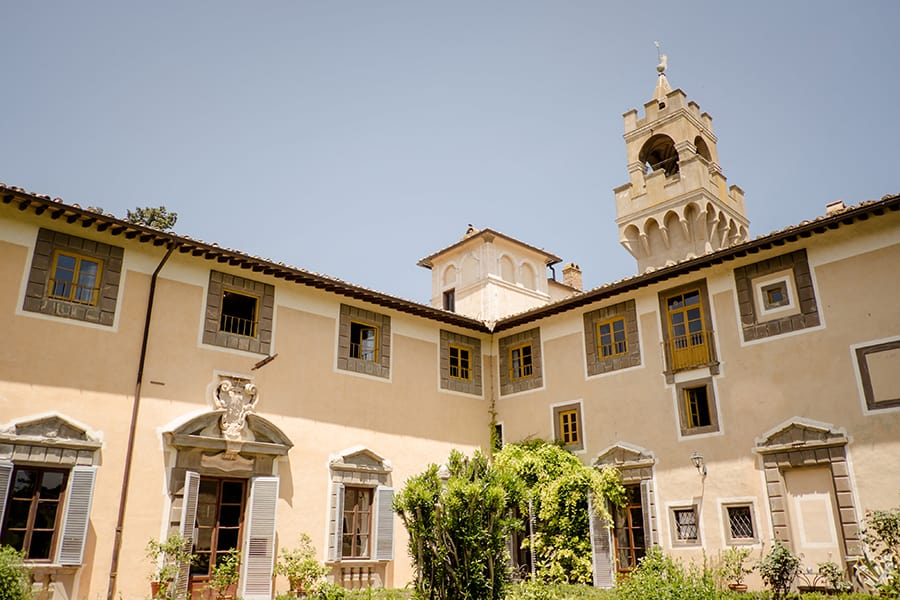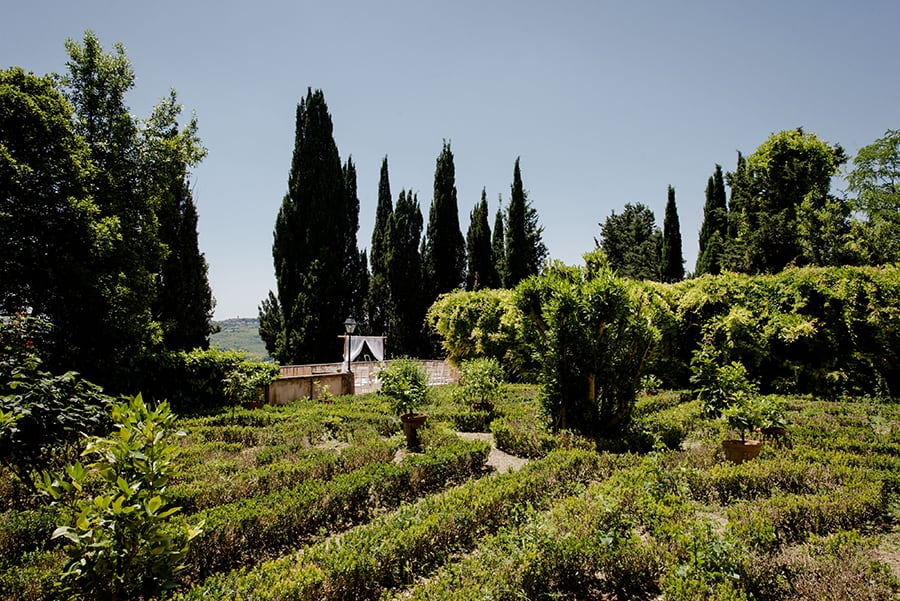 Relais La Suvera, Siena
Relais La Suvera is a luxury 5-star relais located within the stunning Chianti hills of Siena. This boutique hotel has a rich history dating back to the Renaissance, and still maintains its unique and authentic architecture to this day!
At this luxury venue, you'll find many breathtaking spaces including a private church, manicured gardens and the renowned "Pope's hall" for an intimate dinner. The relais also boasts beautiful views over the hills and vineyards of the Siena region.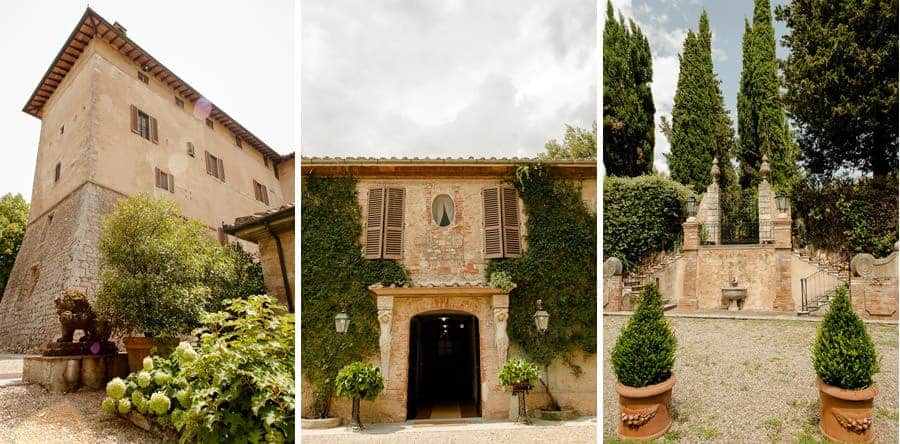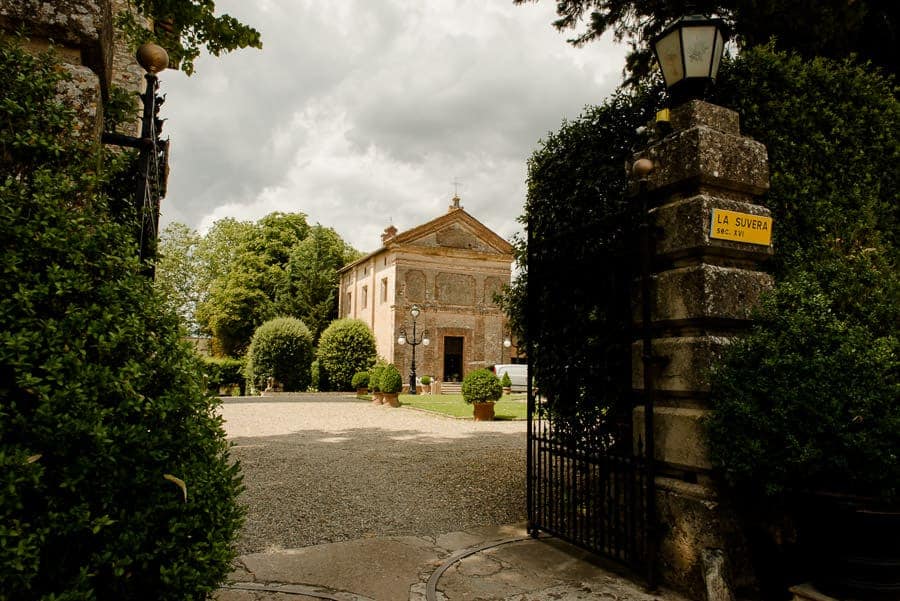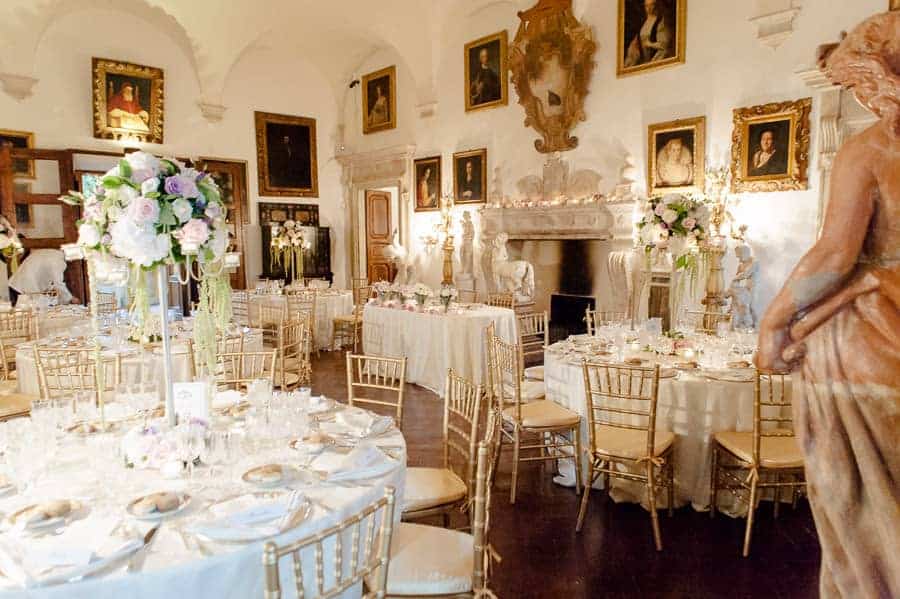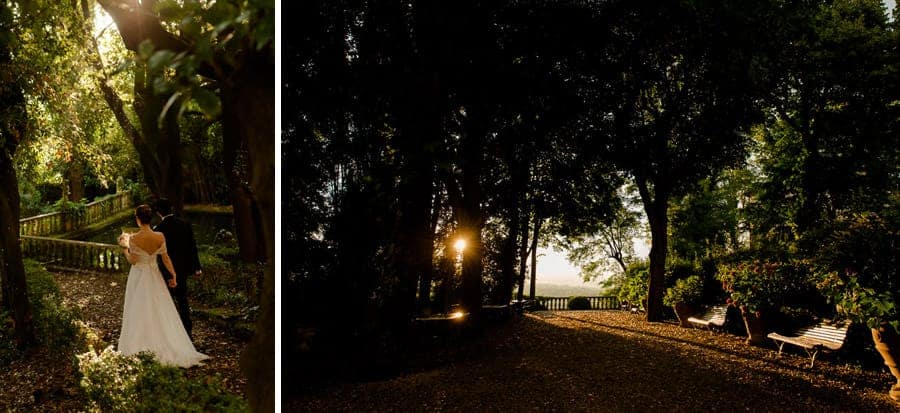 Borgo Stomennano, Monteriggioni
Take a step back in time and immerse yourself in the countryside at Borgo Stomennano in Monteriggioni, near Siena. This historic venue has belonged to the same family since 1700, and the sights are simply spectacular.
Located amongst a quiet village and surrounded by cypress trees, wine cellars and farmhouses, this venue is ideal for a rustic-elegant elopement. You'll find a small church nearby and plenty of garden spaces for an outdoor wedding reception under the Tuscan stars. See one of our real elopements at Borgo Stomennano here!

Fattoria di Cinciano, Poggibonsi
It's impossible not to fall in love with Fattoria di Cinciano, an authentic Tuscan villa set high in the hills outside Siena. This chic-rustic venue offers an outdoor pool and private restaurant, and features beautiful views overlooking the olive groves and vineyards.
Enjoy an intimate garden ceremony followed by an alfresco reception in the beautiful outdoor courtyard, as you soak up the tranquil Tuscan landscape. See one of our real elopements at Fattoria di Cinciano here!

Poderi Arcangelo, San Gimignano
Looking for an Agriturismo/farm stay for your Tuscany elopement? Poderi Arcangelo is a dream location not to be missed!
This authentic country estate is situated on top of a hill in the heart of Chianti, featuring 3 restored farmhouses and a selection of private gardens. Just 11km from the medieval village of San Gimignano, Poderi Arcangelo is the perfect countryside elopement venue to connect with nature and enjoy the surrounding landscapes, with abundant gardens, a private pool and stunning views.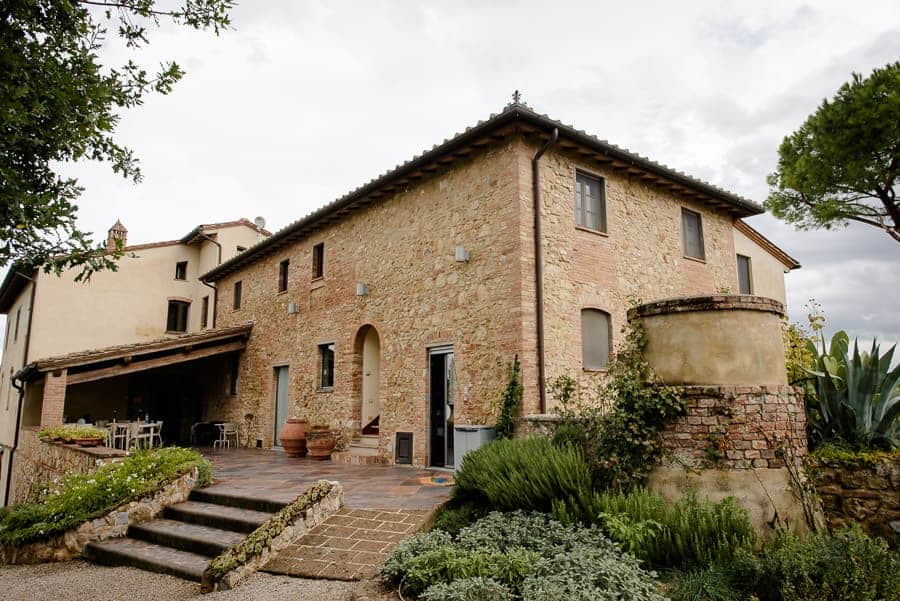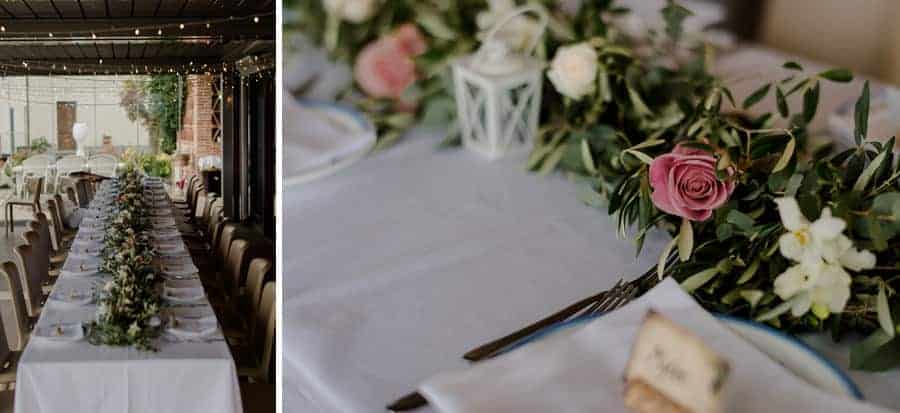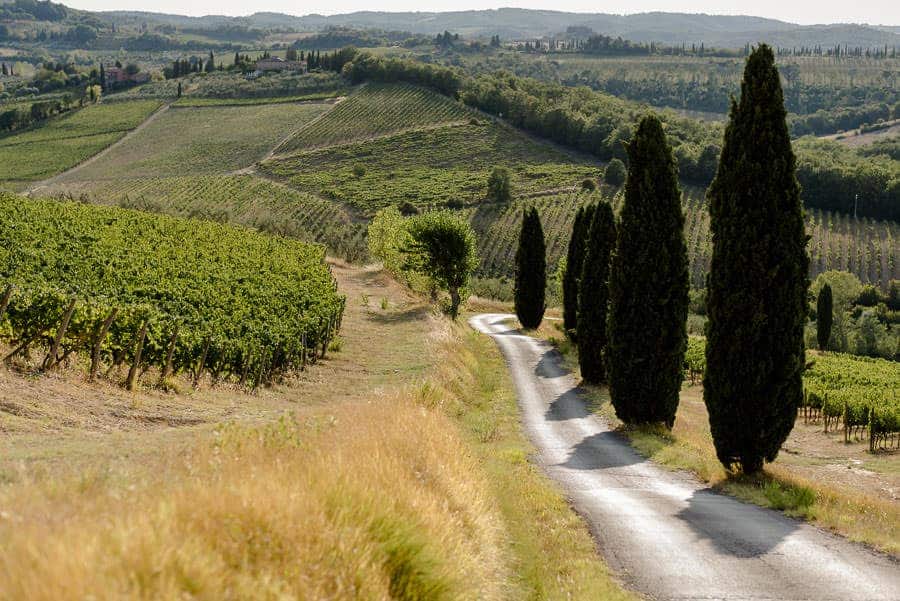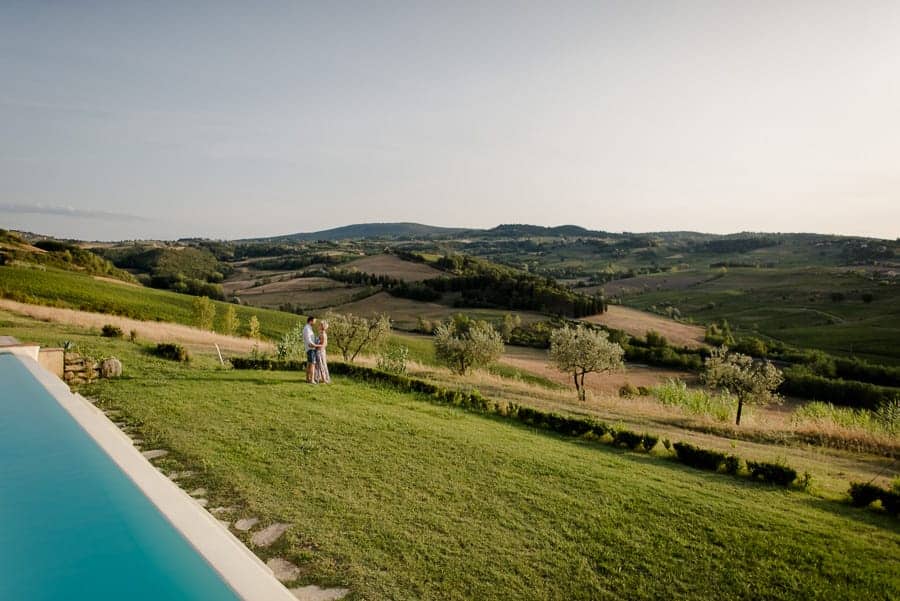 If you're currently looking for the perfect elopement venue in Tuscany, we hope this list provides some inspiration! Next, see our guide on choosing your wedding photographer in Tuscany, or find more real Tuscany elopements in our gallery.