Italy is a popular choice for a romantic European elopement. But when it comes to the planning and legal side of things, where do you actually begin?
If you're thinking about getting married in Italy, it's important to do some research to understand exactly what steps to take next. From finding the perfect wedding venue to making your marriage official, keep reading as we share our complete guide on everything you need to know before eloping in Italy!
Step 1: Choose your region
Italy is one of the most beautiful destinations for a romantic elopement, but where should you choose to host your celebration?
The possibilities are endless with an abundance of incredible regions dotted throughout Italy. Along with choosing a location you love, you'll also want to consider the logistics for your guests who may be travelling, too.
A few things you'll want to think about is convenience and distance from local airports, transport options, accommodation nearby, and the overall atmosphere you want to create for your event. For example, are you dreaming of a rustic wedding in the countryside, or a luxury clifftop wedding along the coast?
Some of the most popular regions to host an elopement in Italy are:
Tuscany: including Florence, Lucca and Siena. Best known for stunning countryside scenery, beautiful farms and wineries, and picturesque natural surroundings. See our top picks for wedding venues in Tuscany here!
Amalfi Coast: including Positano, Sorrento, Ravello and Amalfi. Best known for rugged clifftop venues and breathtaking coastal views.
Italian Lakes: including Lake Como, Lake Garda and Lake Maggiore. Best known for romantic private villas, rustic cobblestone towns and natural beauty.
Venice: best known for charming waterways and canals, unique architecture and stunning palazzos.
Rome: best known for rich art and history, perfectly groomed gardens and impressive cathedrals.
Italian Alps and the Dolomites: best known for breathtaking mountain landscapes, cosy chalets and unique natural beauty – perfect for a winter wedding in Italy!
Umbria: including Orvieto, Assisi and Perugia. Best known for hilltop medieval towns, historical art and rich culture.
Just to name a few! Start by researching some of the different regions in Italy online, and consider which one is going to be the best match for your dream wedding vision.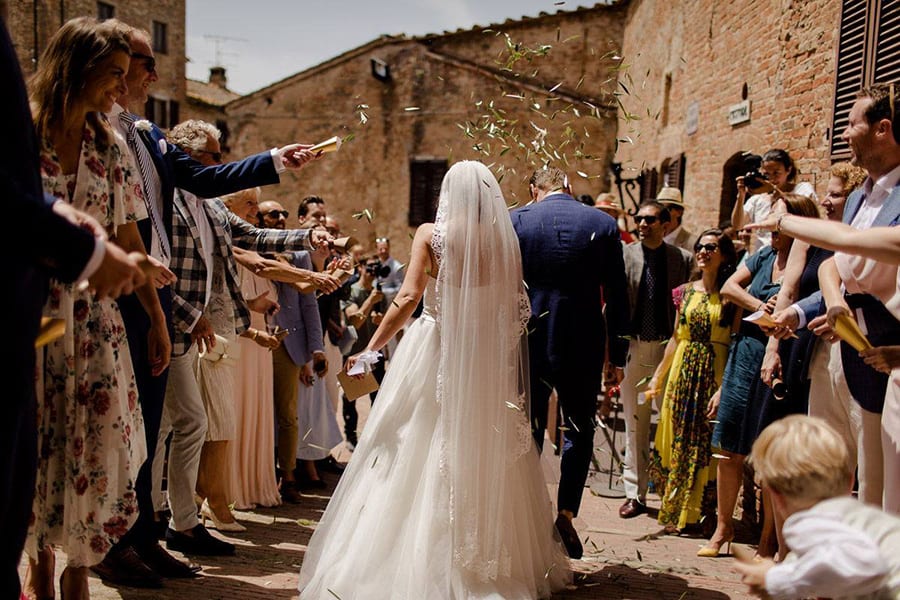 Step 2. Choose your wedding date and venue
Once you've narrowed down your elopement location, you'll need to decide on your wedding date and venue! There are many beautiful options when it comes to wedding venues in Italy, from romantic villas to medieval castles, rustic farm stays and luxury hotels.
Your wedding date will also play a big role in the overall atmosphere and planning of your event. Italy's peak wedding season is during the summer months between May – September, but you might decide to host your wedding during winter or spring instead depending on your vision! See our guide on choosing your wedding date in Italy here.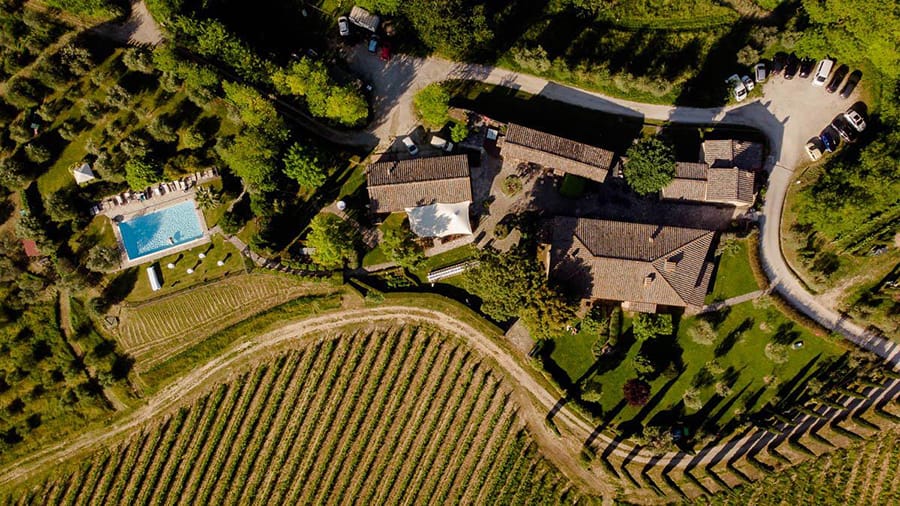 Step 3. Organise the legalities
With all of your major details locked in, the next step will be researching the legal requirements to make your elopement official. You'll want to start your research as early as possible to ensure you have enough time to complete any documentation or paperwork.
When it comes to organising your wedding ceremony, you may need to do some advance preparation. Italy legally recognises both religious and civil ceremonies, so if you want your marriage to be legally binding, you should plan to have the following paperwork:
A passport or national ID card for both parties
Original birth certificate for both parties
Divorce papers or death certificate if you have been divorced or widowed
A Declaration of Intent to Marry
An affidavit, Nulla Osta or Dichiarazione Giurata sworn before a consular office of your home country, stating no legal impediment to your marriage
An Atto Notorio signed by two witnesses to confirm no legal impediment to your marriage
Your ceremony venue will also need to be considered – a Catholic ceremony must be hosted in a church, while a legally-binding civil ceremony can be hosted in a town hall or other location that has been approved by Italian authorities.
To organise your legally-binding ceremony, you should first make contact with your home country's consulate in Italy. They can advise you on the next steps you need to take, including preparation of all documents. You will then submit your Declaration of Intent to Marry to the local marriage office in the town hall where your ceremony will be performed.
Alternatively, you can choose to get legally married in your home country before or after your trip, and instead host a symbolic ceremony for your Italian elopement instead. This is often a much easier process and allows you to plan your ceremony in any location of your choosing!
We highly recommend working with a local wedding planner and celebrant in Italy who can guide you through the different legal steps to plan your ceremony.
Step 4. Source your suppliers
The final step in planning your Italian elopement is to research and book local suppliers to help you bring your wedding to life. It's important to work with trusted suppliers who have a strong reputation and great testimonials from other couples. You should also choose suppliers who you feel relaxed and comfortable with, to ensure your wedding planning process is easy and stress-free! If you're planning your elopement from abroad, you can always "meet" your suppliers through a phone or Skype consultation.
As destination wedding photographers, we love hearing from couples all across the globe and capturing elopements throughout Tuscany, Italy and beyond. You can read our complete guide to choosing your wedding photographer in Italy here to get started!