How To Create The Perfect Invitations For Your Destination Wedding in Tuscany!
Your wedding invitations will be an important source of information for your guests, especially for a destination wedding. So, what do you need to know about creating invitations for your wedding in Tuscany?
If you're recently engaged and planning your wedding, keep reading for our guide on creating and sending the perfect wedding invitations below.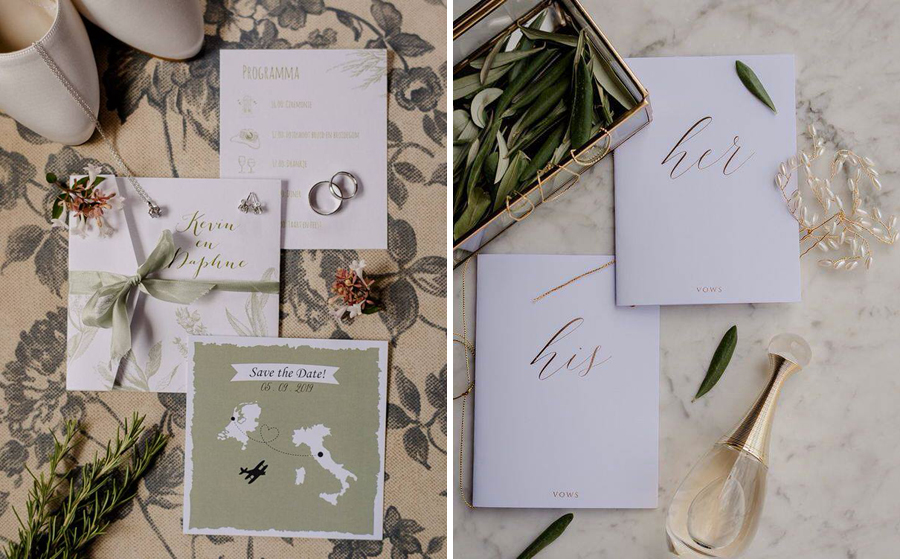 What To Include On Your Destination Wedding Invitations
Remember, your wedding invitations will be the first point of contact with your guests, so it's important to include all of the right details! When it comes to a destination wedding, your invitations will ultimately help your guests start planning and preparing for their upcoming trip.
With this in mind, your destination wedding invitations should include the following details at a minimum:
The names of you and your partner (of course!)
The wedding date and time
The wedding venue and location
The RSVP date and method
You may also want to include these additional details to help your guests prepare for your destination wedding:
Hotel block or accommodation details, if relevant
An itinerary for any additional events that may be happening (for example, a welcome dinner or other group activities)
An information card with relevant details about the local area (for example, a map of the venue, restaurant recommendations, or suggested things to see and do)
A link to your wedding website, if relevant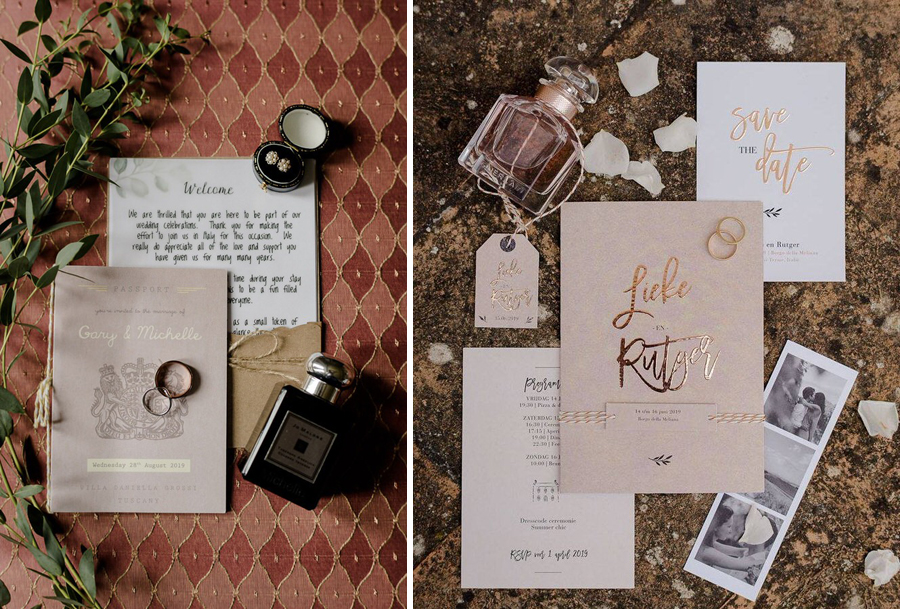 Choosing The Right Style of Invitations For Your Wedding in Tuscany
Your wedding invitations are the perfect opportunity to set the tone for your upcoming wedding. Ideally, they should complement your wedding "theme", so be inspired by your wedding style when it comes to your invitation designs.
These days, there are so many creative options for your wedding stationery and invitations! You can use different colours, fonts, drawings and materials to create something totally bespoke that ties your wedding style together.
For example, are you planning a relaxed summer wedding in the countryside? You might want to use fresh colours like white and green, botanical drawings, and beautiful calligraphy.
Or, are you planning a glamorous wedding in a luxury hotel? If so, you might want to create chic and sophisticated invitations with a black and gold colour palette, clean lines and modern typography.
You can go traditional with paper invitations, or even use digital invitations for a more contemporary approach! We recommend working with a stationery designer who can design custom invitations and bring your wedding vision to life.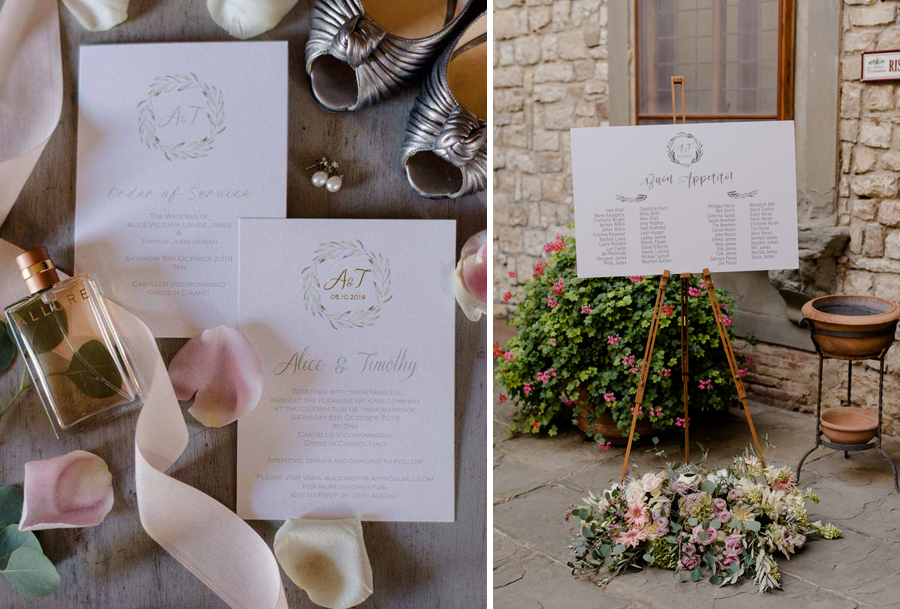 When to Send Invitations For a Destination Wedding in Tuscany
When should you send invitations for your destination wedding in Tuscany? It's important to get your timing right, so that your guests can plan and prepare for their trip.
We suggest sending your "save the date" cards at least 10-12 months before the wedding, and sending your formal invitations around 6-8 months before the day. You'll also want to set your RSVP deadline at least 3 months before the wedding, so you can confirm final numbers with your wedding venue and caterer.
Other Stationery You Might Need For Your Wedding in Tuscany
Finally, once your invitations have been organised, what other stationery details should you consider for your Tuscan wedding?
Some of the most common stationery requirements for a wedding ceremony and reception include:
Ceremony programs
Welcome sign
Place cards
Bar menu
Dinner menu
Guest favour tags
Table numbers
Thank you cards
Ideally, you want all of your stationery elements to work cohesively together by using similar colours, fonts and materials. 
Looking for more Tuscany wedding inspiration? Check out the best wedding venues in Tuscany here, or see our latest real weddings in Italy via our portfolio. You can also find our favourite styling ideas for a romantic Tuscan wedding on the blog!
---