Dreaming about a wedding in Tuscany but have no idea where to begin? You've come to the right place!
From the best time of year to get married in Tuscany to the legal requirements of tying the knot, keep reading as we answer your most frequently asked questions for a Tuscan wedding below.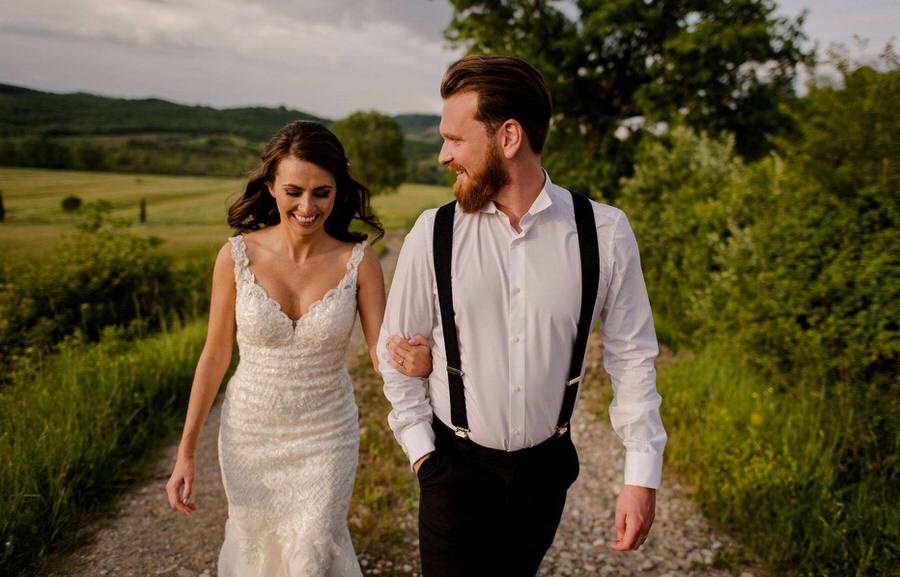 Is Tuscany a good location for a destination wedding?
In a word: Yes!
Tuscany is the perfect location for a romantic destination wedding. Our scenery is incredible, from the historic city centre of Florence to the charming countryside towns of Lucca and Siena. The region is renowned for its amazing Italian cuisine and famous wineries, offering an unforgettable dining experience for your guests. Tuscany is also easily accessible for a destination wedding, with 2 airports in Pisa and Florence and plenty of local accommodation options.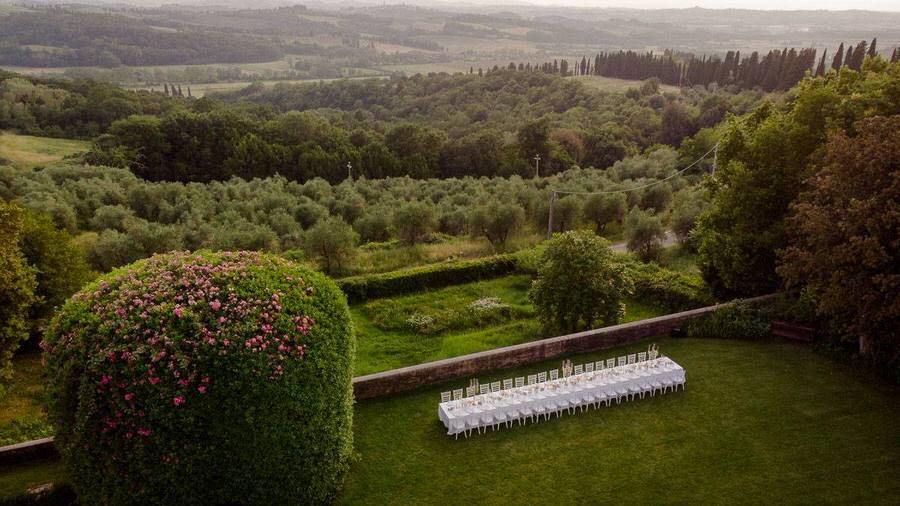 What is the best time of year to get married in Tuscany?
Tuscany is beautiful year-round, with each different season offering a different atmosphere for your special day. The best time of year for your Tuscan wedding will ultimately depend on the kind of celebration you want to create!
In a nutshell, May – September is the most popular time for a wedding in Tuscany, taking place throughout spring, summer and autumn. These months offer the warmest weather, minimal rainfall, and long, balmy nights. Keep in mind that the summer months of July and August are the busiest months for tourism, and can be more crowded.
With this being said, winter weddings in Tuscany are equally as beautiful, especially for a cosy and romantic indoor wedding. See our guide to planning a winter wedding in Italy here!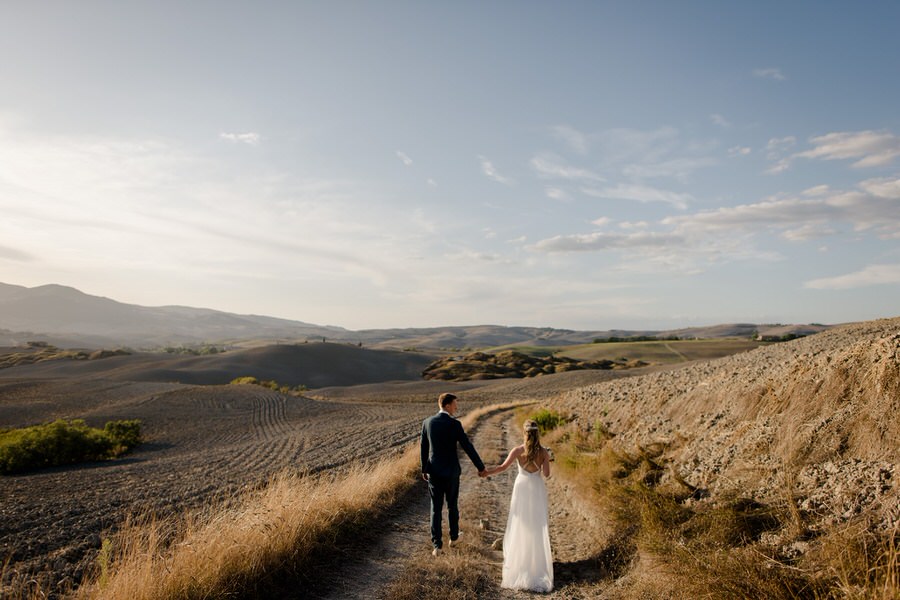 What kind of wedding venues are located in Tuscany?
The options are endless when it comes to beautiful wedding venues in Tuscany. To find your perfect venue, think first about your vision for the day. Do you like the idea of a rustic, casual reception at a Tuscan farmhouse? An elegant wedding at an enchanting medieval castle? An outdoor garden party at a private Tuscan villa? Or perhaps something more luxurious like a boutique hotel or restaurant?
Our Tuscany wedding venues are renowned for their historic architecture and incredible views. You can explore our ultimate guide to the best wedding venues in Tuscany here!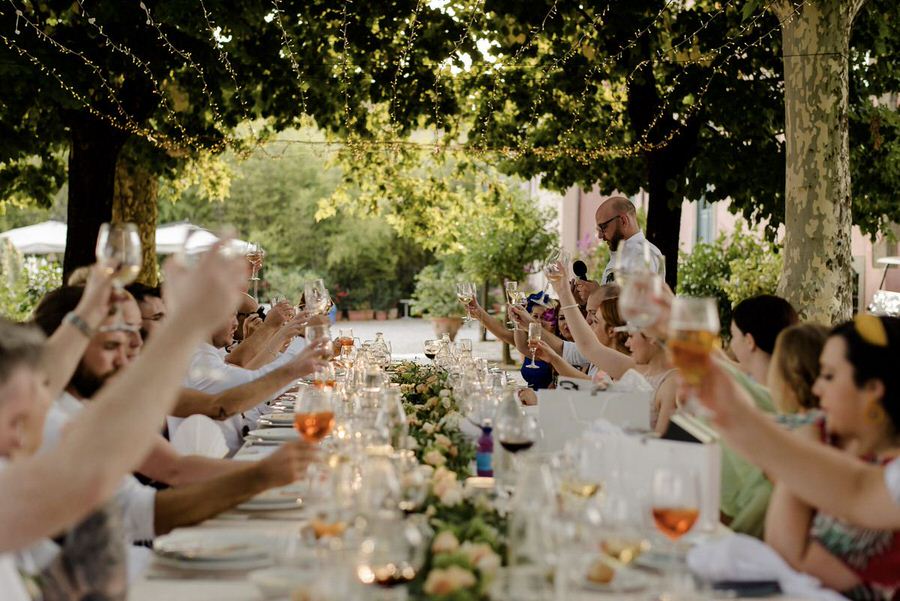 How much does it cost to get married in Tuscany?
There are many different factors that will influence the cost of a wedding in Tuscany, such as your guest list, chosen venue, additional services, and whether you're covering accommodation and transport costs for your guests.
With this in mind, the costs of a wedding in Tuscany could range anywhere from 10,000€ to 50,000€ or more depending on these variables. It's best to do some research based on your individual requirements to help you determine the approximate costs for your Tuscany wedding.
Can we get married legally in Tuscany?
Yes, Tuscany recognises both civil and religious ceremonies. To get married legally in Tuscany, you'll need to be prepared with the relevant paperwork. This includes:
Obtaining an Atto Notorio or Certificate of No Impediment from the Italian embassy in your state, and providing relevant paperwork like passports and birth certificates.

Completing an affidavit, Nulla Osta or Dichiarazione Giurata sworn before a consular office of your home country, along with a Declaration of Intent to Marry.
Your ceremony will also need to be hosted in an approved Italian venue. A Catholic ceremony will need to be hosted in a church, while a civil ceremony can be hosted in a town hall or other approved location.
Many couples planning a destination wedding in Tuscany will choose to host a legal ceremony in their hometown, and a symbolic ceremony in Tuscany instead. This can be an easier option and also gives you the freedom to choose your own ceremony location.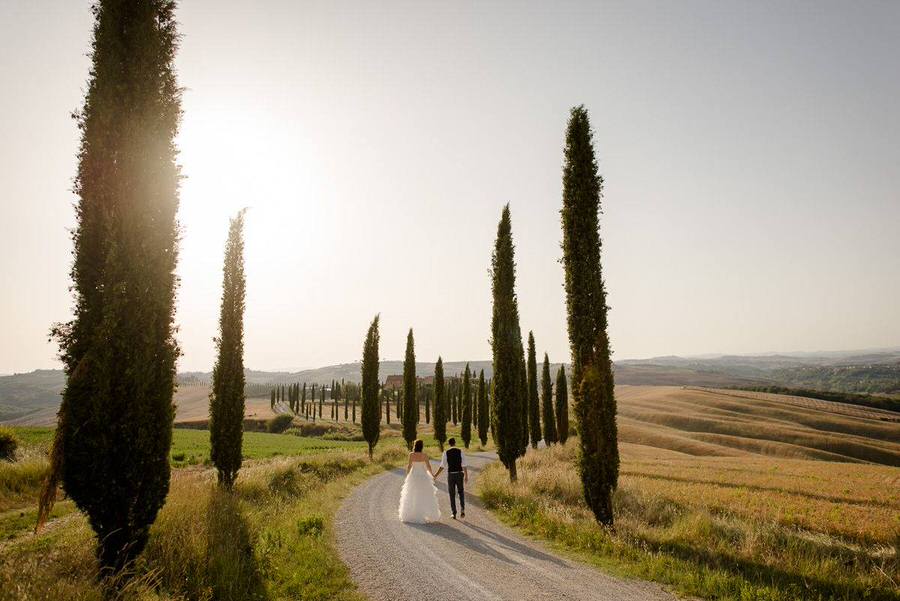 When should I start planning my wedding in Tuscany?
We recommend planning your wedding in Tuscany around 12-18 months in advance. Tuscany is a popular location for destination weddings, so you'll want to give yourself enough time to research and book your wedding venue and wedding vendors. This will also give your guests enough time to plan and prepare for their trip!
Do I need to hire a wedding planner for my wedding in Tuscany?
Hiring a wedding planner isn't a requirement, but it will definitely make your experience much smoother! A Tuscan wedding planner will have the local knowledge to guide you through the process, and can recommend trusted venues and vendors to suit your style and budget.
As well as your wedding planner, we recommend choosing local vendors for all aspects of your wedding, from photography to videography and flowers. Local vendors will already be familiar with the region, and can ensure your wedding planning journey is seamless and stress-free.
For more Tuscan wedding inspiration, feel free to browse our latest wedding photography galleries, or read our top 5 tips for planning a destination wedding in Tuscany here!