Styling Inspiration for a Garden Wedding in Tuscany!
Renowned for its amazing scenery and picturesque countryside, Tuscany is the perfect destination for a romantic garden wedding!
A garden wedding theme can be easily brought to life using styling, flowers and decor. From floral backdrops to fresh cocktails, colour palettes and more, keep reading for our favourite styling ideas and inspiration to help you create the perfect garden wedding in Tuscany.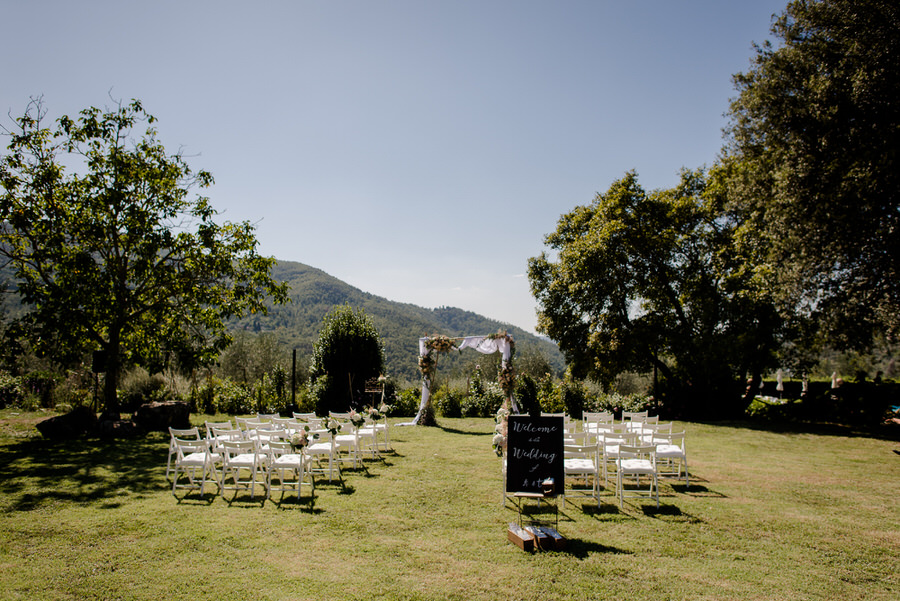 Choosing The Perfect Venue for a Garden Wedding in Tuscany
Couples are spoilt for choice when it comes to garden wedding venues in Tuscany. Many of our private villas and historic castles are actually famous for their beautiful Italian and English-style gardens!
If you're dreaming of a garden wedding, consider choosing a venue with plenty of outdoor space, well-maintained lawns, majestic trees and fresh greenery to set the tone for your day. Some wedding venues may also offer unique garden spaces such as greenhouses, vineyards or Limonaias.
Don't forget to keep the weather in mind, too – if you're planning a spring or summer wedding in Tuscany, try to choose a venue with ample shaded areas to keep your guests comfortable.
Not sure where to begin? Explore our photographer's guide to the best wedding venues in Tuscany here!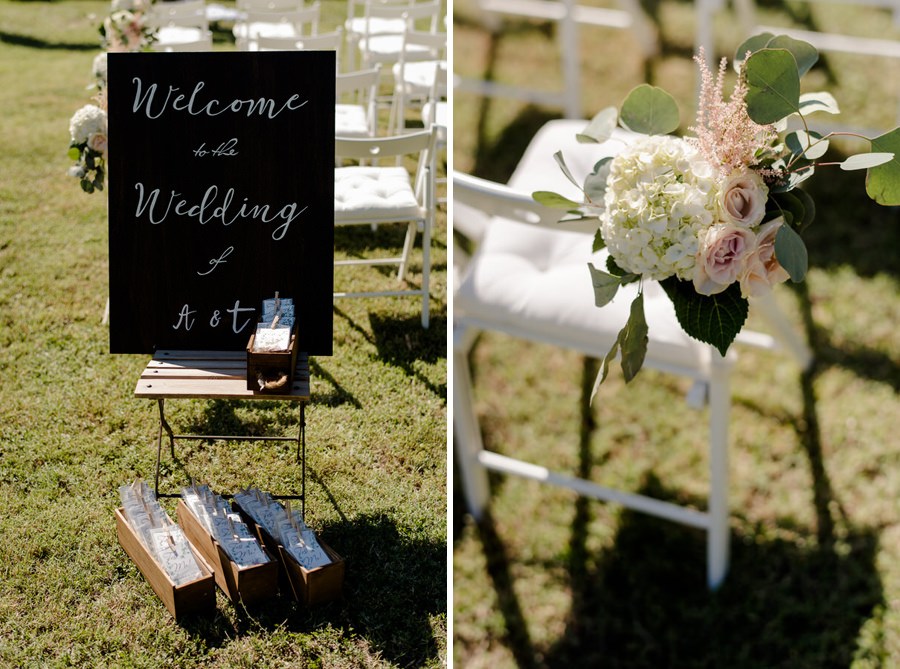 Tuscany Garden Wedding Inspiration: Floral Ceremony Backdrops
Fresh, fragrant flowers are essential for a garden wedding theme! Create a beautiful ceremony setting with a lush floral backdrop to complement the green surroundings of your venue. We love circular arbours, dramatic floral arches, or even floral garlands strung between the trees. You can complete the look with soft linen drapes, scattered petals or bunches of flowers attached to your ceremony chairs.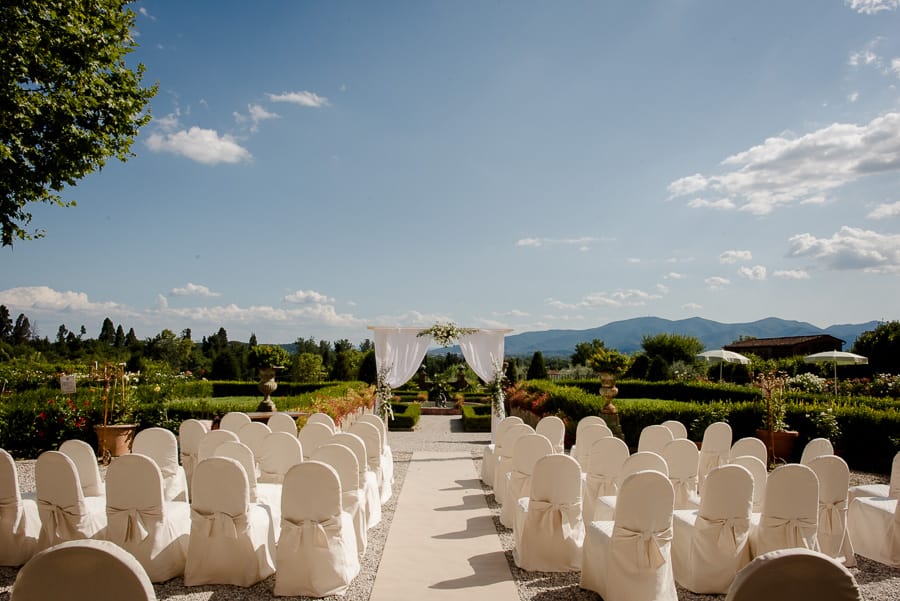 Tuscany Garden Wedding Inspiration: Outdoor Dining
A garden wedding in Tuscany is the perfect opportunity to host a spectacular outdoor dinner on the lawn. For an intimate wedding, you can join a few tables together to create one communal table – or, for a larger guest list, opt for long rows of tables instead. Complete the look with some romantic outdoor lighting such as fairy lights, lanterns or chandeliers strung from above.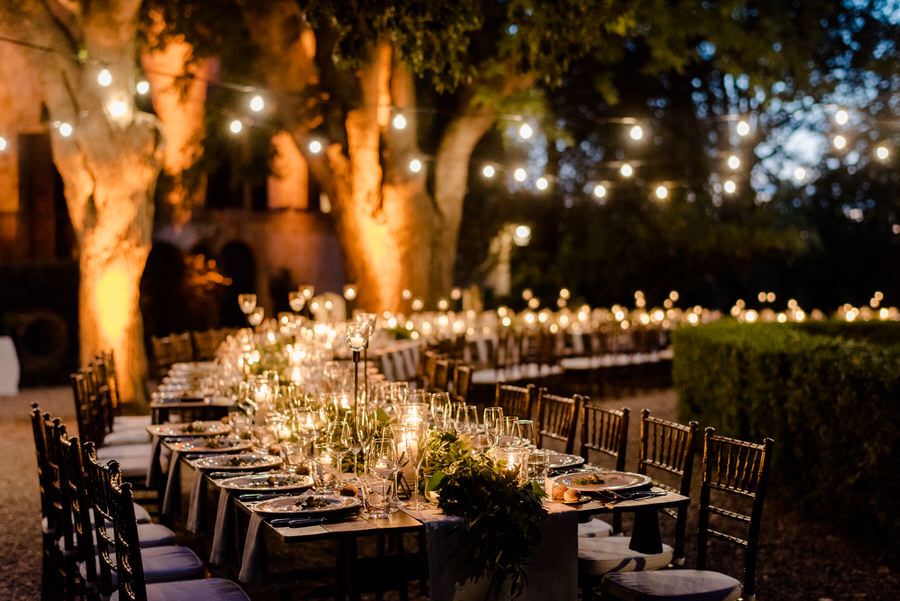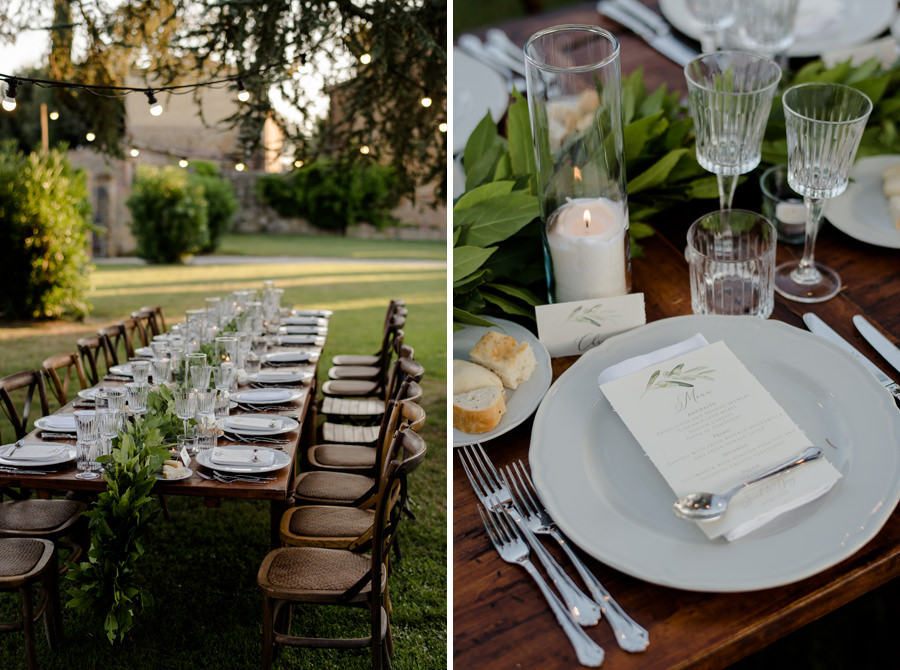 Tuscany Garden Wedding Inspiration: Lawn Games
For cocktail weddings in the garden, why not set up some lawn games for your guests to enjoy? You can hire a variety of games such as croquet, ring toss or giant jenga – perfect for a spring or summer wedding in the afternoon. This is also a great idea to keep your guests entertained before dinner while you sneak away for your wedding portraits.
Tuscany Garden Wedding Inspiration: Vibrant Colours
Vibrant colours are the perfect choice for a garden wedding in Tuscany! To create contrast against the beautiful green landscape, incorporate bright pops of colour such as orange, magenta, coral and yellow – or, keep it soft and romantic with shades of peach, blush and lilac. Tie the look together with lots of crisp whites and earthy timbers for a balanced look.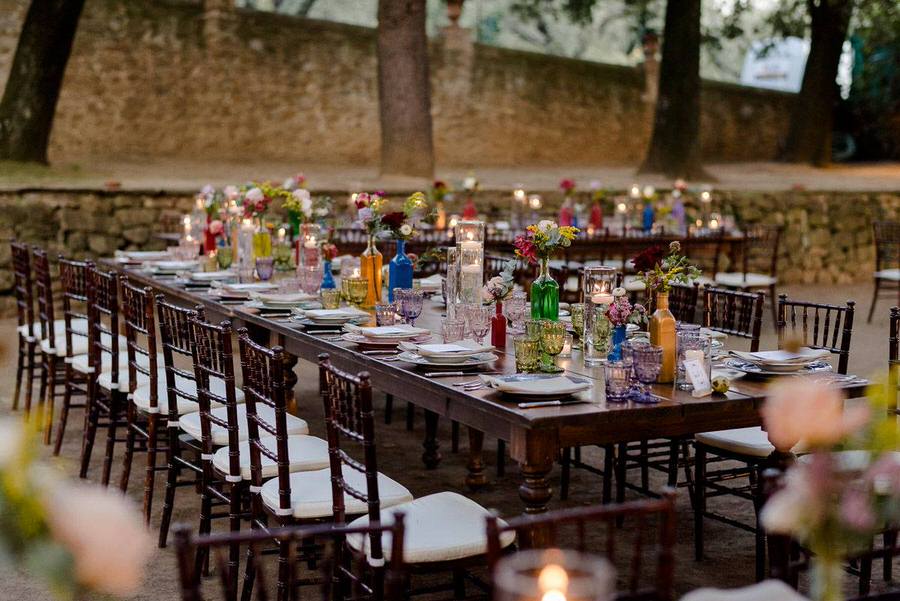 Tuscany Garden Wedding Inspiration: Cocktail Stations
The bar will be the centre of activity during your wedding, so make it a focal point by setting up an outdoor cocktail station! Fresh, citrus-inspired drinks like Aperol Spritz (one of the most loved drinks in Italy) or Peach Bellini's are perfect for an outdoor garden wedding. You could also work together with your caterer to design a signature cocktail that reflects you and your partner. Complete your bar styling with fresh flowers, creative signage and beautiful glassware to make it a statement feature.
Tuscany Garden Wedding Inspiration: Floral Dresses
Floral dresses are another great way to create a garden-inspired wedding theme. Instead of block colours, why not consider a floral print for your bridesmaid or flower girl dresses? You could also incorporate a floral print for the groom's tie, or add some fresh flowers to your hairstyle for a sweet garden look.
Looking for more Tuscany wedding styling inspiration? Read these 5 simple tips for finding your wedding style here, or browse our latest wedding stories to see our Tuscany wedding photography in action. We document love stories and destination weddings right across Italy and beyond!