The Ultimate Guide to Planning Your Wedding Ceremony In Italy!
Your wedding ceremony will undoubtedly be one of the most special moments of your entire day. But where do you begin with planning a great one?
As Tuscan wedding photographers, we love capturing beautiful ceremony moments and have a few expert tips to share. From timelines and styling to writing your vows, keep reading for our step-by-step guide to planning a memorable wedding ceremony in Italy below!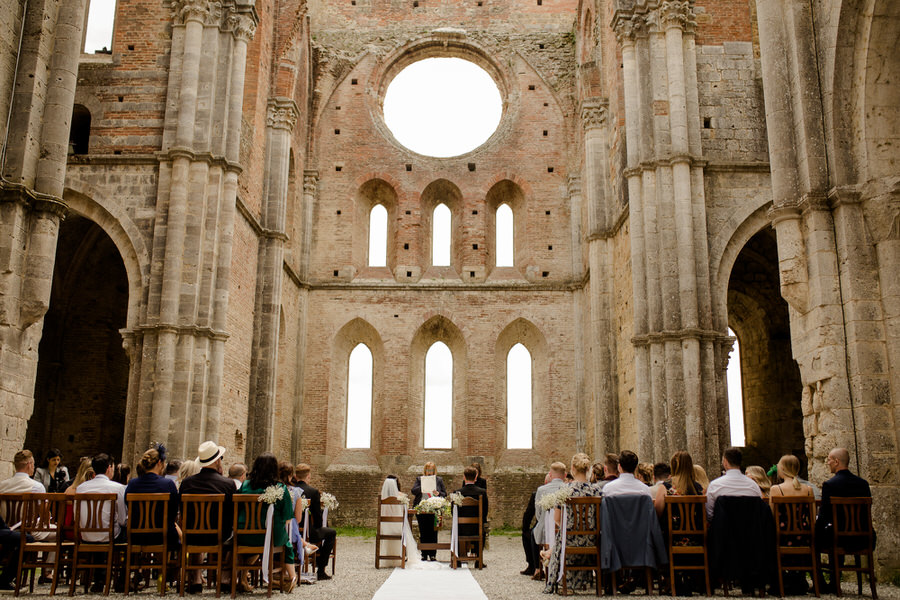 Choosing Your Ceremony Location
First things first, you'll want to choose the perfect location for your wedding ceremony in Italy.
Are you planning to host your ceremony and reception in the same place? If so, ask your wedding venue about the different ceremony locations available on-site. Usually, there are multiple options to choose from, so keep the following points in mind to help you find the best spot:
The view. Choosing a wedding ceremony location with a beautiful backdrop will ensure your wedding photos are truly magical! Depending on your venue, this could be a majestic tree, manicured gardens, a rooftop terrace, an intimate courtyard, or a luxurious indoor room.
The weather. If you've already chosen your wedding date, this will need to be taken into consideration, too. For example, if you're planning a Tuscan wedding in the middle of summer, you'll want to choose a ceremony location with plenty of shaded areas to keep your guests comfortable. Alternatively, if you're planning a winter wedding in the Italian alps, you might want to consider a warm and cosy cabin, instead.
Convenience. Think about your wedding day timeline and how your reception will "flow" following your ceremony. Will you be serving champagne and canapes directly after your nuptials? If so, try to choose a convenient location in easy walking distance from your reception to ensure everything will run smoothly.
If you decide to host your wedding ceremony in a seperate location, don't forget you'll need to organise suitable transportation for your guests.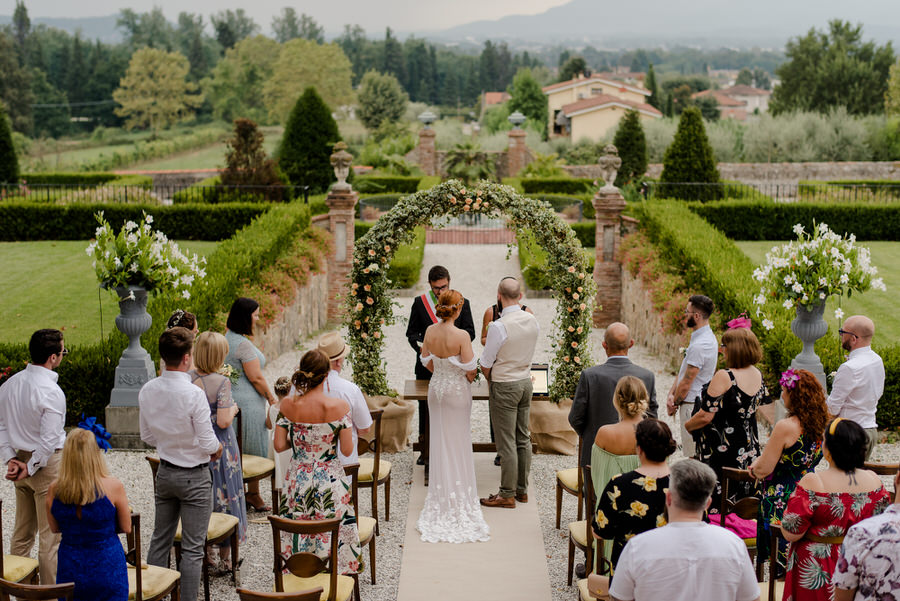 Ceremony Furniture and Styling Checklist
Next, you'll need to think about how you want to set-up and style your wedding ceremony. To do this, think about your overall wedding "theme" and vision. Are you planning a rustic country wedding? Opt for timber furniture, earthy colours and plenty of fresh foliage. Planning an elegant and romantic wedding? Use crisp whites, golds and pastel colours instead. You can find some of our favourite styling ideas for a Tuscan wedding ceremony here!
To help you figure out exactly what you might need to organise for your ceremony set-up, keep this furniture and decor checklist in mind:
Ceremony arbour/backdrop
Ceremony chairs
Signing table
Signing chairs
Aisle runner
Floral arrangements
Welcome sign
Umbrellas/fans (for warm weather)
Microphone and speakers
Confetti, petals or rice toss
Ring box
Flower girl basket
Your wedding venue or celebrant may already supply some of these items, so make sure you double-check exactly what's included in your package. If you need to source any additional items, your wedding coordinator will be able to point you in the right direction.
Once you've organised your ceremony items, you'll also need to create a floor plan for whoever is setting up your ceremony on the day. You can keep it traditional with neat rows of chairs on either side of the aisle, or go for a more modern look with a U-shape or circle – it's totally up to you!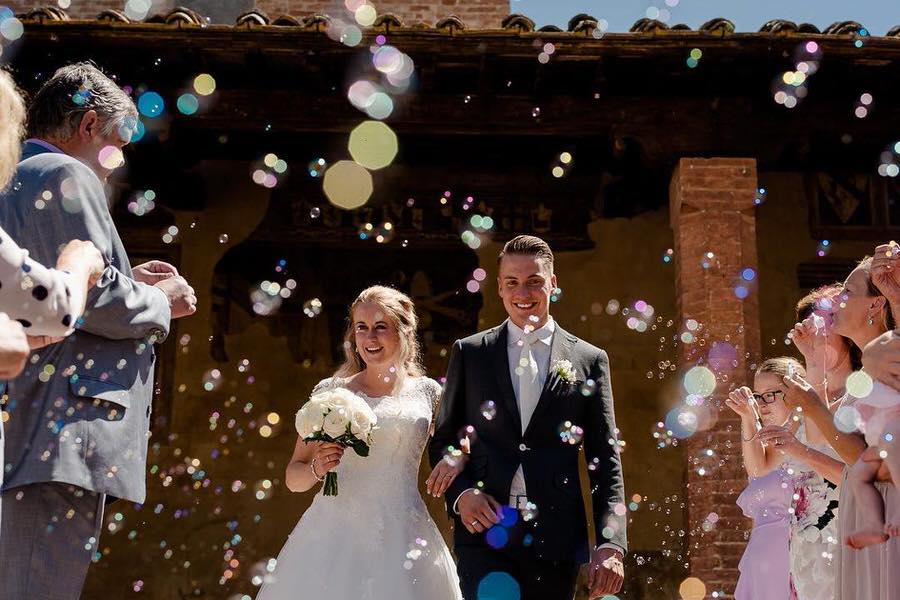 Figure Out Your Ceremony Timeline
Now you'll want to map out a rough timeline for your ceremony proceedings. When will your ceremony be commencing, and how long will it take?
Typically, a wedding ceremony is between 20-30 minutes. To figure out the best start time for your wedding ceremony, you'll need to think about the sunset and weather conditions on your chosen wedding date. If you're planning a summer wedding, you may want to start your ceremony later in the afternoon once the weather cools down – but if you're planning a winter wedding, you might want to bring it forward so you can catch that beautiful sunset!
Chat with your wedding photographer to help you figure out the best time of day for your wedding ceremony. They'll be able to suggest the perfect wedding photography timeline depending on your wedding date and venue, based on their previous experience.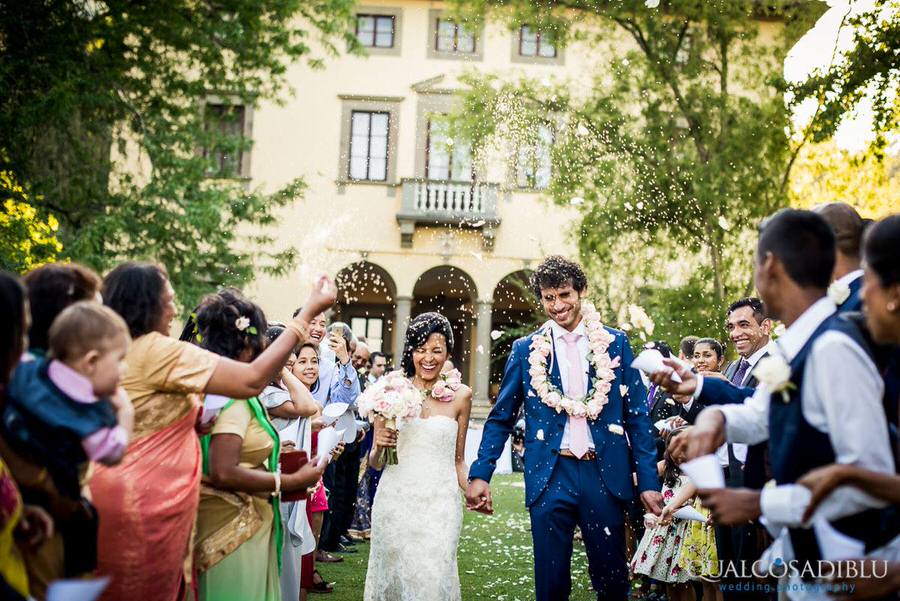 Check The Legalities
Are you planning a destination wedding in Italy? If so, you'll need to submit the correct paperwork and documentation to ensure your marriage is official. Depending on your location, you may also need to choose a pre-approved ceremony venue such as a church or town hall.
Make sure you research these legal requirements early, to avoid any potential stress before the day! It's always best to talk with your wedding planner and/or celebrant who can explain this process in more detail.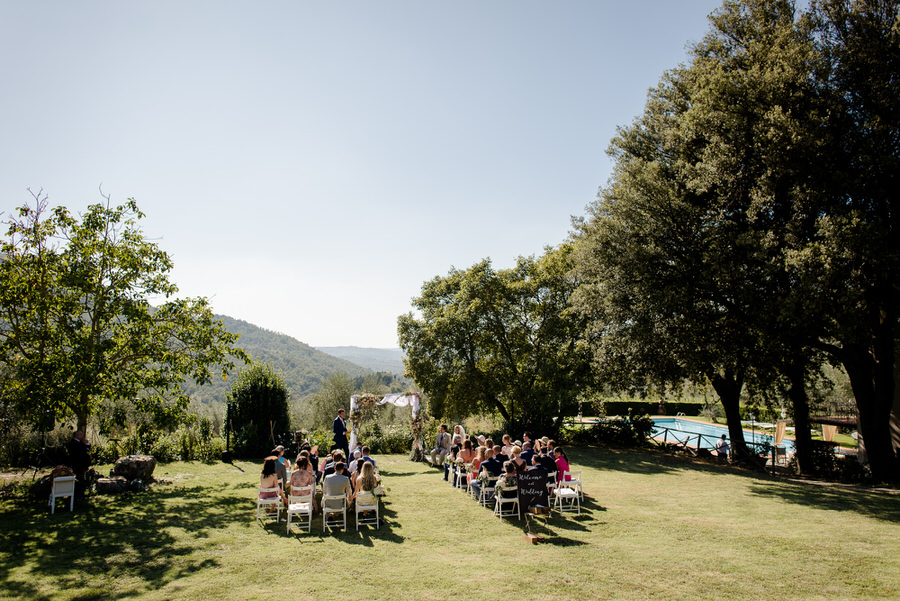 Personalise Your Wedding Ceremony
Finally, you'll need to work together with your celebrant to plan the actual ceremony itself! Make sure you choose a wedding celebrant who matches your personality and style, whether that's formal, relaxed, traditional, nontraditional, funny or sentimental.
Your celebrant will work closely with you and your partner to design a personalised ceremony that reflects your relationship. You can choose to write individual vows, write shared vows together, include religious readings or poems from family and friends – the options are endless. Read our guide to writing your wedding vows here to get started!
As Tuscan wedding photographers, we adore capturing love stories right across Tuscany, Italy and beyond. See our latest work in action here, or get in touch for more information on our destination wedding photography packages.